His own life is the stuff of Hollywood screenplays. Randy Travis (born Randy Traywick) was a teenage North Carolina hell-raiser, drinking, fighting, doing drugs and committing petty crimes on a path pointed straight toward prison until music turned his life around. The rebel ninth-grade dropout "found himself" in the spotlight of a Charlotte, North Carolina, nightclub. With the help and direction of the club's owner, Lib Hatcher, Randy Travis underwent a startling transformation.
He purified his mind, turning his back on substance abuse and focusing on a pure musical vision. At the time, Nashville was deep in its "Urban Cowboy," pop-country phase. Randy was intent on bringing back fiddles, steel guitars and honky-tonk lyrics. He recorded for a tiny record label and in classic country fashion drove from radio station to radio station throughout the South.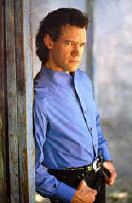 After five years of paying dues in the North Carolina club, he and manager Lib Hatcher decided they were ready for Nashville. With little more than dreams and determination, they moved to Music City in 1981. At the time, no one on Music Row could hear the possibilities in his subtly shaded, warm, backwoods baritone – Randy was turned down by every record label in town.
"Nashville was the Big City. It was kinda scary to me. I didn't know if I belonged there or not. I didn't know that much about the music business, or that many people in Nashville, either."
Lib took a job managing a nightclub called The Nashville Palace. Randy became the joint's dishwasher and short-order cook. Occasionally, he'd wipe the hamburger grease off on his apron and emerge from the kitchen to sing on stage. Inevitably, the hard-core country patrons went wild when he did.
In 1985, after the release of Randy's debut single, "On The Other Hand," Warner Bros. Records took a chance and released Randy's second single "1982" to radio during Christmas time. The response from country radio listeners was volcanic. George Jones, Loretta Lynn, Tammy Wynette, the Grand Ole Opry cast and the rest of country's classic stylists voiced their support, for they had found a man to "carry the torch" into the future.
When his LP "Storms of Life" appeared in mid-1986, it became the first debut album by a solo country artist to achieve Platinum Record status in less than a year. It went on to sell more than four million copies and become the first of 10 consecutive multi-platinum albums. "Always and Forever," his second collection, was No. 1 for 10 solid months and won a Grammy Award. "Old 8x10," his third album, also won a Grammy.
The first boom in the "new country" explosion had sounded. In 1986, Randy became the youngest male ever invited to join the Grand Ole Opry. By the time he turned 30 in 1989, he'd sold more than 13 million records.
Randy Travis headed into the '90's as country's top-grossing touring attraction, spreading his plain-spoken message of purity and simplicity with an extraordinary voice, soft spoken charm and some terrific songs.
In 1992 he became the first country artist to release two simultaneous albums – both volumes of his "Greatest Hits" became sales blockbusters. Later that year he and Alan Jackson co-wrote the latter's No. 1 smash "She's Got The Rhythm (And I Got The Blues)." Then Randy scored back-to-back No. 1 hits of his own, "If I Didn't Have You" and "Look Heart, No Hands."
In 1994 he took a year and a half off the road to launch his film career with a variety of roles. Some of them include his appearance with Rob Lowe and Bill Paxton in "Frank and Jesse"; with Bruce Dern in "Dead Man's Revenge"; with Ben Johnson and Mickey Rooney in "The Legend of O.B. Taggart"; and with Steven Seagal in "Fire Down Below." He has been a guest star on such top-rated TV dramas as "Matlock" and "Touched By An Angel." He was featured in Aaron Spelling's mini-series "Texas."
"Acting was a way for me to learn something new. Learning keeps you young. If you do the same thing over and over you get burned out. To be honest, everything happened so fast in the early days, that I didn't have time to enjoy it. Early on, I was scared to death," says Travis. "I'm happy to still be here competing. I believe in every single song that I record and I'm still going for the best."
"This Is Me" and "Before You Kill Us All" kept him in the top-10 in 1994 and "Whisper My Name" became his 19th No. 1 hit that same year. In 1995 he rocketed into the top-10 with "The Box" and co-produced Daryle Singletary's career launching album. Randy's 1996 collection, "Full Circle," was hailed as a masterwork.
The calm, measured manner of this consummate gentleman has been a constant throughout his remarkable career. The gentle humility, musical integrity and easy-going humor are still a combination that make Randy Travis one of the most charismatic stars of his generation.