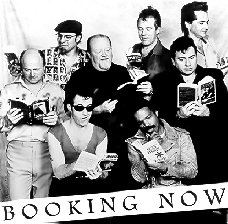 Sha Na Na (shaw-naw-naw) is more than an act, more than a musical group. They present a live stage revue with musical stories of boy meets girl, lost love, romance, dancing at the hop and just good clean fun.
This group travels with more than 187 pieces of costuming and props and is more like a traveling book show.
While the group gained fame through their five year television show and movies such as "Grease," their recognition and draw are maintained by their successful concerts for the past 27 years plus. The Greaser Olympics is one of the greatest audience participation segments of any show on the road. With members from the audience, they do the Limbo, Hula Hoop and the Twist.
Sha Na Na consists of original members: Screamin' Scott, Jocko, Chico, Donny and Lennie (the round mound of sound on sax). Also included are bass singer Reggie DeLeon, Frankie, lead guitarist Rob Mackenzie and "Jack-of-all-trades" Jim Waldbillig.
The group began when a few undergraduates at New York City's Columbia University decided they were having more fun singing a cappella versions of classic 1950's rock 'n' roll songs than their standard glee club fare. Encouraged by the enthusiasm of crowds at a few New York clubs, the group added instruments and began touring other campuses, creating a furor with each show. Their seventh appearance, at Woodstock, made Sha Na Na into an international sensation! They have moved far beyond the 50's nostalgia to become an American tradition.
Their hits over the past three decades include "That'll Be the Day," "At the Hop," "Romeo & Juliet" and "Save the Last Dance for Me."
They have an all-new "Interactive" show. This "dance party" can either be included in the normal concert performance, or stand on its own as a separate "dance set" in appropriate settings.
Notable songs include ---
At the Hop
Rock & Roll Is Here to Stay
Born to Hand Jive
Blue Moon
Top Forty
(Just Like) Romeo and Juliet
Witch Doctor
Rockin' Robin
Boney Maroney
Charlie Brown
Splish Splash
Itsy Bitsy Teenie Weenie Yellow Polka Dot Bikini
Purple People Eater
Teenager in Love
Sha Na Na may be available for your next special event!

Genre: Rock 1
Styles:
.Classic Rock. / ClassicRock
.Novelty. / xNovelty
.Doo-Wop. / DooWop
.Early Pop/Rock. / EarlyPopRock
.Rock & Roll. / RockNRoll

Years active:
x70s, x80s

Formed: ..in New York / formed nNewYork
Formed: ..in New York City / formed NewYorkNY
Formed: in 1969

Based: ..in US