How To Book SMOKEY ROBINSON For Your Event!
Smokey Robinson may be available for your next special event!



Grammy Legend Award -- 1990
Rock & Roll Hall of Fame
-- inducted 1987
Songwriters Hall of Fame
-- inducted 1990
Vocal Group Hall of Fame
-- inducted 2001
How to Hire SMOKEY ROBINSON For Your Event!
Popular requests:
BOOKING FEE (booking price, booking cost).
GRAMMY AWARD winning Smokey Robinson is an American singer, songwriter, record producer, actor and former record executive director.
Robinson was the founder and front man of the Motown vocal group the Miracles, for which he was also chief songwriter and producer. He led the group from its 1955 origins as "the Five Chimes" until 1972, when he announced his retirement from the group to focus on his role as Motown's vice president. However, Robinson returned to the music industry as a solo artist the following year. After the sale of Motown Records in 1988, Robinson left the company in 1990.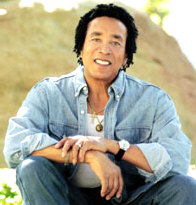 Hire Smokey Robinson for your festival or concert plans!
Smokey Robinson was inducted into the Rock and Roll Hall of Fame in 1987 and was awarded the 2016 Library of Congress Gershwin Prize for his lifetime contributions to popular music. In 2022, he was inducted into the Black Music & Entertainment Walk of Fame.
The legendary Smokey Robinson in his right as an entertainer, songwriter and producer has written and produced (only to name a few) such hit songs as: "Just to See Her," "Tracks of My Tears," "Ooh, Baby Baby," "Tears of a Clown," "My Girl," "My Guy," "Two Lovers," "Get Ready," "Cruisin'," and the list just goes on!
His songs have placed many groups and soloists on the charts, including such artists as The Miracles, Mary Wells, Marvin Gaye, The Four Tops and The Supremes.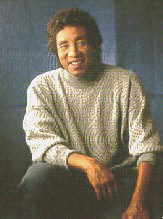 Hire Smokey Robinson for your very special event or occasion!
His songs can be heard on scores of movie and television soundtrack. They've helped define the musical profile of a great American city. They've earned virtually every award that can be bestowed upon an artist/songwriter, including a Grammy Award, a place in the Rock N' Roll Hall of Fame and the Songwriters Hall of Fame, the Soul Train Heritage Award and the NARAS Living Legend Award. An entire radio format, "Quiet Storm" owes its name to the title of a Smokey Robinson album.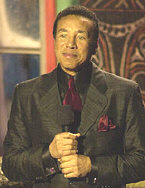 Hire Smokey Robinson for a memorable evening of entertainment!
Robinson also was extremely active at Motown as a songwriter and producer for other acts. The #1 singles "My Guy" (Mary Wells) and "My Girl" (Temptations) were each Robinson songs and productions (the latter with fellow Miracle Ronnie White). Smokey also did some excellent work with The Marvelettes and Marvin Gaye.
In 1967, The Miracles became "Smokey Robinson and the Miracles," and continued topping the charts with "Baby, Baby Don't Cry" and "Tears Of A Clown."
In 1972, Smokey Robinson retired from The Miracles to spend more time with his family.
Beginning in 1981, Smokey receives the long-term recognition he deserves. ABC's American Bandstand airs the Smokey Robinson 25th Anniversary Special on December 12. He is inducted into the Rock & Roll Hall of Fame on January 21, 1987. In December of the following year, he is named a Grammy Living Legend as well as being inducted into the Songwriters Hall of Fame by Whitney Houston on May 30, 1990.
In 1991, after thirty years with Motown, Smokey Robinson leaves Motown to sign with SBK Records. He continues to appear at industry gatherings and events.
He is not only a great songwriter but an extraordinary entertainer. His show, still constantly touring the nation to sold out crowds, has brought joy to his listeners. His songs of the past allow many to remember the times gone by – the good and the bad. He doesn't just give you a selection of hits, but his entire show is a production itself – with lights, effects, script and music.
Hit songs include --
Baby That's Backatcha
Being With You
Just To See Her
Everything You Touch
One Heartbeat
Tell Me Tomorrow
Cruisin'
Let Me Be The Clock
Blame It On Love
I Am I Am
Baby Come Close
The Agony And The Ecstasy
I've Made Love To You A Thousand Times
Open
Hold On To Your Love
What's Too Much
Old Fashioned Love
Vitamin U
Love Don't Give No Reason
Quiet Storm
Hire Smokey Robinson for your party or event!
Smokey Robinson may be available for your next special event!
Book Smokey Robinson, now!
For other great suggestions for booking music acts, look here.
Listen to music:
YouTube Music | Spotify

Genre: R&B
Styles:
.Smooth Soul. / SmoothSoul
.Urban. / xUrban
.Motown. / xMotown
.Quiet Storm. / QuietStorm
.Early Pop/Rock. / EarlyPopRock
.Early R&B. / EarlyR&B


Years active:
x55, x60s, x70s, x80s, x90s, x00s, x10s, x20s
1955-present

Born: ..in Michigan / born nMichigan
Born: ..in Detroit / born DetroitMI
Born: Feb 19, 1940

Based: ..in US
Based: ..in California / based nCalifornia
Based: ..in Los Angeles / based LosAngelesCA

Tag: .Orchestra charts available. / OrchestraCharts