How To Book SUZY BOGGUSS For Your Event!
Suzy Bogguss may be available for your next special event!



To know her is to love her.
Mention the name of Suzy Bogguss to anyone in Nashville and you'll invariably draw a fond smile and a soft response like, "Boy, I just love her." Even the most jaded residents of the city's famed Music Row entertainment district melt when they talk about this luminous woman. It's almost as if they can physically feel the warmth of her talent.

When you think about it, Suzy Bogguss (bahw'-ghuss) is just as close to the perfect country music artist as you can get. She is not only a vocalist of effortlessly expressive powers, but Suzy is also a songwriter of enormous depth, a successful record producer and one of the few female stars who can hold her own as a guitarist. She is widely admired by her fellow artists as well as her fans for her artistic integrity and sincerity of purpose. Possessed of a ready wit and reservoir of easygoing charm, she makes the job of entertaining seem like a walk in the park. That she is also a heartbreaking lovely makes your head spin.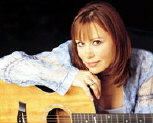 "I don't know that I'm Miss Perfect," she says with a chuckle. "Sometimes I think I lay that on myself, trying to be Everything. But really I'm just having fun. I don't mind the hard work. In fact, I thrive on it. I guess it's that Midwestern work ethic."
"To really still be into the music, that's the main thing. The ultimate challenge is to stay inspired and refreshed. You want to be able to still get that "butterfly" feeling you had in the beginning. You know how it feels when you hear a song in a restaurant that rekindles some magical period in your life when everything seemed open and intriguing ... when you were wide-eyed and amazed by things? That's what I want to hold onto. This is still a passion for me."
In truth, just about every Suzy Bogguss album has demonstrated an eye-popping amount of support from her fellow artists. After five years as a itinerant solo folk troubadour, the small town Illinois native arrived in Nashville in 1985. By then she'd already picked up the enthusiastic support from the legendary Roy Rogers and Dale Evans. After Suzy spent the summer of 1986 as the featured act at Dollywood, Dolly Parton added her encouragement. Hit songwriter Crider married Suzy that November and began spreading her name around Music Row.
Capitol signed Suzy Bogguss in 1987. Chet Atkins penned the liner notes for her 1989 debut album and Vince Gill, Mac MacAnally and producer-songwriter Wendy Waldman provided backup vocals. Future Country Music Hall of Famer, Patsy Montana, joined the rising chorus of Bogguss boosters at Fan Fair that summer. The industry's overwhelming support of the fledgling artist is illustrated by the fact that she won the Academy of Country Music's Top New Female Vocalist Award in 1989, before she scored a hit single.
At this point, the public began to fall for her charms the same way her peers had. Suzy scored her first hit, "Cross My Broken Heart," in the summer of 1989. Dan Seals and Seldom Scene dobro virtuoso, Mike Auldridge, contributed to her 1990 sophomore collection "Moment of Truth." The album also marked her debut as a producer. Lee Greenwood chose her as his duet partner on "Hopelessly Yours," which was nominated for a 1991 Grammy Award. Mark O'Connor, Beth Nielsen Chapman, Vince Gill, Victoria Shaw, Karen Staley, and Sam Bush joined the studio cast for Suzy's million-selling "Aces" album that year.
Her string of blockbuster solo hits began in 1991-1994. They were songs that set her apart from the pack, compositions with intelligence, personality and bright eyed musical integrity – Ian Tyson's "Someday Soon," Nanci Griffith and Tim Russell's "Outbound Plane," Cheryl Wheeler's "Aces," John Hiatt's "Drive South," Doug Crider and Matt Rollings "Letting Go" and her own "Just Like the Weather" (Co-written with Crider) and "Hey Cinderella" (Co-written with Matraca Berg and Gary Harrison).
The celebrity endorsements continued to pour in. Suzy was crowned the Country Music Association's Horizon Award winner in 1992. Mike Reid and the Nitty Gritty Dirt Band joined her on that year's million-selling album, "Voices In The Wind." For 1993's "Something Up My Sleeve," she was joined by Martina McBride, Terry McMillan and Darrell Scott among others. Billy Dean, who had played her love interest in her 1989 debut video, "Somewhere Between," became her duet partner on the new album's title tune. The CD became her third consecutive million seller.
She produced her longtime friend, Chet Atkins, on their 1994 album, "Simpatico." It also features contributors such as The Sons of the San Joaquin, Flaco Jimenez and Mark O'Connor, as well as her longtime harmonizing buddy, Vince Gill.
Suzy did her share of guesting duties herself. She sang on the 1994 Dirt Band CD, the 1997 Kathy Mattea and Matraca Berg CDs and the national radio show of Riders in the Sky. Mary Chapin Carpenter's video of "He Thinks He'll Keep Her" featured Suzy in celebrity studded chorus footage taken from the landmark CBS "Women of Country" TV special.
She teamed with Mattea, Alison Krauss and Crosby, Stills & Nash among others on "Teach Your Children" in 1994 and the track became a Grammy nominated single for the AIDS benefit album "Red, Hot and Country." She also participated in the country industry's tribute albums to The Eagles (1993 for which she shared the CMA's Album of the Year Award), Bob Wills (1994), The Beatles (1995 for which she received a third Grammy nomination) and Buddy Holly (1996).
Since then, Suzy Bogguss has continued to win the love of her fellow musicians as well as her fans. After taking time off to have her son Benton "Ben" Crider in 1995, she went back to work with her typical verve. In 1996, she joined Mark Chesnutt, Marty Stuart, Toby Keith, Lari White and Lee Roy Parnell in the providing the musical continuity for TBS's six-hour documentary "America's Music: The Roots of Country." As the follow-up to her "Greatest Hits" collection she issued the critically applauded "Give Me Some Wheels."
In 1996, Oprah Winfrey added her endorsement to Suzy's talent by selecting the moving "Saying Goodbye to a Friend" and the classic, "Letting Go" as theme songs for segments. The soap opera "All My Children" also used "Saying Goodbye to a Friend" for one of its episodes that year. In 1997, she wrote and sang "Fire and Ice" as the theme for the nationally telecast U.S. Figure Skating Championships on ABC-TV's "Wide World of Sports."
"Nobody Love, Nobody Gets Hurt" is an album that returned her to the producer's chair, reflects her ongoing fondness for brilliant songs and showcases the love affair that the entire country music world has with Suzy Bogguss.
"It's really not about sales and awards with me," she says candidly. "It's about music. I mean, honestly. I would love to sell trillions and billions of records but you have to let each project have its own life."
"In this case it was so great to be able to call people and say, 'Can you come over?' I'm still in awe of my fellow artists. I'm still a fan. Any one of them could have said, 'You know, I'm really swamped. Call me next time.' But I didn't get that from anybody and that meant so much to me. That's not about stardom. It's about music and friendship. And I feel the same way about the fans. I think I know my audience. They're people who are like me, ordinary people who enjoy fine songs."
She's got it almost all the way right but there's one false note there .... Suzy Bogguss is anything but "ordinary." And yes, this is about "music and friendship." It's also about warmth, honesty and ... Love.
---

Suzy Bogguss: An Evening With the Symphony
Suzy Bogguss has performed on many other national television shows including A Capitol Fourth (for CBS with the National Symphony Orchestra) The Tonight Show with Jay Leno, Austin City Limits, Live with Regis and Kathy Lee and The View to name just a few.
"Playing with orchestras is a rush. I love seeing the audience's response to my country hits with the lush background and dynamics of the symphony. I also love the feeling I get standing up there singing standards and songs from my album, 'Swing.' It's like being in another time."
Suzy controls fifteen of her own original compositions on full orchestra charts, more than an entire evening of music.
Some of the other symphonies she has performed with include:
Atlanta Symphony Orchestra Frederick Symphony (Maryland)
Nashville Symphony Orchestra Victoria Symphony (Texas)
Nashville Chamber Orchestra Peoria Symphony Orchestra (Illinois)
Austin Symphony Pueblo Symphony (Colorado)
"Very few artists these days possess the level of understanding, sensitivity and talent necessary
to work effectively with a symphony orchestra. Suzy Bogguss is one of those rare exceptions
- a musician's musician, whose extraordinary talent, energy, charm, creativity and
sheer love of music make her a favorite of the orchestra players and audiences alike. The
quality of her charts, her wonderfully distinctive voice and the breadth of her repertoire have
made her every appearance with the Nashville Symphony a hit, and a joy for all of us who
have had the privilege of working with her. I can't wait for the next opportunity to re-engage
her." -- Alan D. Valentine, President and CEO The Nashville Symphony

"Our audiences love Suzy. Great variety, an inspiring voice and stage presence for days.
She's as good as it gets." -- Paul Gambill, Music Director Nashville Chamber Orchestra
Suzy Bogguss maintains an enviable, vital career because of the respect she enjoys as one of music's purest singers and most versatile entertainers. Since her emergence in the early 90's she has been recognized with numerous Grammy nominations and Country Music Association awards. She has sold more than three million records and scored eight top ten singles. Her signature hit, "Letting Go", inspired a performance for President and Mrs. Clinton at the White House that was recorded for a PBS Special.
Awards include --
CMA Horizon Award 1992
Academy of Country Music Top New Female Vocalist 1988
Hit songs include --
Drive South
Hey Cinderella
Just Like the Weather
Letting Go
Aces
Outbound Plane
Someday Soon
Cross My Broken Heart
Heartache
Somebody to Love
My Sweet Love Ain't Around
You Wouldn't Say That to a Stranger
Somewhere Between
No Way Out
She Said, He Heard
Give Me Some Wheels
Souvenirs
Suzy Bogguss may be available for your next special event!
Watch videos.
YouTube

Genre: Country
Styles:
.New Traditionalist. / NewTraditionalist
.Contemporary Country. / ContemporaryCountry
.Country-Pop. / CountryPop
.Acoustic Guitar. / AcousticGuitar


Years active:
x80s, x90s, x00s

, x10s, x20s

Born: ..in Illinois / born nIllinois
Born: ..in Aledo / born AledoIL
Born: Dec 30, 1956

Based: ..in US
Based: ..in Tennessee / based nTennessee
Based: ..in Nashville / based NashvilleTN

Tag: .Orchestra charts available. / OrchestraCharts