Her interpretation of lyrics and her choice of songs are a reflection of her life, Tanya Tucker says. "When I come into the studio for a new album, it's just naturally going to be different because time has passed. As you go on with your life and have different experiences you can't help but indulge them when you're singing. They are a part of you."
Tucker has also put her life experiences down on paper, in her autobiography, "Nickel Dreams" (Hyperion). Working with writer Patsi Bale Cox, Tanya has produced a book that takes an uncompromising, honest look at her life.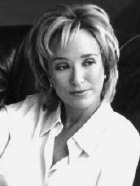 Hire Tanya Tucker for your very special event or occasion.
Tanya Tucker has plenty to write about. She decided at age six that she would sing and told her father so. "I wasn't forced to do anything," she says. "My dad and I have always had an understanding. If I wanted something, whatever it was, he'd say 'well let's see what we can do.' He would never say 'No, that's impossible.' He would make it happen as long as I did my part."
Her part in starting a singing career meant traipsing through Nashville with her father Beau, trying to get someone in the music business to listen to her. Before she even hit her teens, Tucker would belt out songs for industry big shots and hear cold-hearted assessments of her talent spat right in her face.
Perseverance paid off, and at age 13, Tucker's rendition of "Delta Dawn" made her a star. In 1976, at age 15, she had her first greatest hits collection, a Grammy nomination and a Rolling Stone cover with the headline, "I-E, I'm Tanya Tucker, I'm 15, You're Gonna Hear From Me." The headline was prophetic. Unlike so many teen sensations, Tucker stuck with singing and continued to chalk up hits.
Tanya Tucker signed with Capitol Nashville in 1985, and immediately made the top of the charts with "One Love At A Time... Just Another Love" and "I'll Come Back As Another Woman." With each album, she reinforced her status as one of country music's premier stylists.

Hire Tanya Tucker.
In 1991, four songs from her platinum-selling "What Do I Do With Me" became huge hits, including the Grammy-nominated "Down To My Last Teardrop." She won Female Vocalist of the Year honors at the 1991 Country Music Association Awards Show but was unable to accept because she was in the hospital after giving birth to her son, Beau Grayson. Her next album, "Can't Run From Yourself," also went platinum, and her video for "Two Sparrows In A Hurricane" won an Academy of Country Music Award in 1994.
She is the youngest woman in pop or country history to have a boxed set of her music available to the public.
In addition to her own albums, Tanya Tucker has contributed her talents to a number of tribute projects in the last few years. She is constantly in demand for guest appearances: She performed at the World Cup Opening Ceremonies in 1994 (to a worldwide television audience of two billion viewers), did the half-time show at the Super Bowl in that same year and in 1996, and CBS chose her to sing the theme song for their NASCAR racing broadcast.
Tucker appeared on Terri Clark's 2012 album, Classic, in a remake duet of her first single "Delta Dawn".
In June 2017, Tucker was featured in Rolling Stone as one of the 100 Greatest Country Artists of All Time.
Tanya Tucker's 2019 album, While I'm Livin', won the Grammy Award for Best Country Album, and "Bring My Flowers Now" from that same album won her a shared songwriting Grammy for Best Country Song.
Also in 2019, she performed at the Country Music Awards along with others, including Blake Shelton, Paul Brandt, Kelsea Ballerini, Eric Church, Luke Combs, Lady Antebellum, Reba McEntire, Maren Morris, Kacey Musgraves, Dolly Parton, Thomas Rett, Chris Stapleton and Carrie Underwood.
Tucker's documentary, The Return of Tanya Tucker, featuring Brandi Carlile was released to theaters Fall 2022.
In 2023, Tucker was inducted into the Country Music Hall of Fame. On April 5, 2023, Tanya announced her studio album, Sweet Western Sound, and released the first song from the album, "Kindness". Sweet Western Sound was produced by Tucker along with Brandi Carlile and Shooter Jennings, and was released on June 2, 2023, via Fantasy Records.
Her discography includes 26 studio albums, three live albums, 30 compilation albums, nine video albums and one box set.