How To Book TITO PUENTE, JR. For Your Event!
Tito Puente, Jr. may be available for your next special event!



Hits include: "Oye Como Va",
"Everybody Salsa".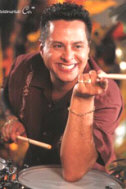 Tito Puente Jr. has begun leaving a mark as an artist of distinction. With record albums and music videos to his credit, plus a slew of concert tours under his belt, Tito has become a force to be reckoned within Latin music. Determined to reach people of all generations, Tito's music is a fusion of POP Latin Jazz and Dance, laced with influences of Mambo, Cha Cha and Merengue. Tito calls it "Latin Dance a new explosion of authentic music created from the streets."
Now a resident of Miami, Tito Puente Jr. was born and raised in New York City with a Puerto Rican descent. Under the tutelage of his father, "El Rey" (Tito Puente), his first instrument was percussion. Later, he attended school in Long Island where he further developed his skills as a musician, while studying piano and composition at home. When he was old enough, Tito began playing the New York City club scene with other well-known Latin artists from the area.
In his current band, Tito is the lead singer and percussionist. He still plays the piano, but uses it mainly for writing songs. Living in culturally diverse Miami has had a most positive effect on Tito's creativity and innovative approach to his music.
He says, "I'm thrilled with the many faces and sounds of Miami. The opportunity to listen to music from Mexico, South America, the Caribbean and other parts of the world has allowed me to expand my own musical horizons, so my music can reach more people."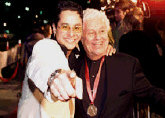 Tito's debut album, "Guarachando," which he co-produced for the EMI-Latin label, featured the hit single "Oye Como Va" (a cover of his father's signature standard), which charted at #7 on Billboard's Dance chart and earned him a Latin Music Award for "Best Video of the Year."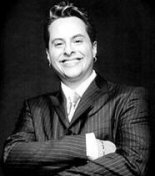 Tito Puente Jr. has performed in many parts of the world, but mostly in North and South America. He has been featured in magazines, newspapers and television programs, such as Urban Latino, Latin Style, American Way, Reggae Report, People En Español, Radio & Musica, DMA, Billboard, The Miami Herald, Good Day New York, E! Entertainment, CBS Noticias, NBC, Canada News, Onda Max, Control, Caliente, Primer Impacto, El Gordo y La Flaca, Ocurrio Asi and has also appeared in an HBO special.
Thrilled with the support he had received from his father – who had also been known to sit in with his son's band on occasion – Tito plans to follow in his Dad's foot steps, creating for his generation what "El Rey" has done for his own in the past fifty years.
Tito continued his quest with his sophomore efforts titled "Sientelo" (Feel It), which received rave reviews with his hit "Azucar" and also with his second single "Caliente," which is a tribute to his father. "Caliente" has today's Urban salsa sound and yesterday's.
Tito Puente, Jr. may be available for your next special event!
Watch videos
YouTube

For more suggestions, proceed to the next page.
Click here --
Latin Music Roster
Or, click on one of the below links --
Music Menu
Fast Index
Entertainers Directory
Home