!onMouseover Link CSS Script-© Dynamic Drive (www.dynamicdrive.com). For full source code, installation instructions, 100's more DHTML scripts, and Terms Of Use, visit dynamicdrive.com-->
Twist and Shout - Ultimate Beatles Revue - book Beatles Tribute Bands - Classic Rock - home page

Richard De La Font Agency, Inc.
Legendary 5-Star Service and Reputation
Providing Excellence in Entertainment Since 1970
"The Ultimate Beatles Revue"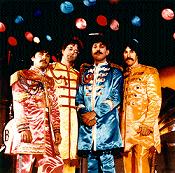 Described as "the best of the Beatles re-creations," "Twist and Shout" features a sensational look-alike, sound-alike cast.
It is headlined by Tony Kishman as Paul, with Steve Landes as John, Roger Filgate as George, and Carroll "Beaver" Parker as Ringo. "Twist and Shout" stars former members of the Broadway hit show "Beatlemania."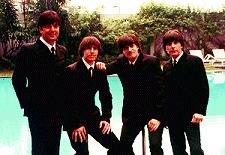 (Sometimes, when requested, they add dancing girls to their production. In the course of the show, these girls not only dance to the Beatles' hits, but evolve from the teenyboppers of the early '60's to the flower children of the psychedelic era.) In addition, the show includes multimedia clips that recall the events of the turbulent '60's and highlight America's first experience of the "Fab Four," and the hysteria that became "Beatlemania."
The tribute show features more than thirty Beatles songs, and every stage of their career is included. It begins with a recreation of their 1964 debut on the "Ed Sullivan Show," in matching black Edwardian suits and boots, performing early hits like "I Wanna Hold Your Hand" and "She Loves You."
Changing into the proper multi-colored satin uniforms, the band then performs songs from the "Sergeant Pepper" era such as "A Day In The Life" and "Penny Lane." Finally, they cover the hippie days of "Abbey Road" and "Let It Be."
All the vocals are performed live, and each performer plays his proper instrument (well). The instruments, like the costumes, are authentic replications of the Beatles' originals.
"Twist and Shout: The Ultimate Beatles Revue" was voted northern Nevada's "Cabaret Show of the Year" for two consecutive years, and broke all attendance records at Harvey's Lake Tahoe (NV). It played to sell-out engagements at the Trump Taj Mahal in Atlantic City (NJ), the Flamingo Hilton in Las Vegas, and the New York regional theaters Gateway Playhouse and Candlewood Playhouse.


Twist and Shout may be available for your next special event.
Contact us!
---

What Others Say about Twist and Shout

Back to Tribute Bands Roster

Back to Music Menu

Fast Index

Home

Genre: Tribute
Styles:
Classic Rock
Rock & Roll
British Invasion
British Psychedelia
Psychedelic
Merseybeat
Pop/Rock
Britpop
Folk-Rock
Tribute
60s
70s




---

Booking Twist and Shout:
Serious requests only.

(Sorry, no exceptions.)

---

Do you need to print copies?
For a special page designed for printing or e-mailing,
click here.

Twist and Shout, Twist & Shout
rock music booking agents contact information official web site home page website
incorrect spelling: twis, twist a, twist an, twist and s, twist and sh, twist and sho, twist and shou, twist & s, twist & sh, twist & sho, twist & shou
Consider this your official booking agency web site –
The booking agent who works for you!