Visit new page >>>
A-HA
How To Book A-HA For Your Event!
a-ha may be available for your next special event!


Hits include: "Forever Not Yours",
"Take On Me", "Foot of the Mountain",
"The Sun Always Shines On T.V.",
"Celice", "Analogue (All I Want)",
"Hunting High and Low",
"I've Been Losing You",
"Cry Wolf", "Manhattan Skyline",
"The Living Daylights", "Touchy",
"Stay on These Roads",
"You Are the One", "Velvet",
"Crying in the Rain",
"I Call Your Name", "Lifelines",
"Dark is the Night to All",
"Shapes That Go Together",
"Summer Moved On",
"Minor Earth, Major Sky",
"Early Morning", "Move to Memphis",
"The Blood That Moves the Body",
"Shadowside", "Train of Thought",
"Butterfly, Butterfly (The Last Hurrah)".
How to Hire A-HA For Your Event!
Popular requests:
BOOKING FEE (booking price, booking cost)
.
A-ha (usually stylised as a-ha) is a Norwegian synth-pop band formed in Oslo in 1982. Founded by Paul Waaktaar-Savoy (guitars), Magne Furuholmen (keyboards and guitars and vocals), and Morten Harket (vocals), the band rose to fame during the mid-1980s.
Their discography includes eleven studio albums, eight compilation albums, six box sets, ten extended plays, and fifty singles. This list does not include solo material or other projects recorded by A-ha band members.

A-ha achieved their biggest success with their debut album Hunting High and Low in 1985. The album peaked at number one in their native country Norway, number 2 in the UK, and number 15 on the US Billboard album chart, and yielded two international number-one singles: "Take On Me" and "The Sun Always Shines on T.V." and earned the band a Grammy Award nomination for Best New Artist.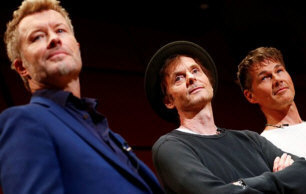 Hire A-HA for your festival or concert plans!
In the UK, Hunting High and Low continued its chart success into the following year, becoming one of the best-selling albums of 1986. The band released studio albums in 1986, 1988, and 1990, with single hits including "Hunting High and Low", "The Living Daylights", "Stay on These Roads", and "Crying in the Rain".

On 12 September 2005, A-ha played a quickly sold-out show at Irving Plaza in New York City, the band's first concert in North America since 1986, despite not having released any material there since 1993. On 27 August 2005, the band played a concert for 120,000 people in Frogner Park in Oslo, the largest concert ever in Norway.

They have sold more than 100 million units, albums and singles combined.
At the January 1991 Rock in Rio II festival, A-ha shocked the international entertainment press by drawing an audience of 198,000 at Maracană stadium for their top-billed evening concert—a Guinness World Record for biggest rock concert attendance. In contrast, the other performers (George Michael, Prince and Guns N' Roses) each drew less than a third of that audience (60,000 each).

Following the success of their debut, the band was nominated for a Grammy Award for Best New Artist in 1986. A-ha won eight MTV Video Music Awards, six for "Take On Me" and two for "The Sun Always Shines on TV". "Take On Me" was also nominated for Favorite Pop/Rock Video at the American Music Awards of 1986. A-ha have won 10 Spellemannprisen awards, the Norwegian equivalent of the Grammy Awards.

In November 2012, all three band mates were appointed Knights of the 1st Class of the Royal Norwegian Order of St. Olav for their contribution to Norwegian music.
Hire A-ha for your party or event!
A-ha may be available for your next special event!
Book A-ha, now!
For other great suggestions for booking music acts,
look here.

For more suggestions, proceed to the next page.
Click here --
Alternative Music Roster or Electronica Music Roster
Or, click on one of the below links --
Music Menu
Fast Index
Entertainers Directory
Home