How To Book AC/DC For Your Event
AC/DC may be available for your next special event!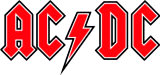 AC/DC defined heavy metal in the seventies and eighties with the landmark releases "Highway to Hell" and "Back in Black," which, with 42 million copies sold worldwide, is the second greatest selling album of all-time. Legendary for their oft-imitated combination of mammoth riffs and larynx shredding vocals, AC/DC is a "can't miss" live act.

Hits include: "Hard As A Rock",
"Rock N Roll Train", "Stiff Upper Lip",
"Dirty Deeds Done Dirt Cheap",
"For Those About To Rock (We Salute You)",
"Thunderstruck", "Satellite Blues",
"Cover You In Oil", "Let's Get It Up",
"Highway To Hell", "Are You Ready",
"Back In Black", "Safe In New York City",
"You Shook Me All Night Long",
"Ballbreaker", "Flick Of The Switch",
"That's The Way I Wanna Rock N Roll",
"Rock Or Bust", "Anything Goes",
"Guns For Hire", "Put The Finger On You",
"Hell's Bells", "T.N.T.", "Shoot To Thrill",
"Who Made Who", "Heatseeker",
"Have A Drink On Me", "Moneytalks",
"Dirty Eyes", "Big Jack", "Play Ball",
"Big Balls", "Big Gun", "Jail Break",
"Meltdown".

For more suggestions, proceed to the next page.
Click here --
Metal Music Roster
Or, click on one of the below links --
Music Menu
Fast Index
Entertainers Directory
Home