How To Book The AFGHAN WHIGS For Your Event!
The Afghan Whigs may be available for your next special event!



Hits include: "Debonair",
"Honky's Ladder, "Algiers",
"Conjure Me", "What Jail Is Like",
"Turn on the Water", "66",
"Going to Town", "Matamoros".

How to Hire AFGHAN WHIGS For Your Event!
Popular requests:
BOOKING FEE (booking price, booking cost).
The Afghan Whigs are an American rock band from Cincinnati, Ohio. They were active from 1986 to 2001 and have since reformed as a band.
After releasing their first album independently in 1988. They released their major-label debut and fourth album, Gentlemen, in 1993. Pitchfork described them as "one of the few alt-bands to flourish on a major label" in the 1990s.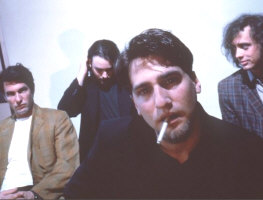 Hire The Afghan Whigs for your festival or concert plans.
Dulli frequently claimed in interviews that the band would never get back together following their dissolution in 2001; however, the group reunited in 2012. In August of that year, the band performed at the Lollapalooza with others, including Red Hot Chili Peppers, The Black Keys, Jack White, Florence and the Machine, The Shins, Franz Ferdinand, Frank Ocean, The Head & the Heart, Alabama Shakes and Walk Off the Earth.
In 2013, at South by Southwest (SXSW), The Afghan Whigs headlined The FADER FORT and played a collaborative set with surprise guest Usher. John Curly claims that moment solidified the probability that the band would record together again and that following their SXSW performance they began compiling ideas for new material.
On January 27, 2014, the band's official mailing list announced an April release date for the first album of new The Afghan Whigs material in 16 years, a return to the Sub Pop roster titled, Do to the Beast. The band released its eighth album, In Spades, on May 5, 2017.
In February 2022, the band released their first single in five years, "'I'll Make You See God," which was featured on the Gran Turismo 7 soundtrack. How Do You Burn?, their ninth studio album, was released Sept. 9, 2022, through BMG Rights Management.
The influence of The Afghan Whigs has been acknowledged by several musicians spanning genres and formats, including The National, The Gaslight Anthem, The Horrible Crowes, Interpol, The Hold Steady, My Chemical Romance and Jimmy Eat World. Also, Italian indie rock band Afterhours, who extensively toured the US between 2006 and 2011, under the auspice of Greg Dulli cites The Afghan Whigs as their influence.

Hire The Afghan Whigs for your party or event!
The Afghan Whigs may be available for your next special event!
Book The Afghan Whigs, now!
For other great suggestions for booking music acts, look here.
Watch videos:
YouTube | Vimeo

Listen to music:
YouTube Music | Spotify

For more suggestions, proceed to the next page.
Click here --
Alternative Music Roster
Or, click on one of the below links --
Music Menu
Fast Index
Entertainers Directory
Home