Visit new page >>>
AKON
How To Book AKON For Your Event!
Akon may be available for your next special event!



How to Hire AKON For Your Event!
Aliaune Damala Badara Akon Thiam, known mononymously as Akon, is a Senegalese American singer, songwriter, record producer, and entrepreneur.
The mere act of surviving on a day to day basis is the foundation from which a true artist builds his craft. Multi-talented AKON is no exception to this rule. He has had his fair share of adolescent problems with both the legal and school system.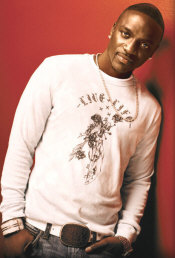 Hire Akon for your festival or concert plans.
To understand where AKON is right now is just half the equation. The other half lies in where he came from. AKON possesses a unique history. A Senegalese African, AKON moved to the United States when he was seven. His family is headed by legendary percussionist and jazz musician Mor Thiam, whose expertise for playing the Djembe, a traditional African drum, has been touted as "unrivaled." Being brought up in an environment that treasures the true artistic value of musicianship and revels in the mastering of instrumental skill has had a momentous effect on AKON.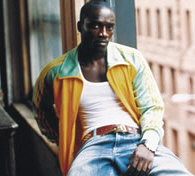 Hire Akon for your very special event or occasion.
It was AKON's deep rooted love and passion for music, evolving from filial admiration, which allowed him to turn his life around, despite his trouble as a youth residing in New Jersey. AKON began playing several different percussion instruments and eventually embraced hip-hop music and culture, despite his initial disdain for the genre. "When I first heard hip-hop I thought it was rubbish because I didn't understand the concept of people talking over music," he recalls, "But as I started growing up, living a little and listening to the lyrics, I realized that I was going through a lot of stuff these rappers were talking about and I could relate."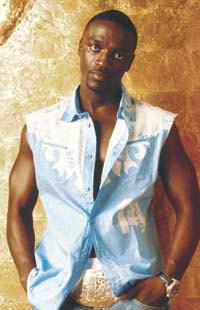 Hire Akon!
Once hip-hop took over his life, AKON's musical development exploded and he began channeling his energy into writing and producing his own music. He says, "There are a lot of negative things going on today. We need to party and just have fun."
AKON's personal appeal and ability to reach a listener is a part of his whole package: a package that includes, most importantly, his distinctive vocals and a relaxed singing style. It is as though he is speaking to you as he sings in a very intimate manner. "When I sing, the sound comes from the mood that I am in. My records are coming straight from the heart," he divulges.
Genuine and honest, AKON's music is a step in a new direction: a trajectory that will lead us on a delightfully fulfilling path. "When I'm on the mic, I'm just giving the listener a part of me." Be prepared to receive it.
Hit songs include --
Belly Dancer
Don't Matter
I Wanna Love You
Locked Up
Lonely
Smack That
Sorry, Blame It On Me
Ghetto
Angel
Beautiful
I'm So Paid
Right Now (Na Na Na)
Troublemaker
Hurt Somebody
So Blue
Hurt Somebody
Hold My Hand
We Don't Care
Hire AKON for your party or event!
AKON may be available for your next special event!
Book AKON, now!
For other great suggestions for booking music acts, look here.

Genre: R&B
Genre: Rap
Styles:
.Urban. / xUrban
.Contemporary R&B. / ContemporaryR&B
.Pop-Rap. / PopRap
Pop


Years active:
x90s, x00s, x10s, x20s
1996-present

Born: ..in Missouri / born nMissouri
Born: ..in St. Louis / born StLouisMO
Born: Apr 30, 1973

Raised: ..in Africa
Raised: ..in Dakar
Raised: ..in Senegal (until he was age 7)

Based: ..in US
Based: ..in Georgia / based nGeorgia
Based: ..in Atlanta / based AtlantaGA