How To Book ALANIS MORISSETTE For Your Event!
Alanis Morissette may be available for your next special event!



Hits include: "Hand In My Pocket", "Hands Clean",
"Head Over Feet", "Ironic", "Jagged Little Pill",
"Supposed Former Infatuation Junkie", "Thank U",
"Uninvited", "You Learn", "You Oughta Know",
"Unsent", "Everything", "Precious Illusions",
"Crazy", "Underneath", "All I Really Want",
"Eight Easy Steps", "Joining You", "So Pure",
"That I Would Be Good", "Guardian", "Receive".
How to Hire ALANIS MORISSETTE For Your Event!
Popular requests:
BOOKING FEE (booking price, booking cost).
GRAMMY AWARD winning Alanis Morissette is a Canadian-American singer, songwriter, and actress. Known for her emotive mezzo-soprano voice and confessional songwriting, Morissette began her career in Canada in the early 1990s with two highly successful dance-pop albums.
Her discography includes ten studio albums, three live albums, six compilation albums, two extended plays, 43 singles, twelve promotional singles, six video albums, and 33 music videos. She has sold more than 75 million albums worldwide.
Alanis Morissette proves she possesses a wealth of insight and an off-kilter sense of humor that's at once untainted and mature.
"People have always said I was an old soul," says Alanis. "They said I was always a little more intense and introspective than everyone was used to seeing girls be, so they didn't know where to categorize me." It all boils down to this one fact: "I want to walk through life instead of being dragged through it."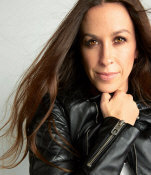 Hire Alanis Morissette for your festival or concert plans!
The native of Ottawa, Canada, uses her own experiences – from a Catholic school upbringing, to her many travels through Europe as a youth, to her years as a teenager living alone in Toronto – as a springboard for some striking, universal statements.
Alanis Morissette emerged as one of the most distinctive and influential performers of her time.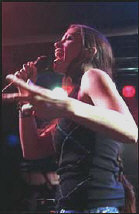 Hire Alanis Morissette for your special event or occasion.
Along with counterparts Jewel and Fiona Apple, Alanis Morissette was one of the most successful singer/songwriters to ride in on the second wave of grrrl rock in the mid-'90s. Alanis Nadine Morissette and her two brothers were raised in Ottawa, Canada, by French-Canadian and Hungarian parents.
By the age of 10, the precocious Morissette had landed a role on the Nickelodeon TV show "You Can't Do That on Television" and recorded her first single, "Fate Stay With Me." She spent most of her pre-pubescent years performing throughout Canada, singing "O Canada" at sporting events and even making the de rigueur appearance on "Star Search." The hard work paid off and at 14 Morissette was offered a recording contract with MCA/Canada. Her debut, "Alanis," a collection of dance-pop songs, was released in 1991 and went platinum in Canada. That year, Morissette won the Juno award (Canada's Grammy) for Most Promising Female Vocalist.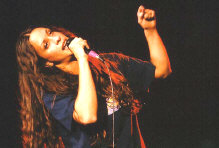 Hire Alanis Morissette!
Her sophomore effort, 1992's "Now Is the Time," was recorded and released before Morissette graduated from high school. However, this album – another collection of teeny bop dance tunes – sold only half as well as her debut, and at age 17 it looked as if Morissette's career was on the wane. After high school, Morissette moved to Los Angeles where she had the good fortune to hook up with songwriter/producer Glen Ballard, known for his work with Michael Jackson, Paula Abdul and Wilson Phillips. The creative chemistry between Ballard and Morissette was evident from the beginning. Ballard pushed Alanis Morissette to pursue darker, edgier themes in her music, venturing away from the cutesy teenager and toward the introspective young woman.
"Most of the songs are, in a roundabout way, actually addressed to myself," says Morissette of her work with Ballard at this time. "There's a certain aspect of the songs that's very confessional, very unadulterated...It was a very unfettered, spiritual experience."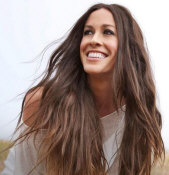 Hire Alanis Morissette!
The resulting demo tape was shopped around to the major labels and Madonna's Maverick imprint eventually signed Morissette. "Jagged Little Pill," was released in the summer of 1995. On the strength of the break-out single "You Oughta Know," the album reached platinum status and the Top 10. Follow-up singles "Hand in My Pocket," "All I Really Want" and "Ironic" kept "Jagged Little Pill" on the album charts the next two years, ultimately selling 28 million copies worldwide.
Alanis Morissette was showered with industry awards for "Jagged Little Pill," including Grammys for Album of the Year, Best Female Rock Vocal Performance, Best Rock Song and Best Rock Album. Her much-anticipated follow-up, "Supposed Former Infatuation Junkie," was released in November 1998 on Maverick and has sold more than 7 million copies worldwide. After finishing a tour with Tori Amos, Alanis Morissette headed to New Zealand and Australia for a month-long tour, though she took time out to tape an episode of "MTV Unplugged."
Hire Alanis Morissette for your party or event!
Alanis Morissette may be available for your next special event!
Book Alanis Morissette, now!
For other great suggestions for booking music acts, look here.

Genre: Rock 3
Styles:
.Adult Alternative Pop/Rock. / AdultAlternativePopRock
.Alternative Pop/Rock. / AlternativePopRock
.Post-Grunge. / PostGrunge
.Alternative Singer/Songwriter. / AlternativeSingerSongwriter
.Alternative/Indie Rock. / AlternativeIndieRock
.Contemporary Pop/Rock. / ContemporaryPopRock

Years active:
x80s, x90s, x00s, x10s, x20s
1986-present

Born: ..in Canada
Born: ..in Ontario
Born: ..in Ottawa
Born: Jun 1, 1974

Raised: ..in Canada
Raised: ..in Ontario
Raised: ..in Ottawa

Based: ..in US
Based: ..in California / based nCalifornia
Based: ..in Los Angeles / based LosAngelesCA