"'Habra Musica Guajira (There Will Be Guajira Music)' was the title track on my first Cuban release (in 1988, on the state-owned Egrem label) and remains very important in my battle to play authentic Cuban music. 'Son de Tahurete' is also special for me. This style of son goes back to the period of Cuba's fight for independence against Spain, and originated in Province Oriente in the middle of the mountains." (Son combines African and European elements, transforms them into a polyrhythmic indigenous musical art form, and is the basis of today's salsa.)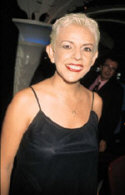 "Hoy No Voy A Trabajar (Today I'm Not Going to Work)" is noteworthy for the playing of Cuban jazz great Arturo Sandoval on trumpet. Albita's group opened for Sandoval on her very first US tour, and the two expatriate musicians struck up a friendship. "I needed a person who could play this descarga ("jam" song style) very aggressively," Albita explains. "Arturo is the only one who has the rhythm of the Carnival Cubano, who could play with this flavor and technique." "Hoy No Voy A Trabajar" mixes conga (a standard Afro-Cuban rhythm) with descarga. About the lyrics, Albita jokes, "Could you imagine if my conga player decided he didn't want to work today? I'd be incapacitated."
Most of Albita's group played together in Cuba and Colombia, before moving to Miami. Julia Sierra is Albita's musical director, and wrote two songs on "Dicen Que..."; she is also one of the only female tres players in the world. Albita describes Julia as "a unique musician with a great capacity for understanding who captures where I want to go musically...I am proud to have her as my closest friend as well as my musical director."
Mercedes Abal is Albita's flautist. Pianist Vivianna Pintado and bassist Mandy Gonzalez are also long-time members who came to the US with Albita. Newcomers to the group include trumpeter Eduardo Leal, trombonist Jorge Dobal, and percussionists Fernando Pina and Ramon Rodriguez. All of the musicians are Cuban, and Albita explains that when she met them, she was impressed by them both musically and by what kind of people they are.
Albita, who credits her parents as her greatest musical influence, began playing when she was 15 and first learned punto guajiro. By the time she was 19, she was the youngest performer on Cuba's musical television showcase "Palmas y Canas," which is akin in spirit to the United States' "Hee-Haw."
Albita thrived in Cuba, playing Havana's top tourist hotels and nightclubs including the famed Tropicana. Her first album, "Habra Musica Guajira," was released in 1988. In 1991 she was offered a major recording contract in Colombia, for which the Cuban government allowed her to live abroad, but continued to take a huge percentage of her earnings. The singer recorded two more albums, which sold widely throughout Latin America.
In April 1993, at the height of their pre-US career, Albita y Su Grupo decided to break away. They set up a visit to a recording studio in Mexico, went to the US border, and casually walked over the bridge into El Paso, thus defecting to the United States.
Albita settled in Miami, where her performances in a tiny Cuban restaurant called Centro Vasco soon were attracting enthusiastic fans like Madonna (who changed the date of her birthday party in order to be able to have Albita perform at the bash), Paloma Picasso, Angelica Huston, Marisa Tomei, Rosie O'Donnell, Cindy Crawford and Gianni Versace.
Among those fans were Emilio and Gloria Estefan, whose Epic-distributed Crescent Moon label released Albita's US debut album, "No Se Parece a Nada (Unlike Anything Else)," in June 1995. The singer and her group commenced touring the world, playing sold-out shows in the United States, Spain, Panama, Mexico, Colombia, Venezuela and Puerto Rico. Among the high points were a performance at the North Sea Jazz Festival in Holland, a show in Spain with the Pyrenees Mountains as a backdrop, and festival appearances with Gilberto Gil and Oscar d'Leon.
As to her much commented-upon androgynous image of tailored suits and slicked-back hair, Albita remarks that "by the second song of my performances, people aren't focusing on what I look like, but are listening to the music." She adds: "I am definitely not the typical Latin woman. I'm blond and I'm thin and that's not a typical Latin look. I like to wear comfortable clothes when I perform." She recognizes that "people need to find a reference point to express their impressions of me."
Albita performed the Cuban classic "Guantanamera" as President Clinton and first lady Hillary danced during their reelection inauguration in Washington.
The power of Albita's music was the reference point for the press, which had nothing but the highest praise for "No Se Parece a Nada" and the singer's incendiary live shows. "Her music is a complete package of vocal skill, poetic beauty and outstanding playing by a group of young Cuban musicians," The Los Angeles Times wrote. New York Magazine added: "This 33-year-old is hardly all flash...the punto guajira songs on 'No Se Parece a Nada' smoothly blend rock, jazz, and more traditional folk elements into a steamy conga-driven salsa that explodes on impact." Paper described the singer as "part Beny More, part Marlene Dietrich," and noted that "from her first song, Albita shatters the room with the power of her rich, earthy voice."
Hits include: "Mis Tacones",
"Valga el Brillo de Tus Ojos",
"No Ser Parece Nada".