How To Book ALEJANDRO FERNÁNDEZ For Your Event!
Alejandro Fernández may be available for your next special event!



At the age of four, Alejandro Fernández was already appearing on stage with his father: Vicente Fernandez, the voice that made Mexican "rancheras" famous and made it known to new generations.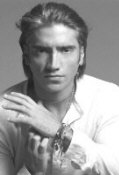 His son, Alejandro, was of course expected to have the advantage of being the master's disciple and he began as such. But, as always happens, where there is an artist there is also unease, anxiety for renewal, anxiety of artistic and personal growth, anxiety in the search for new paths to develop a personal style which, beginning at one's roots, may evolve toward new artistic horizons. Step by step, this evolution has taken place in Alejandro Fernandez' career, starting from his childhood, going through his adolescence and into his young adulthood.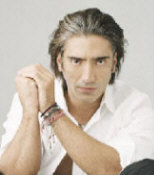 His recording debut took place as a duet sung with his father: "Amor de los dos" (Our Love). The song was a total success, and in the progenitor's following album, Alejandro sung a solo: "El Andariego" (The Wanderer). Alejandro was only 19 at the time. Two years later, his first album, "Alejandro Fernandez," revealed his aptitude for music as well as the deep sonority and harmony of his voice. His next album, "Piel de Niña" (A Girl's Skin), continued attracting the public's attention toward this new singer, who, due to his lineage and vocation was destined to rejuvenate Mexican "rancheras". "Acabé por Llorar" (I Ended Up Crying), "Cenizas" (Ashes), "A la Vera del Camino" (Alongside the Road)" and "Cascos Ligeros" (Light Hooves) were some of the most popular songs.

Although Alejandro Fernandez, due to culture and upbringing, belongs to the most pure Mexican tradition, he also felt the need to expand his personal development and after his studies in grade school and high school, he enrolled in the Atemajac Valley University to study Architecture.

Although born in Mexico City, Alejandro grew up in Guadalajara between horseback riding in the country and the city life. His musical knowledge was genetic - not only from his father's influence, but also of participating in parties and gatherings where the most deeply rooted traditions of the popular Mexican culture were passionately sung and lived. Music won over architecture and his following album was a compilation of some of the traditional songs of Latin American romantic music which Alejandro Fernandez adapted to his style, bringing out the most romantic aspects of his personality and adorning it with songs like "Conozco a los Dos" (I Know Them Both), "A Pesar de Todo" (In Spite of it All), "La Gloria Eres Tú" (The Glory is You), "Noche de Ronda" (Night Watch), etc. "Grandes Exitos a la Manera de Alejandro Fernández" (Great Hits in the Style of Alejandro Fernández) was the generic title of the album.

The two albums that followed, "Que Seas Muy Feliz" (May You Be Very Happy) and "Muy Dentro de mi Corazón" (Deeply within My Heart), began a new stage in Alejandro's career. With these, and due to songs like "La Mitad que me Faltaba" (The Part of Me That Was Missing), "Llorando Penas" (Crying Sorrows), "Como Quien Pierde Una Estrella" (Like Someone Losing a Star), "Nube Viajera" (Wandering Cloud) and "Es la Mujer" (She's the Woman), he achieves the admiration of a younger audience, and with it and most importantly, the identification of new generations with the Mexican musical tradition.

His album, "Mi Estoy Enamorando" (I'm Falling in Love), meant a giant leap for Alejandro Fernandez towards new musical horizons. Romantic ballads and songs closer to pop, without losing an iota of Mexican essence, have conquered the most diverse Latin American, North American and European fans. The first four singles taken from the album, "Me Estoy Enamorando" (I'm Falling in Love), "Si Tu Supieras" (If You Knew), "En el Jardín" (In the Garden), (sung as a duo with Gloria Estefan) and "Yo Nací para Amarte" (I Was Born to Love You), have consecutively been #1 on the Latin music charts Billboard's magazine. The album has gone multi-platinum in Latin America and has exceeded 2.2 million sales worldwide.
Hit songs include --
En el Jardín
Loco
Me Dedique A Perderte
No Se Olvidar
Si Tu Supieras
Tanita Pena
Yo Naci Para Amarte
Quiereme
Si Te Vas
Te Voy A Perder
Es la Mujer
Que Voy A Hacer Con Mi Amor
Si He Sabido Amor
No Se Me Hace Facil
Canta Corazon
Eres
Luchare Por Tu Amor
Niña Amada Mía
Nube Viajera
Pesar de Todo
Alejandro Fernandez may be available for your next special event!
Watch videos.
YouTube

Genre: Latin
Styles:
.Latin Pop. / LatinPop
.Mexican Pop. / MexicanPop
.Tejano. / xTejano
.Bolero. / xBolero
.Mariachi. / xMariachi
.Ranchera. / xRanchera


Years active:
x90s, x00s, x10s, x20s
1988-present

Born: ..in Mexico
Born: ..in Mexico City
Born: Apr 24, 1971

Raised: ..in Mexico
Raised: ..in Guadalajara

Based: ..in Mexico