How To Book ALEX BUGNON For Your Event!
Alex Bugnon (boon-YAHN) may be available for your next special event!



Hits include: "So in Love",
"Any Love", "Head Over Heels",
"Going out", "Love Season",
"Yearning for Your Love",
"Dance of the Ghosts",
"Heart of New York".
Alex Bugnon (boon-YAHN) is a jazz pianist and composer from Montreux, Switzerland.

Bugnon studied at the Paris Conservatory and the Mozart Academy in Salzburg. At age nineteen, he moved to the U.S. and attended the Berklee School of Music.

His recording career began with his 1988 debut studio album Love Season for Orpheus Records, which reached the BILLBOARD 200 albums chart and the top 40 of the R&B/Hip-Hop Albums chart, as did his follow-up Head Over Heels.
The soulful, funky contemporary jazz of Alex Bugnon has set him apart from his peers.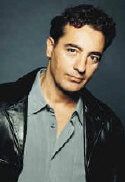 Bugnon's R&B pedigree is, in fact, perfectly legitimate. He gigged with the gospel groups Clara Mahomes and The Gospel Leviticus while attending the Berklee College of Music (after attending the Paris Conservatory of Music for two years), and later spent four years in New York recording and touring with Patti Austin, Freddie Jackson, James Ingram, and Keith Sweat. His 1989 debut "Love Season," which reached #2 on the Billboard R&B charts, was nominated for best jazz album at the Soul Train Awards. Soul Train similarly honored Bugnon for his 1991 release, "107 Degrees in the Shade." Bugnon was also honored by Black Radio Exclusive as Best New Artist for his chart-topper, "Head over Heels."
Inspired by his jazz musician father, and uncle, trumpet great Donald Byrd, Alex Bugnon cultivated his love for a wide range of jazz and soul-based artists and styles - from Memphis Slim and Bill Evans to Herbie Hancock, Thelonius Monk, Art Blakey, and Earth, Wind & Fire. "They used to take me every year to the Montreux Jazz Festival, which was a hometown affair," he says. "I was inspired by everything I heard, and knew from my early teens that I was going to be a professional musician. When I was six years old, I saw my first Aretha Franklin concert on her first European tour - WOW! I remember having a huge reaction to her music, and felt that my later experiences playing gospel helped me progress as a jazz player."
A nod to his funk origins, Bugnon's 2000 Narada Jazz debut, "Alex Bugnon... As Promised" was one of the year's most popular contemporary jazz hits. After five years of touring, Alex Bugnon made a promise to his fans eager for a new album. "The album and its title really spoke to the people who asked me - I hope they knew it was for them." By all accounts, his scores of fans around the world received the message loud and clear "...As Promised" soared to #5 on the Billboard Contemporary Jazz chart and dominated top slots on radio airplay charts.
Throughout his performing and recording career, Alex Bugnon has learned the fine art of simplicity. "On my early recordings, I was not as fully 'inside' the piano as I am now. With practice, experience, and simply the process of maturing as a musician, I've learned to use the piano to its fullest capacity. In this way, I'm paying homage to my mentors like Herbie, Art Tatum, and Bill Evans. In the past, there was always too much going on - big arrangements that used a million tracks, for example. I'm trying harder to expose the melody now, and the further I go, the more minimal I like to make the production. The new songs have the piano at the forefront, and I think they are more exciting to listen to."
Hire Alex Bugnon for your party or event!
Alex Bugnon may be available for your next special event!
Book Alex Bugnon, now!
For other great suggestions for booking music acts, look here.
Watch videos.
YouTube