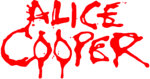 Hits include: "Poison", "School's Out",
"How You Gonna See Me Now",
"Only Women", "No More Mr. Nice Guy",
"Only My Heart Talkin'", "Hey Stoopid",
"Love's a Loaded Gun", "Be My Lover",
"Hello Hurray", "Billion Dollar Babies",
"Welcome To My Nightmare",
"Department of Youth", "You And Me",
"Eighteen", "Teenage Lament '74",
"Super Duper Alice Cooper",
"I Never Cry", "Under My Wheels",
"House Of Fire", "Clones", "Elected".
How to Hire ALICE COOPER For Your Event!
Popular requests:
BOOKING FEE (booking price, booking cost).
Alice Cooper (born Vincent Damon Furnier, February 4, 1948) is an American rock singer whose career spans more than five decades. With a raspy voice and a stage show that features numerous props and stage illusions, including pyrotechnics, guillotines, electric chairs, fake blood, reptiles, baby dolls, and dueling swords, Cooper is considered by many music journalists and peers to be "The Godfather of Shock Rock". He has drawn equally from horror films, vaudeville, and garage rock to pioneer a macabre and theatrical brand of rock designed to shock audiences.
In February 1973, Billion Dollar Babies was released worldwide and became the band's most commercially successful studio album, reaching No. 1 in both the US and UK. "Elected", a late-1972 Top 10 UK hit from the album, which inspired one of the first MTV-style story-line promo videos ever made for a song (three years before Queen's promotional video for "Bohemian Rhapsody"), was followed by two more UK Top 10 singles, "Hello Hooray" and "No More Mr. Nice Guy", the latter of which was the last UK single from the album; it reached No. 25 in the US.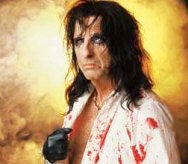 Hire Alice Cooper for your festival or concert plans.
With a string of successful concept albums and several hit singles, the band continued their grueling schedule and toured the United States again. Continued attempts by politicians and pressure groups to ban their shocking act only served to fuel the legend of Alice Cooper further and generate even greater public interest.
Their 1973 US tour broke box office records previously set by the Rolling Stones and raised rock theatrics to new heights; the multi-level stage show by then featured numerous special effects, including Billion Dollar Bills, decapitated baby dolls and mannequins, a dental psychosis scene complete with dancing teeth, and the ultimate execution prop and highlight of the show: the guillotine. The guillotine and other stage effects were designed for the band by magician James Randi, who appeared on stage during some of the shows as executioner. In 2012 at Dragon Con, Randi and Cooper discussed their working relationship during this period. The Alice Cooper group had now reached its peak and it was among the most visible and successful acts in the industry.
In January 2010, it was announced that Cooper would be touring with Rob Zombie on The Gruesome Twosome Tour. In May 2010, Cooper made an appearance during the beginning of the season finale of the singing competition show, American Idol.
Alice Cooper supported Iron Maiden on their Maiden England World Tour from June to July 21, 2012, and then headlined Bloodstock Open Air on Sunday, August 12. On September 16, 2012, Cooper appeared at the Sunflower Jam charity concert at the Royal Albert Hall, London, performing alongside Brian May, lead guitarist of Queen, bassist John Paul Jones of Led Zeppelin, drummer Ian Paice of Deep Purple, and Iron Maiden lead vocalist, Bruce Dickinson.
His discography includes 29 studio albums (plus two studio albums with Hollywood Vampires), 50 singles, 11 live albums, 21 compilation albums, 12 video releases, and an audiobook. Six of his studio albums have achieved platinum in the United States and three more have achieved gold.
Hire Alice Cooper for your party or event!
Alice Cooper may be available for your next special event!
Book Alice Cooper, now!
For other great suggestions for booking music acts, look here.