How To Book ALICE IN CHAINS For Your Event!
Alice In Chains may be available for your next special event!



Hits include: "Check My Brain",
"No Excuses", "Your Decision",
"Heaven Beside You", "Get Born Again",
"Over Now", "Got Me Wrong", "Grind",
"Rooster", "Again", "Down in a Hole",
"I Stay Away", "Lessons Learned",
"Fear The Voices", "Man in the Box",
"What The Hell Have I", "Would?",
"Hollow", "Them Bones", "Don't Follow",
"Angry Chair", "Sea Of Sorrow",
"A Looking In View", "Dirt", "Voices",
"Stone", "Junkhead", "Jar of Flies".
Alice in Chains (often abbreviated as AIC) is an American rock band from Seattle, Washington.
The group was formed in 1987 by guitarist and vocalist Jerry Cantrell and drummer Sean Kinney, who later recruited bassist Mike Starr and lead vocalist Layne Staley. Starr was replaced by Mike Inez in 1993. William DuVall joined the band in 2006 as co-lead vocalist and rhythm guitarist, replacing Staley, who had died in 2002. The band took its name from Staley's previous group, the glam metal band Alice N' Chains.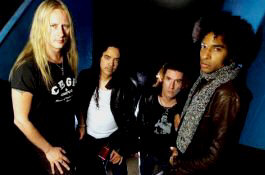 Often associated with grunge music, Alice in Chains' sound incorporates heavy metal elements. The band is known for its distinctive vocal style, which often included the harmonized vocals between Staley and Cantrell (and later Cantrell and DuVall).

Alice in Chains have sold more than 30 million records worldwide, and more than 14 million records in the US alone. The band has had 18 Top 10 songs on Billboard's Mainstream Rock Tracks chart, 5 No. 1 hits, and received 11 Grammy Award nominations. The band was ranked number 34 on VH1's 100 Greatest Artists of Hard Rock and was ranked as the 15th greatest live band by Hit Parader. Since its formation, Alice in Chains has released six studio albums, three EPs, three live albums, four compilations, two DVDs, 43 music videos, and 32 singles.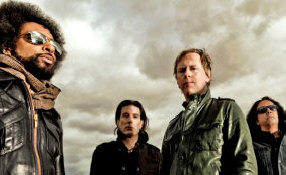 In October 2008, Guitar World ranked Cantrell's solo in "Man in the Box" at No. 77 on their list of "100 Greatest Guitar Solos". In August 2009, Alice in Chains won the Kerrang! Icon Award.

Bands that have been influenced by Alice in Chains include 10 Years, Avenged Sevenfold, Breaking Benjamin, Creed, Dallas Green, Days of the New, Hoobastank, Incubus, Korn, Manic Street Preachers, Mudvayne, Nickelback, A Pale Horse Named Death, Puddle of Mudd, Queens of the Stone Age, Rains, Seether, Smile Empty Soul, Stone Sour, Tantric, Taproot, and Theory of a Deadman.
Metallica said they have always wanted to tour with the band, citing Alice in Chains as a major inspiration for their 2008 release, Death Magnetic.
Hire Alice in Chains for your party or event!
Alice in Chains may be available for your next special event!
Book Alice in Chains, now!
For other great suggestions for booking music acts,
look here.
Watch videos
YouTube

For more suggestions, proceed to the next page.
Click here --
Metal Music Roster or Alternative Music Roster
Or, click on one of the below links --
Music Menu
Fast Index
Entertainers Directory
Home