How To Book ANA BÁRBARA For Your Event!
Ana Bárbara may be available for your next special event!



Hits include: "No Llorare",
"Me Asusta Pero Me Gusta", "Y Siempre",
"La Trampa", "Te Regalo La Lluvia",
"Lo Busque", "No Es Brujeria", "Mala",
"Enganada", "Tu Ingratitud", "Bandido",
"Como Me Haces Falta", "Deja", "Loca",
"Ay, Amor", "No Se Que Voy A Hacer",
"Amor De Luna", "Rompiendo Cadenas",
"Nada", "Ya No Te Creo Nada",
"Lo Busque", "Ahora Me Toca A Mi".
How to Hire ANA BÁRBARA For Your Event!
Popular requests:
BOOKING FEE (booking price, booking cost).
Altagracia Ugalde Mota (born January 10, 1971), known professionally as Ana Bárbara, is a Mexican singer, actress, television personality and model. She has become a prominent figure within Latin entertainment since her professional debut in 1994 and is one of the leading female figures in regional Mexican music.

She is recognized for her musical talent as well as her sex appeal. With a distinct vocal range, songwriting and producing talent, Bárbara has defined the modern Grupero performance and is one of the few regional Mexican acts to garner an international following that extends beyond México and the United States.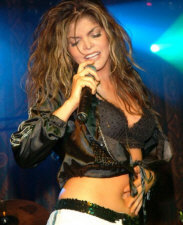 Hire Ana Bárbara for your festival or concert plans.
Her discography includes eleven studio albums, eighteen compilation albums, over thirty music videos, and four music video DVDs. She has sold more than 6 million records in Mexico, Central America, South America, and the United States; she is also the recipient of Latin music's most prestigious accolades.

Ana Bárbara received industry accolades as well as invitations to tour and open for some of the biggest regional Mexican artists, such as Vicente Fernandez and Los Tigres del Norte.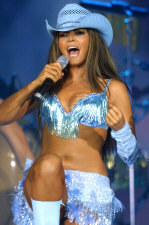 Hire Ana Bárbara for your special event!
She participated in "El Último Adiós (The Last Goodbye)", a song written in memory of the 9/11 attacks, which included other artists, such as Alejandro Fernández, Marco Antonio Solís, Thalía, and Ricky Martin, among others.

In April 2005, she participated in Selena ¡VIVE!, an anniversary tribute concert held in honor of Latin music icon Selena. The star-studded event was held at Reliant Stadium in Houston, Texas and included mainstream acts, such as Thalía, Ana Gabriel, Alejandra Guzman, Olga Tanon, Pepe Aguilar, and Banda el Recodo, among others.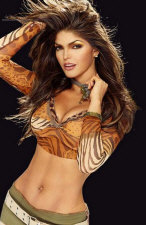 Hire Ana Bárbara for a memorable evening of special entertainment.
In 2009, she released Rompiendo Cadenas, an uptempo Urban/Pop track, produced by Dominican duo Luny Tunes featuring Reggaeton duo Dyland & Lenny.
In 2010, she and Puerto Rican singer Víctor Manuelle hosted the 2010 Lo Nuestro Awards live from Miami, Florida.
She participated in a star-studded Spanish remake of Michael Jackson's We Are the World, titled Somos El Mundo alongside Juanes, Juan Luis Guerra, Ricky Martin, Daddy Yankee, Thalía, Shakira, Pitbull, Gloria Estefan, Jenni Rivera, and Luis Miguel.
She released stand-alone banda single "Tu Ingratitud", a 1993 Los Bukis cover composed by Marco Antonio Solís.
She also collaborated with peers such as María José, Anahí, and La Original Banda El Limon in each of their new albums

Ana Bárbara celebrated two decades in the music business on April 12, 2014, at the Dolby Theatre in Hollywood, California. She performed popular songs from her repertoire, medleys of her beginnings, and classics from icons Juan Gabriel, Lola Beltran, and José Alfredo Jiménez. The intimate show was full of surprises, including the unexpected appearance by Marco Antonio Solís, who was on hand to personally congratulate her and perform a duet. Singers such as Pepe Aguilar, Cristian Castro, and Enrique Iglesias also sent words of love and support during the show.
Hire Ana Bárbara for your party or event!
Ana Bárbara may be available for your next special event!
Book Ana Bárbara, now!
For other great suggestions for booking music acts, look here.

For more suggestions, proceed to the next page.
Click here --
Latin Music Roster
Or, click on one of the below links --
Music Menu
Fast Index
Entertainers Directory
Home