How To Book Entertainment For Your Event
Ana Gabriel may be available for your next special event!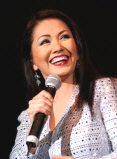 Hits include: "Como Agua Para Chocolate",
"Es El Amor Que Llega", "Pecado Original",
"Simplemente Amigos", "Mi Gusto Es",
"No Digas No (Nao Diga Adeus)",
"Quien Como Tu", "Soledad", "Ni Un Roce",
"Hice Bien Quererte", "Es Demasiado Tarde",
"Hasta Que Te Conoci", "Destino", "Ahora",
"Sin Problemas", "Silueta", "Evidencias",
"Tu Y Yo", "Todavia Tenemos Tiempo",
"Luna", "Hay Que Hablar", "Tu Lo Decidiste",
"Hablame De Frente", "Estas Emociones",
"No Tengo Dinero", "Paz En Este Amor",
"No Te Hago Falta", "A Pesar De Todos",
"Ay Amor", "Me Equivoque Contigo",
"Con Un Mismo Corazon", "Si Me Faltaras",
"No A Pedir Perdon", "Huelo A Soledad",
"La Reina", "Sin Tu Amor", "Te Dire".

Booking Ana Gabriel:
Serious requests only.
For more suggestions, proceed to the next page.
Click here --
Latin Music Roster
Or, click on one of the below links --
Music Menu
Fast Index
Entertainers Directory
Home