Hits include: "I'm Outta Love",
"Not That Kind", "Cowboys & Kisses",
"Made For Lovin' You", "Paid My Dues",
"One Day in Your Life",
"Why'd You Lie to Me", "Boom",
"You'll Never Be Alone",
"Left Outside Alone", "Sick and Tired",
"Heavy on My Heart",
"Pieces of a Dream", "I Belong to You",
"I Can Feel You", "Stupid Little Things",
"Welcome to My Truth".
Anastacia Lyn Newkirk, known mononymously as Anastacia, is an American singer, songwriter and former dancer.
Her first two albums, Not That Kind (2000) and Freak of Nature (2001), were released in quick succession to major success. Spurred on by the multi-platinum, global smash "I'm Outta Love", Anastacia was awarded as the 'World's Best-Selling New Female Pop Artist' in 2001. Her commercial success continued with international hits, such as "Paid My Dues", "One Day In Your Life" and the official song of the 2002 FIFA World Cup, "Boom".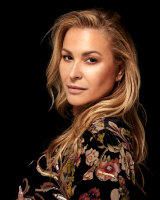 Anastacia has established herself as one of the best-selling international female singers of the 2000s and 2010s. As of 2016, she has reported worldwide sales of more than 50 million. She has had five top ten singles on U.S. Billboard's Dance Club chart and three albums on its Top Album Sales chart.

Known for her powerful mezzo-soprano voice and her small stature of 5 feet 2 inches (157 cm), she has been dubbed "the little lady with the big voice".

During her life, Anastacia has battled many health problems. She was diagnosed with Crohn's disease when she was 13, breast cancer at the age of 34, and supraventricular tachycardia aged 39. In 2013, Anastacia was diagnosed with breast cancer for a second time. In recognition of her decade-long charitable efforts in breast cancer awareness, Anastacia became the second woman ever to be presented with the Humanitarian Award at the GQ Men of the Year Awards in 2013.

Anastacia lived in Beverly Hills for more than a decade, but relocated to Florida in 2018.
Hire Anastacia for your party or event!
Anastacia may be available for your next special event!
Book Anastacia, now!
For other great suggestions for booking music acts,
click here.

For more suggestions, proceed to the next page.
Click here --
Rock Music Roster
Or, click on one of the below links --
Music Menu
Fast Index
Entertainers Directory
Home