How To Book ANGELA WINBUSH For Your Event!
Angela Winbush may be available for your next special event!



Singer/songwriter/keyboardist/producer Angela Winbush's credentials include her own solo hits such as her number one R&B hit, "Angel", hits as one-half of the singing duo Rene & Angela and their hits "Save Your Love (For #1)" and "Your Smile"; and her hits by Stephanie Mills and the Isley Brothers. One Rene & Angela hit, the 1983 ballad "My First Love," was covered by Avant on his spring 2000 debut CD, "My Thoughts". Winbush's own albums are "Sharp", "Angela Winbush", and "It's the Real Thing". Besides Rene Moore, Winbush's early collaborators were Moore's brother, Rufus, bassist Bobby Watson, engineer/producer Bruce Swedien, and George Duke.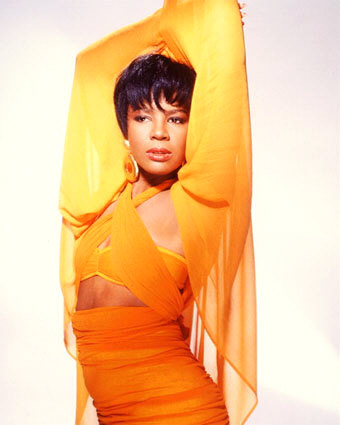 Born in St. Louis, Missouri, Angela Winbush grew up singing gospel music in the church choir and learned to play piano as a child. She had no intentions of pursuing a professional music career when she began attending Washington, D.C.'s Howard University majoring in architecture. To earn money to pay expenses, she began singing on recording sessions and formed a singing trio that opened for Van McCoy and Al Jarreau. She became interested in the music business and changed her major to music education.

Around 1977, Winbush sent a demo tape to New York DJ Gary Byrd. He played it over the phone for his friend Stevie Wonder. Stevie called Winbush and invited her to Los Angeles. While singing in Wonder's backup band Wonderlove, Winbush learned about writing and producing by sitting in on sessions with Wonder.
In 1980, she met singer/songwriter Rene Moore through Wonderlove vocalist Carolyn Dennis and they began writing songs together, eventually forming the duo Rene & Angela. In 1978, former Tower of Power lead singer Lenny Williams recorded one of their songs, "Changes." A friend introduced the duo to Dr. Cecil Hale, a Capitol Records executive who signed the duo to the label. Two LPs were issued, "Wall to Wall" and "Rise".
Another Rene & Angela song, the ballad "I Have Learned to Respect the Power of Love," was recorded by Alton McClain and Destiny on their self-titled 1978 Polydor LP. It can be found on Polygram's "Power of Love: Best of Soul Essentials Ballads". In 1985, Rene & Angela signed with Polygram and were assigned to their Mercury imprint. Their label debut, "Street Called Desire", went gold, yielding the number one hits "Save Your Love (For #1)," which featured a rap by Kurtis Blow, and "Your Smile."
An earlier Rene & Angela song would resurface in a big way. The first single from Stephanie Mills' 1985 album was "Stand Back"; on its flip side was her passionate cover of "I Have Learned to Respect the Power of Love." Because of its massive radio play as an album track, Mills' version, produced by Philly Soul keyboardist Ron Kersey, was reissued as an A-side and held the number one spot for two weeks in spring 1986.

By 1987, Angela Winbush was solo and got her first production job on the Isley Brothers' "Smooth Sailing" LP after the group's lead singer, Ronald Isley, mentioned to Warner Bros. records executive Benny Medina that he wanted to work with the group who did "Your Smile." After working together, Isley became the singer's manager. Becoming romantically involved, Winbush married Ronald Isley on June 26, 1993. She produced and wrote the bulk of his solo debut, "Spend the Night", credited as The Isley Brothers Featuring Ronald Isley. Winbush's other credits include the platinum Isley Brothers album "Mission to Please", "Body", Lalah Hathaway, the 1982 self-titled debut of Plush, Klymaxx, Sheena Easton's "The Lover in Me", and the 1993 Warner Bros. various artists set, "A Tribute to Curtis Mayfield".
Hit songs include --
Angel
It's The Real Thing
Run To Me
Treat U Rite
Lay Your Troubles Down
No More Tears
Hello Beloved
C'Est Toi le Plus Fort
Inner City Blues (Make Me Wanna Holler)
Angela Winbush may be available for your next special event!
Watch videos:
YouTube

Genre: R&B
Styles:
.Quiet Storm. / QuietStorm
.Urban. / xUrban
.Dance-Pop. / DancePop
.Contemporary R&B. / ContemporaryR&B
.Adult Contemporary R&B. / AdultContemporaryR&B


Years active:
x70s, x80s, x90s, x00s, x10s, x20s

Born: ..in Missouri / born nMissouri
Born: ..in St. Louis / born StLouisMO
Born: Jan 28, 1955

Based: ..in US
Based: ..in Missouri / based nMissouri
Based: ..in St. Louis / based StLouisMO
Based: and
Based: ..in California / based nCalifornia
Based: ..in Los Angeles / based LosAngelesCA