Visit new page >>>
ANUEL AA
How To Book ANUEL AA For Your Event!
Anuel AA may be available for your next special event!



Hits include: "Secreto",
"La Última Vez", "Brindemos",
"Quiere Beber", "Culpables",
"Hipócrita", "Que Sería", "Sola",
"Ella Quiere Beber", "Bubalu",
"Adictiva", "A Solas", "Keii",
"Amanece", "Follow", "No Me Ame",
"Fútbol y Rumba", "Don Don",
"Reloj", "Los Dioses", "Antes",
"Municiones", "Location",
"Los de Siempre", "23 Preguntas",
"Dictadura", "Leyenda", "Subelo",
"Si Tu Me Busca", "La Llevo al Cielo",
"Malo", "Mercedes Tintia", "Brother".
How to Hire ANUEL AA For Your Event!
Popular requests:
BOOKING FEE (booking price, booking cost)
.
Emmanuel Gazmey Santiago (born November 26, 1992), known professionally as Anuel AA, is a Puerto Rican rapper and singer. His music often contains samples and interpolations of songs that were popular during his youth.
He is seen as a controversial figure in the Latin music scene for his legal troubles and feuds with fellow Puerto Rican rappers Cosculluela and Ivy Queen and with fellow American rapper 6ix9ine.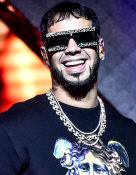 Hire Anuel AA for your festival or concert plans!
His discography includes four studio albums, one mixtape, thirty-six singles (including nine as a featured artist) and three promotional singles.
In August 2019, he released the song "China", a collaboration with Daddy Yankee, Karol G, Ozuna, and J Balvin, which was a global success. He has since released the hit song "Me Gusta" with Shakira

Anuel AA contributed vocals to eleven Billboard Hot Latin Songs-charting singles, including "Ella Quiere Beber" featuring Dominican/Puerto Rican/American Bachata singer, Romeo Santos. He also collaborated with Nicki Minaj and Bantu on the song "Familia" for the Spider-Man: Into the Spider-Verse soundtrack, released in December 2018.
In January 2019, the rapper released the single "Secreto" with Colombian singer Karol G, confirming the romantic relationship between the two artists in the song's accompanying music video.

The video's "power couple" aesthetic garnered comparisons to Beyoncé and Jay-Z as well as Jennifer Lopez and Marc Anthony.

On May 27, 2020, Anuel AA announced and revealed the tracklist for his second album, Emmanuel, which was released on May 29. The 22-track double album features collaborations from Bad Bunny, Enrique Iglesias, Travis Barker, Tego Calderón, Karol G, Lil Wayne, Farruko, Yandel and Ñengo Flow.

In September 2021, he partnered with Jhay Cortez in the track, "Ley Seca", part of his album, Timelezz.
Las Leyendas Nunca Mueren was released on the rapper's 29th birthday. The album has 16 tracks and features Eladio Carrion, Jhay Cortez, Myke Towers, and Mora.

In an interview with Vice, Anuel AA expressed admiration for the music of Bachata artist Zacarías Ferreíra, Dominican dembow rapper, El Alfa, and English singer-songwriter, Ed Sheeran. He has also indicated an interest in collaborating with Post Malone and Billie Eilish.
Hire Anuel AA for your party or event!
Anuel AA may be available for your next special event!
Book Anuel AA, now!
For other great suggestions for booking music acts,
look here.

For more suggestions, proceed to the next page.
Click here --
Rap Music Roster or Latin Music Roster
Or, click on one of the below links --
Music Menu
Fast Index
Entertainers Directory
Home