How To Book Ashanti For Your Event
Ashanti may be available for your next special event!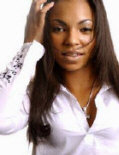 Ashanti (AH'-shaun-tee) Douglas was born in 1980 in Glen Cove, Long Island, New York into a musical family. Her father used to sing and her mother is a dance instructor. Ashanti began to sing in a gospel choir at the age of 6. As she grew, her musical talent developed and with it, appearances followed.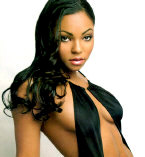 She danced in a show at Carnegie Hall and in the Disney television musical "Polly." It was in high school that she honed her songwriting skills and harnessed her talent for creating a story that people could relate to, song after song - and she's rolling.
Ashanti first announced her presence with the Big Pun hit "How We Roll" in 2001. Her sound was infectious and caught the attention of record producers. Irv Gotti, the polished producer with Murder Inc. Records, was credited with her discovery and what was supposed to be an initial collaboration, turned into a record contract. The demure and feminine Ashanti was hesitant at first to sign with a label named Murder Inc., but she filled a void in the company stable of talent. What was a pure rap label became stronger with the arrival of the R&B singer.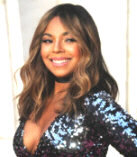 The marketing team at Murder Inc. went to work to promote Ashanti in time for her debut release. She was featured on the Ja Rule smash "Always On Time," receiving major airwave and video exposure. In addition, her voice was lent to reigning Don of the Terror Squad, Fat Joe, for his big hit "What's Luv?". Ashanti stole both songs away from the thug rappers and created such a buzz that her self-titled debut album was released early, on April 9, 2002.
The first single "Foolish" ripped apart the charts and the video was on heavy rotation as well. As a result, "Ashanti" sold more than half a million units the first week and debuted in the top spot, a major achievement for a relative unknown with almost no expectations on her shoulders. Ashanti has served notice that she is moving on up.
Hit songs include --
Only U
Foolish
Rain On Me
Rock Wit U (Awww Baby)
Happy
Southside
Baby
Still On It
Breakup 2 Makeup
Hey Baby (After The Club)
The Way That I Love You
Good Good
Body On Me
The Woman You Love
Ashanti may be available for your next special event!

Genre: R&B
Styles:
.Contemporary R&B. / ContemporaryR&B
.Urban. / xUrban
.Hip-Hop. / HipHop
.Hip-Hop Soul. / HipHopSoul
.Pop. / xPop


Years active:
x00s, x10s, x20s

Born: ..in New York / born nNewYork
Born: ..in Long Island / born LongIslandNY
Born: ..in Glen Cove / born GlenCoveNY
Born: Oct 13, 1980

Based: ..in US
Based: ..in New York / based nNewYork
Based: ..in New York City / based NewYorkNY