Hits include: "So Am I",
"Sweet But Psycho", "Torn".
"Salt", "Car Keys (Ayla)"
"Kings & Queens", "Alone, Pt. II",
"Who's Laughing Now",
"OMG What's Happening",
"Christmas Without You",
"My Head & My Heart",
"EveryTime I Cry", "The Motto",
"Maybe You're the Problem",
"Choose Your Fighter",
"Million Dollar Baby", "Weapons".
How to Hire AVA MAX For Your Event!
Popular requests:
BOOKING FEE (booking price, booking cost).
Amanda Ava Koci (born February 16, 1994), known professionally as Ava Max, is an American pop singer and songwriter. She signed with Atlantic Records in 2016, through which she released her breakthrough single, "Sweet but Psycho", in August 2018.
On August 17, 2018, "Sweet but Psycho" was released. The song became Max's commercial breakthrough, reaching number one in more than 22 countries including Germany, Switzerland, Austria, Norway, Sweden, New Zealand, and the United Kingdom, where it stayed at number one for four consecutive weeks. The song peaked at number one in 22 countries and reached number two and number 10 on the Australian ARIA Charts and US Billboard Hot 100, respectively.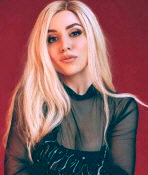 Hire Ava Max for your festival or concert plans.
In January 2019, the song reached the top of the Billboard Dance Club Songs chart, and later peaked at number 10 on the Billboard Hot 100.
On October 23, 2018, Ava Max was also featured on the Vice and Jason Derulo song, "Make Up", and made an appearance on David Guetta's 2018 studio album, 7, on the track "Let It Be Me".
On September 10, 2021, she appeared on the R3hab and Jonas Blue song, "Sad Boy," as a featured artist with Kylie Cantrall, in addition to Tiësto's song "The Motto" on November 4, 2021.
She collaborated with Brazilian DJ, Alok on "Car Keys (Ayla)", which was released on June 30, 2023.
Ava Max has been labeled as a pop and dance-pop singer, whose music often contains interpolations from previous songs. She has been compared to contemporary artists such as Sia, Lady Gaga, Bebe Rexha, Sigrid and Dua Lipa. Max grew up listening to artists including Alicia Keys, Norah Jones, Celine Dion, Aretha Franklin, Fugees, Mariah Carey and Whitney Houston. She also cited Beyoncé, Madonna, Gwen Stefani, Fergie, Britney Spears, Christina Aguilera and Lady Gaga as some of her influences. Max stated that Mariah Carey was the biggest influence on Heaven & Hell and recalled how she grew up listening to her music on loop, such as "Vision of Love".
Her discography includes two studio albums, two extended plays, 27 singles (including six as a featured artist), 11 promotional singles and 24 music videos, as well as 4 visualizer music videos.
Hire Ava Max for your party or event!
Ava Max may be available for your next special event!
Book Ava Max, now!
For other great suggestions for booking music acts, look here.

For more suggestions, proceed to the next page.
Click here --
Rock Music Roster
Or, click on one of the below links --
Music Menu
Fast Index
Entertainers Directory
Home