How To Book AVENGED SEVENFOLD For Your Event!
Avenged Sevenfold may be available for your next special event!



Hits include: "Seize The Day",
"Almost Easy", "Not Ready To Die",
"Hail To The King", "So Far Away",
"Welcome To The Family", "Mad Hatter"
"Buried Alive", "Afterlife", "Nightmare",
"Bat Country", "Beast And The Harlot",
"Danger Line", "Shepherd Of Fire",
"Carry On", "Fiction", "This Means War",
"Wish You Were Here", "God Damn",
"Scream", "The Stage", "Set Me Free".
How to Hire AVENGED SEVENFOLD For Your Event!
Popular requests:
BOOKING FEE (booking price, booking cost).
Avenged Sevenfold (abbreviated as A7X) is an American heavy metal band from Huntington Beach, California, formed in 1999.
Avenged Sevenfold is known for its diverse rock sound and dramatic imagery in album covers and merchandise. The band emerged with a metalcore sound on their debut album, Sounding the Seventh Trumpet, and continued this sound through their second album, Waking the Fallen. However, the band's style had evolved by the group's third album and first major label release, City of Evil, into a heavy metal and hard rock style.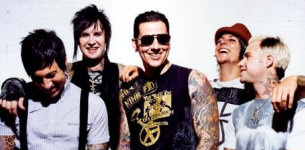 Hire Avenged Sevenfold for your festival or concert plans!
Winner of Best New Artist at MTV's 2006 Video Music Awards, Avenged Sevenfold headlined both the Warped Tour and Ozzfest with its powerful and eclectic sound.
After playing Ozzfest in 2006, Avenged Sevenfold memorably beat out R&B Singers Rihanna and Chris Brown, Panic! at the Disco, Angels & Airwaves and James Blunt for the title of Best New Artist at the MTV Video Music Awards, thanks in part to their Fear and Loathing in Las Vegas-inspired song, "Bat Country."
The band continued to explore new sounds with its self-titled release and enjoyed continued mainstream success before their drummer, James "The Rev" Sullivan, died in 2009. Despite his death, Avenged Sevenfold continued on with the help of drummer Mike Portnoy (ex-Dream Theater), and released and toured in support of their fifth album Nightmare in 2010, which debuted on the top spot of the Billboard 200, their first number one debut.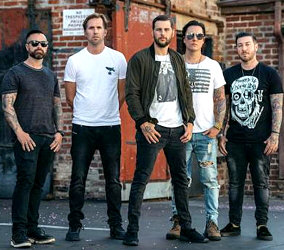 Hire Avenged Sevenfold for your company's special event!
Their discography includes seven studio albums, one soundtrack album, one live album, two compilation albums, 31 singles, two video albums and 26 music videos. Avenged Sevenfold has sold more than 8 million albums worldwide, and their records have received numerous certification awards, including five platinum album awards from their home country's institution (RIAA). They have also created four original songs for the Call of Duty: Black Ops series, all of which were compiled together in the 2018 EP Black Reign. The band were ranked No. 47 on Loudwire's list of Top 50 Metal Bands of All Time.
Hire Avenged Sevenfold for your party or event!
Avenged Sevenfold may be available for your next special event!
Book Avenged Sevenfold, now!
For other great suggestions for booking music acts, look here.
Listen to music:
YouTube Music | Spotify

For more suggestions, proceed to the next page.
Click here --
Alternative Music Roster or Metal Music Roster
Or, click on one of the below links --
Music Menu
Fast Index
Entertainers Directory
Home