How To Book AVRIL LAVIGNE For Your Event!
Avril Lavigne may be available for your next special event!
(AV-ril lə-VEEN)



Hits include: "Complicated", "Fly",
"I'm With You", "Sk8er Boi", "Hot",
"Keep Holding On", "Rock N Roll",
"My Happy Ending", "Don't Tell Me",
"Here's To Never Growing Up",
"Bad Reputation", "Losing Grip",
"When You're Gone", "Let Me Go",
"Fall To Pieces", "Nobody's Home",
"What The Hell", "Push", "Alice",
"Wish You Were Here", "Smile",
"Hello Kitty", "Bad Girl", "Girlfriend".
How to Hire AVRIL LAVIGNE For Your Event!
Popular requests:
BOOKING FEE (booking price, booking cost)
.
Avril Lavigne is a Canadian singer and songwriter. She has released seven studio albums and has received several accolades and nominations, including eight Grammy Award nominations.
Avril Lavigne has been compared to other female artists with similar sound, mainly Alanis Morissette. In Under My Skin, musically was noticeably darker, with heavier production that showcased ballads and rocker songs which incorporated a more post-grunge sound that verged on nu metal, keeping pop punk power chords influences, that anticipated the emotional intensity and theatrical aesthetics of emo-pop music before it came into the mainstream. Critics compared the album with similar works by contemporary acts at the time, such as Linkin Park and Evanescence, due to its nu metal influence.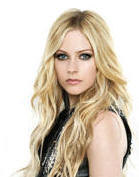 In the 2010s, her sound went softer and poppier, characterized more by acoustic pop-rock songs and less loud grungy guitar-driven songs that were the signature of her earlier works. With the 2020s pop-punk mainstream resurgence, Avril Lavigne went back to her pop-punk roots, embracing emo-pop angst, and skate punk influences from NOFX, blink-182, Green Day and The Offspring.
Avril Lavigne possesses a soprano vocal range. Themes in her music include messages of self-empowerment from a female or an adolescent view. Lavigne believes her "songs are about being yourself no matter what, and going after your dreams even if your dreams are crazy and even if people tell you they're never going to come true."
Lavigne's earlier influences came from country music acts, such as Garth Brooks, the Dixie Chicks and Shania Twain and alternative singer-songwriters, such as Alanis Morissette, Lisa Loeb, Natalie Imbruglia and Janis Joplin.
By the time she left school to focus on her music career, Avril Lavigne was musically more influenced by skate punk, pop punk and punk rock acts, such as blink-182, The Offspring, Sum 41, NOFX, Pennywise, Dashboard Confessional, Green Day, the Ramones, the Distillers and Hole. She also enjoyed metal bands, such as Marilyn Manson, System of a Down, Incubus and the Used, as well as alternative bands such as Nirvana, No Doubt, the Goo Goo Dolls, Radiohead, the Cranberries, Coldplay, Oasis, Third Eye Blind and Matchbox Twenty.
Hire Avril Lavigne for your party or event!
Avril Lavigne may be available for your next special event!
Book Avril Lavigne, now!
For other great suggestions for booking music acts, look here.

For more suggestions, proceed to the next page.
Click here --
Rock Music Roster or Alternative Music Roster
Or, click on one of the below links --
Music Menu
Fast Index
Entertainers Directory
Home