How To Book AZEALIA BANKS For Your Event!
Azealia Banks may be available for your next special event!


Hits include: "212", "ATM Jam",
"Heavy Metal And Reflective",
"Chasing Time", "Ice Princess".
How to Hire AZEALIA BANKS For Your Event!
Popular requests:
BOOKING FEE (booking price, booking cost)
.
Azealia Banks is an American rapper, singer and songwriter. Raised in the Harlem neighborhood of New York City, she began releasing music through Myspace in 2008 before being signed to XL Recordings at age 18.
In 2011, her debut single "212" went viral and entered several international charts. Banks' works have garnered acclaim from critics, drawing on various sounds including dutch house, rap, pop, electronic music and avant-garde. "212" has been listed as one of the best songs of 2011 and one of the defining songs of the decade by music publications, including Rolling Stone and Billboard.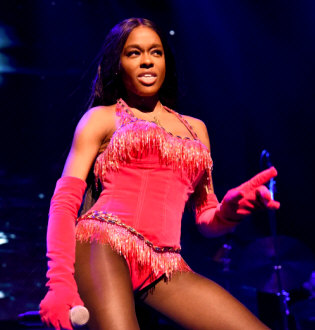 Hire Azealia Banks for your festival or concert plans!

Early in 2012, Banks revealed that her debut album would be called Broke with Expensive Taste and said the album would include contributions from musicians including Toko Yasuda, Theophilus London, Kevin Hussein, and Ariel Pink.
In May 2013, Banks announced that a single from Broke with Expensive Taste would be "ATM Jam", featuring Pharrell.
On June 29, 2013, she debuted the song at the 2013 Glastonbury Festival, with New York City radio station Hot 97 premiering a clean, shortened version of the studio recording three days later.
She performed there with others including CHIC featuring Nile Rodgers, The XX, Sergio Mendez, Smashing Pumpkins, Arctic Monkeys, The Rolling Stones, Elvis Costello, Portishead, Mumford and Sons, Alt-J, Of Monsters and Men and The Lumineers.
On July 28, 2014, Azealia Banks released another single from Broke with Expensive Taste, titled "Heavy Metal and Reflective", on her own label, Azealia Banks Records.
In 2015, Banks performed at the Coachella Valley Music and Arts Festival and posed nude for the April issue of Playboy, shot by Ellen von Unwerth.
Banks has said she admires American recording artists Beyoncé and Aaliyah, stating the former "[is] the queen of everything. She's the most remarkable performer and musician. And this is just my humble opinion, but I just think she's better than everyone else making music right now." Banks is inspired by, and has drawn directly upon, black gay culture, such as the film Paris Is Burning, in her music.

Hire Azealia Banks for your very special event or occasion.
AllMusic characterizes Banks as "a stylish vocalist who combines hardcore hip-hop, indie pop, and dance music". Meanwhile, The Guardian's John Robinson considered Banks' style "an appealing blend of Missy Elliott and dance-pop".

Her discography includes one studio album, two extended plays (EPs), three mixtapes, nineteen singles (including six as a featured artist) and twelve promotional singles.
Hire Azealia Banks for your party or event!
Azealia Banks may be available for your next special event!
Book Azealia Banks, now!
For other great suggestions for booking music acts, look here.

For more suggestions, proceed to the next page.
Click here --
Rap Music Roster or Electronica Music Artists
Or, click on one of the below links --
Music Menu
Fast Index
Entertainers Directory
Home