How To Book BEN TANKARD For Your Event!
Ben Tankard may be available for your next special event!



Since he came on the national scene in 1990, there have been many titles associated with Ben Tankard, from the Quincy Jones of Gospel to the Father of Gospeljazz.
Ben explains, "Technically, the music is the same. A Christian "C" note sounds the same as a non-Christian note, but as a minister, God releases His Spirit and power through me the music becomes a vehicle-of-salvation to carry God's love, healing and deliverance."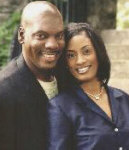 As a modern day "David" and often referred to as "The Minstrel," Ben Tankard has a strong anointing to play under the unction of the Holy Spirit and has witnessed tumors melting, people being raised out of wheel chairs, deaf ears opened, and relationships mended in his concert-crusades.
Ben Tankard states, "Signs and wonders must follow when a minstrel plays. We should expect debt cancellations and all other yokes to be destroyed and burdens lifted when our music is played."
He has won 9 Stellar Awards, 34 Stellar, 8 Dove, 3 Grammy nominations and is the best selling Gospel jazz instrumentalist in the world.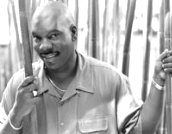 Also a "hit-maker" producer, Ben discovered Yolanda Adams and has produced several top records for her as well as collaborations with Take-6, Fred Hammond, John P. Kee, among others.
Tankard's 1997 hit song "Git Yo Praize On" with his ensemble, Tribe Of Benjamin, has become the most used phrase among praise teams.
All this from a man who has never had one lesson!
In 1998, one of his mentors, Dr. Creflo Dollar, laid hands on Ben and commanded him to "dare to be different" and avoid the "hireling spirit" in his ministry. Therefore, he has a unique approach to concerts and tour life.
For a minstrel, this can show up in many ways, such as airplanes, tour buses, studio equipment being literally sown and lent unto you for His service, concerts being sponsored and underwritten by major corporations, T.V. and radio productions services being provided, the sky is the limit.
The key is to concentrate on taking care of God's business and he will in return put people and materials in your hand to accomplish his plans, purpose and destiny for your life."
Tankard's life has not always been a bed of roses and he has had his fair share of "turbulence" in life's flight.
Raised very poor he spent many years dreaming about the "good life." Just when he thought it would happen for him in pro basketball, a knee injury ended his career.
Ben has also experienced divorce, deaths of both parents, frivolous lawsuits, envy and other distractions but continues to press toward the mark of the higher calling in Christ Jesus and forgetting those things that are behind him.
Ben Tankard takes responsibility for his errors along the way and states, "we all have made bad decisions from time to time and have to face-the-music for our mistakes. However, the thing to remember is if you can look-up you can get-up, if you can get-up you can get-dressed, and if you can get-dressed, you can get-going. God is faithful to forgive and restore. You have to become better not bitter."
"Walk in consistent obedience and things will stop happening to-you and start happening for you. Spend more time with God in prayer and meditation."
Ben's strong stance for integrity was birthed in his call to the teaching ministry in 1997. He has completed several ministerial programs under Dr. Fred Price, Bro. Kenneth Hagen, and Evangelist Tim Story.
He is officially ordained as a Word Of Faith International minister by Dr. Rick Layton.
Ben Tankard can be seen at many annual faith meetings with Dr. Creflo Dollar, Bro. Kenneth Copeland, Dr. Fred Price, Dr. Leroy Thompson, and Dr. Ira Hilliard.
The future for Ben Tankard appears bright. In addition to concert crusades, recording, book authoring and pastoring, Ben and Jewel are producing a high-polished TV/ Radio broadcast that will fuse the Word of God and music equally. There are also some movie music scoring and acting opportunities on the table.
Tankard says, "Though I was raised in poverty, I am now wealthy because the Word of God is full of promises that I can lay hold of everyday. Every Christian is a million-heir!"
Hit songs include --
Notable songs include --
Any Kind of Love
You Will Know
Be With You
Spend Some Time With Me
Song of Solomon
Livin' 4 U
Overjoyed
Angels We Have Heard on High
Tribal Hymn
911 Emergency
My Testimony
Ben Tankard may be available for your next special event!
Watch videos:
YouTube

Genre: Gospel
Styles:
.Smooth Jazz. / SmoothJazz
.Instrumental Gospel. / InstrumentalGospel
.Contemporary Gospel. / ContemporaryGospel


Years active:
x90s, x00s, x10s, x20s

Born: ..in Florida / born nFlorida
Born: ..in Daytona Beach / born DaytonaBeachFL
Born: Jan 10, 1965

Based: ..in US
Based: ..in Tennessee / based nTennessee
Based: ..in Nashville area / based NashvilleTN
Based: ..in Murfreesboro / based MurfreesboroTN