How To Book BEN TAYLOR For Your Event!
The Ben Taylor Band may be available for your next special event!



Raised in a musical family (parents are Carly Simon and James Taylor), lead singer/songwriter Ben Taylor was immersed in music from an early age. Taylor explains, "My first memory's of music blend in with the rest of my senses. I can remember attending the concerts and studio sessions of every one from Carole King to Foreigner by the time I was 7 years old. Nearly everyone I have ever looked up to and have ever known has been a professional musician."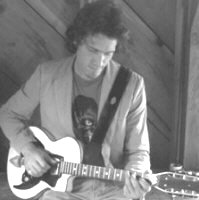 Surprisingly, Ben Taylor didn't originally set his sights on a music career. Having traveled extensively all over the globe, from Tibet to the Darien Rain forest, he developed a fierce love for nature. "Up until that point I wanted to be a farmer or a gardener," the now composer and vocalist admits. "It was something that had to evolve in me. I don't think you can just wake up one morning and announce, 'Hey, I'm a songwriter.' Not even coming from my family. I think you have to go through a few life experiences to arrive at a point where you have something to say, something that means something, something that will make a contribution."
Realizing his knack for writing and ready to share his music with the world, Ben Taylor spent time crafting songs on his acoustic guitar, finally letting the lyrics of his life flow. While spending time in Los Angeles, he met and formed a strong creative bond with drummer, Larry Ciancia. Together they rounded up a group of friends to record the new songs. "There is this powerful chemistry with us," Taylor explains. "I had no idea it was going to work out this way - I'm the luckiest son-of-a-bitch on the planet." Ciancia adds, "When you blend all the elements together, the music becomes this whole other entity."
The Band's main inspiration is from "everyday happenings": emotions, relationships, even the glory of the great outdoors that surrounds them. Taylor explains, "It's just like every other idea that comes to you - it gives you a little tickle and you go, 'Okay, is this something that everyone wonders about or worries about?' Ideally, what I want to write about are things that have relevance - not just in my life but in a universal sense as well. I want people to listen to our songs and feel or discover something new about themselves or the world we live in. That's the power of music: to move, to motivate, to make you ask 'What if?' or 'Why?' I think that music should give voice to people's emotions."

The Ben Taylor Band's sound is genre defying as Ciancia explains, "It's extremely difficult to categorize our sound: it's part pop, part rock-and-roll, part folk. But honestly, it's like nothing I've been hearing out there lately - which is either a very good or a very bad thing." Taylor adds, "I couldn't be more proud to sound like either of my parents, physically or stylistically, this is who I am. But I am a different guy and I write different music."
Ben Taylor's circumstance is far from normal. His parents - father James Taylor, mother Carly Simon - are giants of popular music.

Of course, there was never any pressure from his family to match their achievements - no pressure, that is, except from Ben himself. He's always kept his standards high - how could he not? And when his sound began to evolve, and invariably it showed signs of influence from those who were closest to him, he found himself at a crossroads that most artists never have to visit.

His choice was whether to deny his birthright, to pack up his music and take it somewhere else for reasons that have nothing to do with the music itself. Or he could stake his claim on the family land, sing and play the way he wanted to, and against all odds stand as an artist with unique qualities of his own.

"The truth is, the songs I write really are similar to my dad's," he admits. "That's no surprise: I grew up mostly playing his music on guitar, and he was the songwriter who influenced me the most, especially on the musical side, while my mom taught me how to write lyrics."

For years, especially on his earliest projects, Ben Taylor resisted this legacy; results were mixed, his first good songs flashing like flares against an unsettled sky.
Self-acceptance was always a musical, never a personal, issue. Raised on Martha's Vineyard, Ben Taylor enjoyed a childhood as "phenomenal in the most absurd ways. Instead of going to high school, I got independent credit for doing correspondence work. So I was always on a trip, working on the Colorado River or in the Grand Canyon or on a farm in New Mexico, and writing essays about what I'd learned. It was a pretty cool way to get an education."

"And it was phenomenally musical," he continues. "I toured a lot with my father, watching him onstage every night, or wondering where he had gone when he locked himself in a tiny room for months upon months until he came out with works of genius. He never played his new music for us until he felt it was impeccable. My mom was at the opposite end of the spectrum: She was always playing her rough mixes because she wanted our input. No matter what time of the night it was, she'd wake everybody in the house to hear whatever song it was that she couldn't get out of her head."

There were other presences too - the uncles and aunts whose music was also a part of America's songbook. "Kate offered incredible sympathy and tenderness. Livingston would come to the house for Christmas dinner and, no matter what we were doing, play us a 45-minute concert. And Alex was by far the coolest. He taught me how to make smoke bombs out of duct tape and black powder when I was a little kid. I guess he was a little too clever for life, and so he outraced it."

In other words, as Ben Taylor puts it, "pretty much everybody who was within a biscuit's toss was doing music"...except for Ben. "For the longest time I just played quietly to myself at home or sometimes for my mom's friends when they would come by," he says. "And I was far too intimidated to even try to write until a buddy of mine put me up for a month in this little house he had on an island in the Caribbean, just to give it a shot."

The plane hadn't even landed by the time Ben had finished his first song; that song, "Surround Me," can be heard on "Another Run Around the Sun." More followed, played into a tape recorder or scribbled on scraps of paper. By the time he'd returned to Martha's Vineyard, Ben knew that he had something to offer.

His inclination was to write well-crafted tunes with strong melodies and intimate, introspective lyrics. But it took him a while to get there. Signed to the Sony Work Group, Ben Taylor released his first album,
"Green Dragon, Name a Fox," in 2002. During those sessions he struck up a productive relationship with producers Kevin Bacon and Jonathan Quarmby, whose work on Finley Quaye's "Maverick a Strike" he'd found especially impressive. Even so, the results of their collaboration left Ben feeling less than satisfied.

"I was trying to make something totally different from anything a Taylor had recorded before," he explains. "Ultimately, that meant I was not putting my best foot forward, and we lost the focus we should have kept on the songs themselves. Certainly, I don't blame anyone but myself for that."

The next album, "Famous Among the Barns" was recorded among the high Colorado evergreens in a barn converted into a studio. Positive reviews greeted its arrival, with the single "Day After Day" earning significant air time in a variety of markets, including England on Radio 2.

Yet, even this was but a further step toward "Another Run Around the Sun," which he would record in London, with Bacon and Quarmby back at the console. "It was a pleasure to work with them again," Ben says. "On top of being way more competent than anybody else I've met in this business, they are the most elegant gentlemen on the planet. And though we generally stayed pretty true to the arrangements I had created for each song, in some cases they drew it closer to where it needed to be. My immediate reaction was to protective and defensive, but then I'd step away, go down to the pub at the end of the street, have a pint, come back, and everything would be all right."

Before and after these London sessions, Ben stepped up his performing schedule. Highlights over the past years include appearances on The Today Show, The Tonight Show, The CBS Morning Show, Last Call with Carson Daly, and Howard Stern. He shared the bill at a Christmas at Rockefeller Center extravaganza with Sheryl Crow, Michelle Branch, Kelly Clarkson, Josh Groban, Barry Manilow, and other headliners. He has performed on Fox's Teen Choice Awards and Bravo's Songwriters Hall of Fame Awards, among other specials. He has even made his acting debut, with a recurring role on NBC's American Dreams, as Cal, a struggling singer/songwriter who gets involved with Beth Mason (played by Rachel Boston).
Notable songs include --
Nothing I Can Do
One Man Day
Paradise
Rain
Revenge
Safe Enough to Wake Up
Someday Soon
Surround Me
Think a Man Would Know
Time of the Season
Tonight
You Must've Fallen
Ben Taylor Band may be available for your next special event!
Watch videos:
YouTube

Genre: Rock 1
Styles:
.Contemporary Singer/Songwriter. / ContemporarySingerSongwriter
.Adult Alternative. / AdultAlternative
.Adult Alternative Pop/Rock. / AdultAlternativePopRock


Years active:
x90s, x00s, x10s, x20s

Born: ..in New York / born nNewYork
Born: ..in New York City / born NewYorkNY
Born: Jan 22, 1977

Based: ..in US