Visit new page >>> BIG & RICH
How To Book BIG & RICH For Your Event!
Big & Rich may be available for your next special event!



Hits include: "Holy Water",
"Save a Horse (Ride a Cowboy)",
"Wild West Show", "Never Mind Me",
"Big Time", "Comin' To Your City",
"8th of November", "Fake I.D."
"Between Raising Hell and Amazing Grace",
"Lost In This Moment", "Loud",
"You Shook Me All Night Long",
"That's Why I Pray", "Our America",
"Party Like Cowboyz",
"Cheat On You", "Look at You",
"Run Away With You", "Lovin' Lately",
"California", "Stay Home".
How to Hire BIG & RICH For Your Event!
Popular requests:
BOOKING FEE (booking price, booking cost)
.
Big & Rich is an American country music duo composed of Big Kenny and John Rich, both of whom are songwriters, vocalists, and guitarists.
Before the duo's foundation, John Rich was bass guitarist in the country band Lonestar, while Big Kenny was a solo artist for Hollywood Records.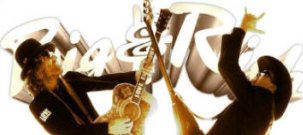 Hire Big & Rich for your festival or concert plans!
Here, ladies and gentlemen, brothers and sisters, is that new universe: Big & Rich. The kind of genre-hopping, fence-busting, gully-whumping statement of purpose that doesn't bust out of Nashville or New York, or L.A., or anywhere else -- too often these days. It may well be that true rarity in the music business: something new under the sun. "Country music without prejudice," they call it.
The universe of Big & Rich is a rollicking moveable feast inhabited by a cast of indelible characters, starting with Messrs. Big and Rich themselves. One's a six-foot-three former carpenter with a rep as Nashville's universal minister of love and a backlog of songs ranging from country laments to psychedelic rockers to something called "Disco Ball." The other's shorter, slyer and younger, a Texan with an angelic voice and a wicked gleam in his eye.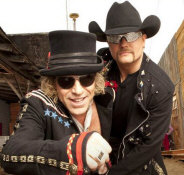 Hire Big & Rich for your special event!
Surrounding them is a batch of remarkable sidekicks: the Wild Bunch meets the Rat Pack, you might say. There's Cowboy Troy, the world's only six-foot, five-inch, 250-pound black cowboy rapper, who throws down in three languages and has a degree in economics to boot. There's Limo Larry, once a homeless drug addict and now a local legend who uses his limousine to ferry off-duty strippers and inebriated musicians around Nashville every night. There's Tim the Electrician, a tough little guy with a big mustache and a beer-swigging red macaw named Santana, who clings to his owner's shoulder while Tim practices the sport he's invented, championship chair riding. (Apparently, it's harder than it sounds.) There are songwriters and drifters, millionaires and ne'er-do-wells, punk rockers and bluegrass pickers and young ladies in Catholic schoolgirl outfits. There's the reigning queen of country music, Martina McBride, a fan and a friend, and there's a truckload of unknowns who might well make it big themselves someday.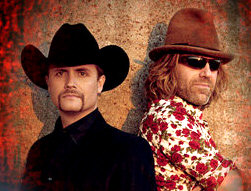 Hire Big & Rich.
Big & Rich are throwing a party, and it's important to them that you understand everybody is invited. They can be wild and wooly and uproariously funny, but there's a method to their madness: these guys aren't always serious, but you're selling them short if you think they're always kidding.
"Music just shouldn't have limits, man," says Big Kenny. (Yeah, that's his name. First name, Big. Last name, Kenny.) "We grab 'em with the humor and the happiness, but then we want them to feel every emotion. And you can do anything you want with a song. You can make people laugh, but you can also make them cry if that's what you're after. And when it's all over they feel better, they feel hope, they feel bright, they feel love..."
"And sometimes," adds John, "they feel like somebody's slammed a lightning bolt upside their head. Which we like to do every now and then. I mean, it's fun to shake stuff up by bringing out your Mandarin Chinese-rapping black cowboy godfather."
When John Rich met Big Kenny in 1998, both had been through the record industry wringer. The stories are typical, the details unimportant. John was in a band, he had hits, he went solo, he scrambled for attention and a new record deal. Big Kenny, who didn't become a full-time musician until he was in his thirties, got a big record deal but saw the ensuing album go nowhere, then fronted a wild outfit called luvjOi.
A friend tried to drag John to one of Kenny's shows at a Nashville club; John's response, he says, was "Big what? I don't think I want to see anybody named that." But he went anyway - whereupon he was whacked in the face by one of the many pieces of bubblegum thrown from the stage into the audience. (I thought that everybody who came to one of my shows should leave with something'" explains Big Kenny, not unreasonably.) Despite the tensions caused by this aerial assault, the two men met after the show and made tentative arrangements to write songs together. Then one or the other of them blew off the first three appointments. "As John has said, we were like two old bird dogs sniffing each other," says Big Kenny.
When they finally did get together, they liked the first song they wrote and loved the second, "I Pray for You." They weren't ready to record together quite yet, so the song became John's first single in a solo deal he'd gotten. His subsequent album was adored by the listeners who heard it - but not many people did, because the record label dropped him via e-mail before they actually put the thing out.
John Rich and Big Kenny became friends and writing partners, and they kept jamming at each other's shows and clambering onstage with singer-songwriter pals like James Otto and Jon Nicholson. The casual sessions soon turned into a weekly Tuesday night gig at a small Nashville establishment called the Pub of Love. "We wanted to do it on the worst night of the week in the weirdest place in town," says John. "So that if anybody showed up, they'd be there because they wanted to hear music, not because they wanted to schmooze."
The sessions were dubbed the Muzik Mafia, and they grew to involve far more than just John, Big Kenny and their immediate circle of friends. "It was every style of music," says John. "We've had everyone come in from Randy Scruggs to Saliva. We had fiddle players, jugglers, guys blowing fire out of their mouths."
"It was a celebration," adds Big Kenny. "We never took money out of it, never charged anybody to come - and anybody who had some kind of performance, we'd let 'em get up there."
Gradually, the Muzik Mafia turned into one of the most exciting scenes in Nashville - though at first, John and Kenny resisted fans and friends who were convinced that Big & Rich, as everybody knew them, should try to land a record deal. "When anybody would mention, 'Oh, you and Big Kenny ought to get together and make a record,' I'd think, are you out of your mind?" laughs John. "Record companies didn't even get me - do you think they're going to get Big Kenny, lead singer of luvjOi, Mr. Universal Minister of Love, psychedelic rock 'n' roll man?"
Gradually, though, their attitudes changed. "As the Mafia kept going," says Big Kenny, "we watched it go from twenty people to three or four hundred people, slamming in the joint. And that kind of made us think, Hell, people love what we do, why worry about what anybody will accept? If I'm good by myself and you're good by yourself, and we come together, we can be even better and more insane."
"And if we do it that way and get our legs cut out from under us," adds John, "at least we're having a party."
The Muzik Mafia also helped get Big & Rich signed to Warner Bros. Nashville. Paul Worley, the company's new chief creative officer, already knew the pair's songs. Worley had produced the Martina album with Martina McBride; it included "She's a Butterfly," which John and Kenny had written after meeting a teenage girl who was suffering from brain cancer at Vanderbilt Children's Hospital. Worley's daughter was also a regular at the Muzik Mafia shows, and at her urging he met them in his new office.
"We thought we had a meeting with him to pitch songs for Martina," says Kenny. "After we did a few of those songs, he said, 'I understand you have this Muzik Mafia thing going, this Big & Rich thing. Play me some of that.' I said, 'Dude, that ain't nothing you're going to want to cut on anybody.' But he said he wanted to hear it anyway. So we played him three songs, and he stood up, slammed his fist down on the table and said, 'By God, boys, I want to do this!'
"We looked at him and said, 'You want to do what?'" And he said, "I want Big & Rich to be the first act I sign to Warner Bros."
Musically, John and Big Kenny cover a wide territory. They play country music, but country music that has room for echoes of everything from the Everly Brothers to Limp Bizkit to Queen, from honky tonk to rock 'n' rap. "Charley Pride was the man in black," they sing in their anthem, "Rollin' (The Ballad of Big and Rich)." "Rock 'n' roll used to be about Johnny Cash."
"What we're doing now is American music," he adds. "And the most American music format that I know of is country. That audience understands us. People that listen to country music don't just listen to country music. The kids who are coming up listen to Johnny Cash, then Kenny Chesney, then Ludacris or OutKast or Kid Rock. I mean, John's little brother wears a John Deere hat and an Eminem t-shirt."
"And Nashville's going to catch up to that," says John. "They want to."
"Life's as large as you want to make it," says John. To him and to his partner, life is indeed large, and big, and rich-musically, emotionally, philosophically, and every other way you might want to measure it.
Hire Big & Rich for your party or event!
Big & Rich may be available for your next special event!
Book Big & Rich, now!
For other great suggestions for booking music acts,
look here.

Genre: Country
Styles:
.Country-Rock. / CountryRock
.Contemporary Country. / ContemporaryCountry
.Country-Pop. / CountryPop


Years active:
x00, x10s, x20s
1998–2008, 2011–present

Formed: ..in Tennessee / formed nTennessee
Formed: ..in Nashville / formed NashvilleTN
Formed: in 1998

Based: ..in US