How To Book BILLY IDOL For Your Event!
Billy Idol may be available for your next special event!



Hits include: "Cradle of Love",
"Mony Mony", "To Be A Lover",
"Eyes Without a Face", "Rebel Yell",
"White Wedding", "Whiplash Smile",
"Shock To The System", "Heroin",
"Speed", "Don't Need A Gun",
"Flesh For Fantasy", "Scream".
How to Hire BILLY IDOL For Your Event!
Popular requests:
BOOKING FEE (booking price, booking cost)
.
William Michael Albert Broad, known professionally as Billy Idol, is an English-American singer and songwriter. He first achieved fame in the 1970s emerging from the London punk rock scene as the lead singer of the group Generation X. His discography includes eight studio albums, one live album, five compilation albums, two extended plays, and 37 singles.
Billy Idol began his music career in late 1976 as a guitarist in the punk rock band, Chelsea. However, he soon left the group. With his former bandmate Tony James, Idol formed Generation X. With Idol as lead singer, the band achieved success in the United Kingdom and released three albums on Chrysalis Records, then disbanded.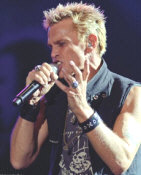 Hire Billy Idol for your festival or concert plans!
Idol's solo career began with the Chrysalis Records EP titled Don't Stop in 1981, which included the Generation X song "Dancing with Myself", originally recorded for their last album Kiss Me Deadly, and a cover of Tommy James and the Shondells' song "Mony Mony".
Subsequently, he embarked on his solo career which led to international recognition and made Billy Idol a lead artist during the MTV-driven "Second British Invasion" in the United States. The name "Billy Idol" was inspired by a schoolteacher's description of him as "idle".
In 1981, Billy Idol moved to New York City to pursue his solo career in collaboration with guitarist Steve Stevens. His debut studio album, Billy Idol (1982), was a commercial success. With music videos for singles "Dancing with Myself" and "White Wedding" Idol soon became a staple of then newly-established MTV.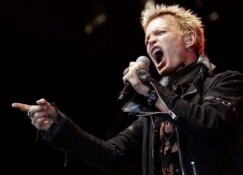 Hire Billy Idol for your company's special event!
In 2008, "Rebel Yell" appeared as a playable track on the video game Guitar Hero World Tour and "White Wedding" on Rock Band 2. The Rock Band 2 platform later gained "Mony Mony" and "Rebel Yell" as downloadable tracks. On 24 June 2008, Idol released the greatest hits album The Very Best of Billy Idol: Idolize Yourself. He embarked on a worldwide tour, co-headlining with Def Leppard.
In 2016, Idol and Miley Cyrus performed "Rebel Yell" at the iHeartRadio Festival in Las Vegas. He was a guest vocalist on the song "Night Crawling" from Cyrus' album Plastic Hearts released in November 2020.
Hire Billy Idol for your party or event!
Billy Idol may be available for your next special event!
Book Billy Idol, now!
For other great suggestions for booking music acts, look here.

For more suggestions, proceed to the next page.
Click here --
Alternative Music Roster
Or, click on one of the below links --
Music Menu
Fast Index
Entertainers Directory
Home