How To Book BILLY RAY CYRUS For Your Event!
Billy Ray Cyrus may be available for your next special event!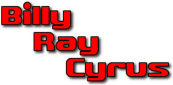 Those familiar with the Billy Ray Cyrus story know that the Kentucky native's musical roots lie firmly in the church. Billy Ray Cyrus grew up surrounded by gospel music. The grandson of a Pentecostal preacher, the young Cyrus was singing with his father's gospel quartet before he'd started grade school. Though Cyrus went on to fame as the multi-platinum hunky heartthrob behind such country hits as "Achy Breaky Heart," "Could've Been Me," "In the Heart of a Woman" and "Busy Man," his own faith still runs deep.
Billy Ray Cyrus admits his long, hard struggle to get his career off the ground and the ensuing rocket ride as "Achy Breaky Heart" catapulted him to international fame tested his faith. A devoted family man - he and wife Tish have six children - Cyrus' dual role as TV star and recording artist often requires long separations from his family.
"I have to say my world was spinning so out of control, I hit a couple of spots where I didn't feel like God could hear me anymore," Cyrus says. "There were times I felt like, 'Is anybody listening? Does anybody care?' But it wasn't that God wasn't listening, it's that I wasn't taking the time to be still and make sure that prayer was getting through."
With that realization came a shift in his priorities. "My family became my foundation, and my spirituality became my foundation," he says. "That's when I started reconnecting back to life, instead of being out there in the twilight zone on some rocket spinning out of control."
Though he's come full circle musically, Billy Ray Cyrus stresses he's still the same imperfect person he's always been.
"I'm not all of a sudden stepping up on a pedestal and saying I'm holier than thou, because I'm not! I'm a very imperfect person, but isn't that why God sent his son Jesus to this earth? - to save sinners like me? I just always try to work to make myself better in the eyes of God."
"Music is not a job, it's what I love to do." He says. "My goal is for my music to touch people's lives. I want them to feel they were moved inside."
His impressive career resume also includes the million-selling "It Won't Be The Last," three number-one and many top-ten singles including 1999s "Busy Man," which still receives strong recurrent airplay.

Over the years Billy Ray Cyrus has maintained his worldwide success, earning multi-platinum certifications in Australia, platinum in Denmark, New Zealand and Norway and gold in the UK and South Africa as well as a Diamond Award in Canada.

His mantle is covered with awards and accolades from various organizations, but the ones he's most proud of aren't connected to his music. In 1999, he received the International Entertainment Buyer Association's "Humanitarian of the Year" for his tireless philanthropic work. His charitable efforts have been recognized by the Country Radio Broadcasters, who honored him with their Artist Humanitarian Award, and by the Kennedy Center Honors, who recognized him for his work with children. He also received the first ever Bob Hope Congressional Medal of Honor Society Entertainer's Award for his dedication to philanthropy.
Awards include --
| | | |
| --- | --- | --- |
| | TNN/Music City News | Album of the Year |
| | TNN/Music City News | Male Artist of the Year |
| | TNN/Music City News | Single of the Year |
| | TNN/Music City News | Video of the Year |
| | TNN/Music City News | Single of the Year |
| | American Music Awards | Favorite New Artist |
| | American Music Awards | Favorite Single |
| | CMA | Single of the Year |
Hit songs include --
Achy Breaky Heart
Could've Been Me
Busy Man
In the Heart of a Woman
Ready, Set, Don't Go
She's Not Cryin' Anymore
Somebody New
Words by Heart
You Won't Be Lonely Now
It's All the Same to Me
Wher'm I Gonna Live?
Storm in the Heartland
Back To Tennessee
Three Little Words
Some Gave All
Talk Some
Time For Letting Go
We The People
Southern Rain
Billy Ray Cyrus may be available for your next special event!
Watch videos.
YouTube

Genre: Country
Styles:
.Contemporary Country. / ContemporaryCountry
.Country-Pop. / CountryPop


Years active:
x90s, x00s, x10s, x20s

Born: ..in Kentucky / born nKentucky
Born: ..in Flatwoods / born FlatwoodsKY
Born: Aug 25, 1961

Based: ..in US
Based: ..in Tennessee / based nTennessee
Based: ..in Nashville area / based NashvilleTN