Visit new page >>>
BJORK
How To Book BJORK For Your Event!
Bjork (be-yerk) may be available for your next special event!




Hits include: "Hyper-Ballad",
"Big Time Sensuality", "Pagan Poetry",
"I Miss You", "The Dull Flame Of Desire",
"Human Behaviour", "Violently Happy",
"Hidden Place", "Triumph Of A Heart",
"All Is Full of Love", "Vespertine", "Post",
"Homogenic", "Debut", "Crystalline",
"The Dull Flame of Desire", "Army of Me",
"Nattura", "The Gate", "Cosmogony".
How to Hire BJÖRK For Your Event!
Popular requests:
BOOKING FEE (booking price, booking cost).
Björk Guðmundsdóttir OTF is an Icelandic singer, songwriter, composer, record producer, and actress.
Over her four-decade career, she has developed an eclectic musical style that draws on influences and genres including electronic, pop, experimental, trip hop, classical, and avant-garde music.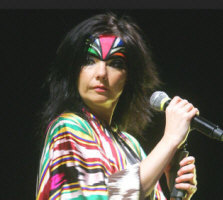 Hire Bjork for your festival or concert plans.
Several of Björk's albums have reached the top 20 on the US Billboard 200 chart. As of 2015, she had sold between 20 and 40 million records worldwide. Thirty-one of her singles have reached the top 40 on pop charts around the world, with 22 top-40 hits in the UK.
Her accolades and awards include the Order of the Falcon, five BRIT Awards, and 15 Grammy nominations. In 2015, TIME named her one of the 100 most influential people in the world. Rolling Stone named her the 60th greatest singer and the 81st greatest songwriter.
Hire Bjork
Over her three-decade solo career, Björk has developed an eclectic and avant-garde musical style that incorporates aspects of electronic, dance, alternative dance, trip hop, experimental, glitch, jazz, alternative rock, instrumental, and contemporary classical music. Her music has since been subject to critical analysis and scrutiny, as she consistently defies categorization in a musical genre. Although she often calls herself a pop artist, she is considered a "restlessly experimental creative force."
Her singing voice has been described as both "elastic" and "somersaulting" in quality as well as being praised for her scatting ability, unique vocal stylings and delivery.
Hire Björk for your party or event!
Björk may be available for your next special event!
Book Björk, now!
For other great suggestions for booking music acts, look here.

For more suggestions, proceed to the next page.
Click here --
Alternative Music Roster
Or, click on one of the below links --
Music Menu
Fast Index
Entertainers Directory
Home