How To Book Black Uhuru For Your Event
Black Uhuru may be available for your next special event!



Legendary Black Uhuru, the most successful second generation reggae group, remain as one of the most dynamic and progressive reggae acts today. Black Uhuru's name comes from the East African language of Swahili meaning "Freedom." Black Uhuru was honored as the first ever recipients of the Grammy Award for Reggae Music for their 1984 album "Anthem" beating out Bob Marley and The Wailers, Steel Pulse, and Yellowman.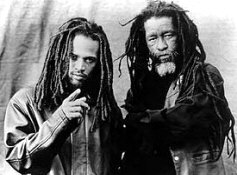 Black Uhuru has headlined many music festivals worldwide as well as sharing dates with groups such as The Rolling Stones, The Clash, The Talking Heads, and The Police. They were voted the number one reggae band in the Rolling Stone's critics' poll. Black Uhuru's album "Red" was also voted 24th in Rolling Stones' Top 100 albums of the Decade for 1980-1990, and were featured by many critics in their year-end Top Ten Lists.
Black Uhuru garnered a Billboard No. 1 hit for World Music in the 90's. Remaining steadfast in their beliefs, they recorded and shot the video for the uplifting song "Tip of the Iceberg" with Rap icon Ice-T, on the smoldering streets of Los Angeles during the 1992 riots.
Black Uhuru, led by Duckie "Gong" Simpson, performed to thousands both headlining and also sharing billing on an extensive 2001 European and South American reggae and pop festival tour.
Black Uhuru unleashes their long and rich musical history and dynasty upon the world with an exciting live show. Everybody say Rasta! Rasta!
Notable songs include -- .
I Love King Selassie
Solidarity
Youth of Eglington
Sponji Reggae
Guess Who's Coming to Dinner
Sinsemilla
Rent Man
Who's in the Tomb?
General Penitentiary
Leaving to Zion
Black Uhuru may be available for your next special event!

Genre: Reggae
Styles:
.Roots Reggae. / RootsReggae
.Dub. / xDub


Years active:
x70s, x80s, x90s, x00s, x10s, x20s
1974-present

Formed: ..in Jamaica
Formed: ..in Kingston
Formed: in 1974

Based: ..in Jamaica
Based: ..and
Based: ..in US