How To Book BLAKE SHELTON For Your Event!
Blake Shelton may be available for your next special event!



How to Hire BLAKE SHELTON For Your Event!
Popular requests:
BOOKING FEE (booking price, booking cost).
Blake Shelton (born June 18, 1976) is an American country music singer and television personality.
In 2001, he made his debut with the single "Austin". The lead-off single from his self-titled debut album, "Austin" spent five weeks at number one on the Billboard Hot Country Songs chart. The now Platinum-certified debut album also produced two more top 20 entries ("All Over Me" and "Ol' Red").
Oklahoma native Blake Shelton moved to Nashville in 1994, two weeks after his high-school graduation, to launch a songwriting career that would eventually make him one of the leading males in contemporary country music. Back home, he'd received statewide attention by touring the bar circuit and winning the Denbo Diamond Award, the top award for young Oklahoma entertainers.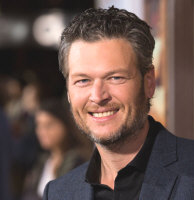 Hire Blake Shelton for your festival or concert plans.
In Nashville, Shelton was able to maintain that momentum by selling songs to several publishing houses, including Naomi Martin Music, Warner/Chappell Music, and Jerry Crutchfield Music. He also landed a solo contract with Giant Records. Favoring a traditional style of country music that included sentimental ballads as well as blue-collar rock songs, he made a splash in 2001 with the chart-topping single "Austin," which spent five weeks at number one. "All Over Me" and "Ol' Red" followed in 2002, pushing Shelton's accompanying debut album -- the self-titled Blake Shelton, released by Warner Bros. after the dissolution of Giant Records -- to gold status.
Hire Blake Shelton for your very special event or occasion.
With Shelton's songs still enjoying airtime on country radio, he returned to the studio to work on a second album. The Dreamer appeared in February 2003, hot on the heels of another number one single titled "The Baby." A third album, "Blake Shelton's Barn & Grill", was released in 2004, along with an accompanying DVD featuring several of his music videos. Three years later, Shelton scored his fourth consecutive gold album with "Pure BS", which featured a guest appearance by girlfriend at that time (and fellow country singer) Miranda Lambert.

Lambert and Blake Shelton attracted more and more media attention as their relationship progressed. Lambert made another appearance on his next album, 2008's "Startin' Fires", and sang about their relationship on her own release, "Revolution". Shelton eventually proposed in 2010, issuing a pair of well-received EPs -- "Hillbilly Bone" and "All About Tonight" -- that same year. The EPs yielded three number one hits, followed in 2011 by another chart-topper, "Honey Bee," which doubled as the lead single from his sixth album, "Red River Blue". Shelton married Lambert that spring, several weeks after joining the judging panel of NBC's prime-time singing competition, The Voice. Shelton and Lambert divorced in 2015.
His discography includes 12 studio albums, four extended plays, five compilation albums, and 52 singles (including five as a featured artist). According to Recording Industry Association of America, Blake Shelton has sold 52 million singles and 13 million albums in the United States. He also has achieved 14 No. 1 hits on Billboard's Hot Country Songs chart. Billboard ranked him as the 31st Top Artist of the 2010s decade.
Hit songs include --
Hillbilly Bone
I'll Just Hold On
Austin
Some Beach
The Baby
Nobody But Me
Goodbye Time
Don't Make Me
Ol' Red
All Over Me
The More I Drink
Home
Playboys of the Southwestern World
Heavy Liftin'
Honey Bee
Boys 'Round Here
Hire Blake Shelton for your party or event!
Blake Shelton may be available for your next special event!
Book Blake Shelton, now!
For other great suggestions for booking music acts, look here.

Genre: Country
Styles:
.New Traditionalist. / NewTraditionalist
.Contemporary Country. / ContemporaryCountry
.Country-Rock. / CountryRock
.Bro-country. / BroCountry
.Acoustic Guitar. / AcousticGuitar


Years active:
x00s, x10s, x20s
2001-present

Born: ..in Oklahoma / born nOklahoma
Born: ..in Ada / born AdaOK
Born: Jun 18, 1976

Based: ..in US
Based: ..in Tennessee / based nTennessee
Based: ..in Nashville area / based NashvilleTN
Based: and
Based: ..in Oklahoma / based nOklahoma
Based: ..in Tishomingo / based TishomingoOK