How To Book BLIND BOYS OF ALABAMA For Your Event!
The Blind Boys of Alabama may be available for your next special event!



Gospel Music Hall of Fame
-- inducted 2003
From the group's beginnings in the 1930's, as fellow students at the Talladega Institute for the Deaf and Blind, in Alabama, to the present, The Five Blind Boys of Alabama had one goal. According to founding member Clarence Fountain, "We just wanted to sing gospel. We wanted to be popular too, but we wanted to sing gospel."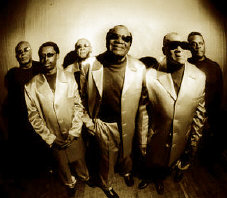 Fountain and his friends (the original group consisted of Fountain, Johnny Fields, JT Hutton, Ollice Thomas, George Scott and the late Velma B. Traylor) adopted the style of gospel singing known as jubilee and took their show to the road.
They turned the fact that all but one member of The Blind Boys of Alabama was, in fact, visually impaired, into a huge selling point. "We had an advantage over all of the rest of the gospel groups," says Fountain, "because you hardly ever see a bunch of blind guys on stage in concert. That was an exciting time!"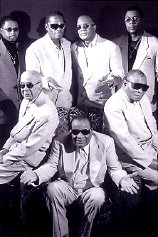 The group began recording in 1948, and has released albums regularly since then. The Blind Boys had gospel hits with "Oh, Lord Stand by Me" and "I Can See Everybody's Mother But I Can't See Mine" in the 50's. They didn't taste mainstream success until 1988, when they starred in the Obie Award winning Broadway musical, "Gospel at Colonus." This was the highest point they ever had. They took the play to Broadway and stayed there 15 weeks.
That exposure opened new avenues for The Blind Boys of Alabama, and brought them a wider audience. When they toured, they played bigger, more mainstream venues. In 1994, the group was awarded the NEA National Heritage Fellowship, presented by First Lady, Hillary Rodham Clinton. Following this Broadway hit, they were able to go out and sing to the masses.
And sing they did, performing on the bill of such high profile festivals as the Philadelphia Folk Festival, the King Biscuit Blues Festival, the Beale Street Music Festival and more. In addition, The Blind Boys of Alabama were featured on the BET series, "On Jazz." They have even been seen on "Beverly Hills 90210."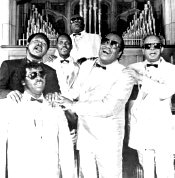 That year also brought the group's debut on House of Blues Music Company. A live album, "I Brought Him with Me," showcased the group's ability to musically change with the times, while remaining true to their basic style!
The phenomenal popularity of the Blind Boys of Alabama stems from intense, invigorating vocals, seemingly effortless harmonies, and a gritty, revival-style spirituality that would move even a confirmed pagan. Their repertoire gets the full gospel treatment, and they turn even Pete Seeger's folk standard, "If I Had a Hammer," into a scorching pledge of redemption.
Notable songs include -- .
Something's Got a Hold on Me
I Believe in You
Leaning on the Everlasting Arms
Love Lifted Me
I'm Going Through
Heaven on My Mind
Alone and Motherless
Without the Help of Jesus
Sit Down Servant
I'll Fly Away
The Blind Boys of Alabama may be available for your next special event!

Genre: Gospel
Styles:
.Traditional Gospel. / TraditionalGospel
.Southern Gospel. / SouthernGospel
.Black Gospel. / BlackGospel


Years active:
x40s, x50s, x60s, x70s, x80s, x90s, x00s, x10s, x20s
1937-present

Formed: ..in Alabama / formed nAlabama
Formed: ..in Talladega /TalladegaAL
Formed: in 1937

Based: ..in US
Based: ..in Alabama / based nAlabama