Visit new page >>>
BLINK-182
How To Book BLINK-182 For Your Event!
blink-182 may be available for your next special event!




Hits include: "All The Small Things",
"I Won't Be Home For Christmas",
"Adam's Song", "Bored To Death",
"Man Overboard", "The Rock Show",
"What's My Age Again?", "Feeling This",
"After Midnight", "Bored to Death",
"Up All Night", "She's Out of Her Mind",
"Home is Such a Lonely Place",
"Blame It On My Youth", "First Date",
"I Really Wish I Hated You",
"Stay Together For the Kids",
"Down", "Dammit (Growing Up)",
"I Miss You", "Always", "Not Now",
"Another Girl Another Planet",
"I Miss You", "Quarantine", "Edging".
How to Hire BLINK-182 For Your Event!
Popular requests:
BOOKING FEE (booking price, booking cost)
.
Blink-182 (stylized as blink-182) is an American rock band formed in Poway, California, in 1992. Their discography includes eight studio albums, one live album, two compilation albums, three video albums, two extended plays (EPs), twenty-four singles, six promotional singles, and twenty-two music videos.
Though their sound has diversified throughout their career, their musical style blends catchy pop melodies with fast-paced punk rock. Their lyrics center on relationships, adolescent frustration, and maturity—or lack thereof. The group emerged from a suburban, Southern California skate-punk scene and gained notoriety for high-energy live shows and irreverent humor.
Blink-182's straightforward approach and simple arrangements, which helped initiate pop-punk's mainstream rise, made them popular among generations of listeners. Worldwide, the group has sold more than 50 million albums, and have moved more than 13 million copies in the U.S.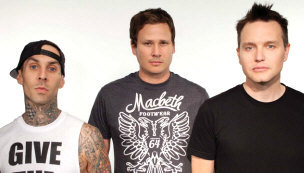 Hire Blink-182 for your festival or concert plans!

Travis Barker has focused his energies in collaborating with rappers Lil Nas X, Machine Gun Kelly, and XXXTentacion, among others. Blink-182 have also worked with several artists, jointly issuing singles with XXXTentacion, Lil Wayne, Goody Grace, Steve Aoki, Powfu, Oliver Tree, and the Chainsmokers.

Blink-182's musical style is mainly considered pop punk, a genre that combines influences of pop music with traditional punk rock. Throughout the band's career, though their sound has diversified, a large component of the band's music favors fast tempos, catchy melodies, prominent electric guitar with distortion, and power chord changes.

The band have claimed punk rock group the Descendents to be their greatest influence on a number of occasions. They have also named the Beatles, the Ramones, the Beach Boys, the Cure, Depeche Mode, U2, Stiff Little Fingers, All, Dinosaur Jr., NOFX, Bad Religion, Refused, Fugazi, Screeching Weasel, The Vandals, the Queers, and Jimmy Eat World as inspirations.

Blink-182 was one of the most popular rock bands at the turn of the millennium and spearheaded the second wave of pop punk and its journey into the mainstream.
Hire Blink-182 for your party or event!
Blink-182 may be available for your next special event!
Book Blink-182, now!
For other great suggestions for booking music acts,
look here.

For more suggestions, proceed to the next page.
Click here --
Alternative Music Roster
Or, click on one of the below links --
Music Menu
Fast Index
Entertainers Directory
Home