How To Book BLUE MAN GROUP For Your Event!
The Blue Man Group may be available for your next special event!



Hits include: "Canta Conmingo",
"Sing Along", "I Feel Love".
How to Hire BLUE MAN GROUP For Your Event!
Popular requests:
BOOKING FEE (booking price, booking cost).
Blue Man Group is an American performance art company formed in 1987.
It was purchased in July 2017 by the Canadian company Cirque du Soleil. Blue Man Group is known for its stage productions, which incorporate many kinds of music and art, both popular and obscure. Its performers, known as Blue Men, have their skin painted blue. They are mute during shows and always appear in groups of three.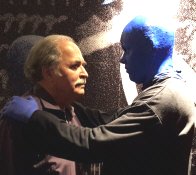 Richard De La Font
with Blue Man Group
The company has continuing shows in Berlin, Boston, Chicago, Las Vegas and New York City. A typical production employs seven to nine full-time Blue Men who are selected by audition. In addition to their stage shows, Blue Man Group has toured nationally and internationally, appeared on TV programs as characters and performers, released multiple studio albums, contributed to a number of film scores, and performed with orchestras around the United States.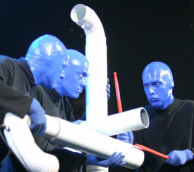 Hire Blue Man Group for your festival or concert plans.
Blue Man Group grew out of a collaboration of three close friends, Chris Wink, Matt Goldman and Phil Stanton, on Manhattan's Lower East Side in 1987. Its first public appearance was a celebration of the end of the 1980s. The three wore blue masks and led a street procession that included the burning of a Rambo doll and a piece of the Berlin Wall. MTV's Kurt Loder covered the event, drawing attention to the group. What began as creative "disturbances" on the city's streets became a series of small shows at downtown clubs, and eventually a full performance at the Astor Place Theatre in 1991.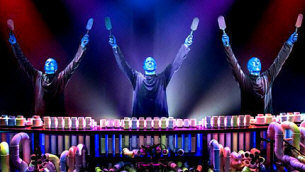 Hire Blue Man Group for your company's special event!
In 2002, Blue Man Group participated in Moby's Area2 tour. Songs developed during this tour appeared on 2003's album The Complex. This album featured a variety of vocalists and guests including Tracy Bonham, Dave Matthews, Gavin Rossdale and Venus Hum.
Hire Blue Man Group for your party or event!
Blue Man Group may be available for your next special event!
Book Blue Man Group, now!
For other great suggestions for booking music acts, look here.

For more suggestions, proceed to the next page.
Click here --
Alternative Music Roster
Or, click on one of the below links --
Music Menu
Fast Index
Entertainers Directory
Home