How To Book BLUE RODEO For Your Event!
Blue Rodeo may be available for your next special event!



Hits include: "New Morning Sun"
"Till I Am Myself Again", "C'Mon",
"Rose-Coloured Glasses", "Rebel",
"Outskirts", "Somebody Waits",
"How Long", "House of Dreams",
"Love and Understanding", "Angels",
"Flying", "What Am I Doing Here",
"After the Rain", "Lost Together",
"Rain Down On Me", "Trust Yourself",
"Already Gone", "5 Days in May",
"Hasn't Hit Me Yet", "Bad Timing",
"Try", "'Til I Gain Control Again",
"Head Over Heels", "Side of the Road",
"Better Off As We Are", "Blew It Again",
"It Could Happen To You", "Dark Angel",
"Diamond Mine", "Falling Down Blue".
How to Hire BLUE RODEO For Your Event!
Popular requests:
Booking fee, booking price, or booking cost.
Blue Rodeo is a Canadian country rock band formed in 1984 in Toronto, Ontario.
They have released 16 full-length studio albums, four live recordings, one greatest hits album, and two video/DVDs, along with multiple solo albums, side projects, and collaborations.

Blue Rodeo members have collaborated extensively with other notable Canadian artists, including Sarah McLachlan, The Tragically Hip, Burton Cummings, Great Big Sea, Jann Arden, The Sadies, Skydiggers, Cuff the Duke, Crash Vegas, Cowboy Junkies, Sarah Harmer, Jill Barber, and Kathleen Edwards.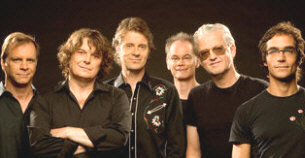 Hire Blue Rodeo for your festival or concert plans!
They have won many Canadian music awards, including twelve Juno Awards and seven SOCAN awards.

Blue Rodeo was inducted into the Canadian Music Hall of Fame at the 41st Juno Awards on April 1, 2012, joining other Canadian music icons including Rush, Leonard Cohen, Neil Young, The Band, Oscar Peterson, Bruce Cockburn, Daniel Lanois, Joni Mitchell, Anne Murray and Tom Cochrane.

Spanning nearly three decades, Blue Rodeo has sold in excess of four million records and won an unprecedented 11 JUNO Awards, establishing themselves as one of the premier groups in Canadian music history.
Hire Blue Rodeo for your party or event!
Blue Rodeo may be available for your next special event!
Book Blue Rodeo, now!
For other great suggestions for booking music acts,
look here.

For more suggestions, proceed to the next page.
Click here --
Alternative Music Roster
Or, click on one of the below links --
Music Menu
Fast Index
Entertainers Directory
Home