Visit new page >>>
BOB DYLAN
How To Book BOB DYLAN For Your Event!
Bob Dylan may be available for your next special event!



Hits include: "Mozambique",
"Most Likely You Go Your Way (And I'll Go Mine)",
"Like A Rolling Stone", "Silvio",
"Knockin' On Heaven's Door",
"Subterranean Homesick Blues",
"Lay Lady Lay", "Positively 4th Street",
"Everything Is Broken", "George Jackson",
"Duquesne Whistle", "Tangled Up In Blue",
"Tight Connection To My Heart",
"Unbelievable", "Got My Mind Made Up",
"Gotta Serve Somebody", "My Back Pages",
"Just Like A Woman", "Shot Of Love",
"Wigwam", "Rainy Day Women #12 & 35",
"Tonight I Will Be Staying Here With You",
"A Fool Such As I", "Sweetheart Like You",
"Can You Please Crawl Out Your Window?",
"Leopard-Skin Pill-Box Hat", "Someday Baby",
"Slow Train", "The Usual", "Band Of The Hand",
"Watching The River Flow", "Hurricane",
"I Threw It All Away", "On A Night Like This",
"Must Be Santa", "I Want You".
GRAMMY AWARD winning Bob Dylan is an American singer-songwriter.
Often regarded as one of the greatest songwriters of all time, Dylan has been a major figure in popular culture during a career spanning more than 60 years. Much of his most celebrated work dates from the 1960s, when songs such as "Blowin' in the Wind" (1963) and "The Times They Are a-Changin'" (1964) became anthems for the civil rights and anti-war movements. His lyrics during this period incorporated a range of political, social, philosophical, and literary influences, defying pop music conventions and appealing to the burgeoning counterculture.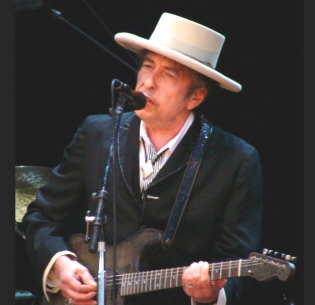 Hire Bob Dylan for your festival or concert plans.
In his early years, spending all of his spare time in the company of other musicians, Bob Dylan amazed them with his ability to learn songs perfectly after hearing them only once. He also began writing songs at a remarkable pace, including a tribute to his hero entitled "Song to Woody."
In the fall of 1961, Dylan's legend began to spread beyond folk circles and into the world at large after critic Robert Shelton saw him perform at Gerde's Folk City and raved in the New York Times that he was "bursting at the seams with talent." A month later, Columbia Records executive John Hammond signed Bob Dylan to a recording contract, and the young singer-songwriter began selecting material for his eponymous debut album.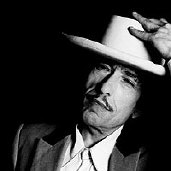 Hire Bob Dylan for your very special event or occasion!
Early in 1997, those who lived in hope of an artistically born-again Bob Dylan had cause for optimism: musician Jim Dickinson told a Memphis newspaper that he had played on some recent, Daniel Lanois-produced Dylan sessions featuring new material Dylan had composed while stuck at home in Minnesota during a blizzard. According to Dickinson, one cut was seventeen minutes long, and overall the material was "so good, I can't imagine he won't use it."
The seventeen-minute song turned out to be "Highlands," the closing cut on the critically acclaimed "Time Out of Mind," which was released in September and became Dylan's first gold record of the decade. The success of the album was noteworthy, but 1997 will go down as the year that Bob Dylan knocked on heaven's door, literally: in May, on the eve of a European tour, he was hospitalized with histoplasmosis, a potentially fatal infection that creates swelling in the sac surrounding the heart. Happily, the songwriter made a rapid recovery, and was back on the road by August and continued to tour through the remainder of the year, including a September date in Rome at the behest of Pope John Paul II.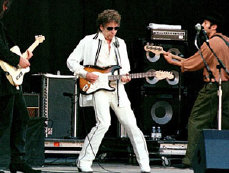 Hire Bob Dylan.
Bob Dylan has been described as one of the most influential figures of the 20th century, musically and culturally. He was included in the Time 100: The Most Important People of the Century, where he was called "master poet, caustic social critic and intrepid, guiding spirit of the counterculture generation".
Major musicians who acknowledged Bob Dylan's importance include Johnny Cash, Jerry Garcia, John Lennon, Paul McCartney, Pete Townshend, Neil Young, Bruce Springsteen, David Bowie, Bryan Ferry, Nick Cave, Patti Smith, Syd Barrett, Joni Mitchell, Tom Waits and Leonard Cohen.
Hire Bob Dylan for your party or event!
Bob Dylan may be available for your next special event!
Book Bob Dylan, now!
For other great suggestions for booking music acts, look here.

Genre: Rock 1
Genre: Folk
Styles:
.Classic Rock. / ClassicRock
.Political Folk. / PoliticalFolk
.Rock & Roll. / RockNRoll
.Country-Rock. / CountryRock
.Singer/Songwriter. / SingerSongwriter
.Folk-Rock. / FolkRock
.Americana. / xAmericana
.Pop/Rock. / PopRock
.Album Rock. / AlbumRock
.AM Pop. / AMPop


Years active:
x60s, x70s, x80s, x90s, x00s, x10s, x20s
1961-present

Born: ..in Minnesota / born nMinnesota
Born: ..in Duluth / born DuluthMN
Born: May 24, 1941

Based: ..in US
Based: ..in California / based nCalifornia
Based: ..in Malibu / based MalibuCA

Tag: Jewish Musical Artists, xJewish