How To Book BONE CRUSHER For Your Event!
Bone Crusher may be available for your next special event!



"I ain't never scared!" It's an anthem for the little boy facing the school bully or the grown man facing his deepest fears or any one of us facing the everyday things of life. It's an affirmation of courage and fortitude; a thunderous chant that speaks volumes. And for Atlanta born rapper Bone Crusher it's the phrase that has made him an icon in and around his hometown.
To say that Bone Crusher has presence is an understatement. From his brawny physique to his untamed, curly hair to his commanding voice that allows him to alternate between street-wise hip-hop head to poetic philosopher, Bone Crusher has something about him that makes you want to stop, look, and listen. And he doesn't mind the attention.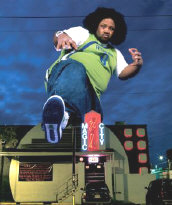 Since the age of five, Bone Crusher, born Wayne Hardnett, has been accustomed to the spotlight. "I used to perform in front of my family all the time," he recalls. "Most kids do that, but I had to do it all the time...everyday." At that time, his performances were pretty much limited to dancing and doing impersonations and the thought of performing for a living never even crossed his mind. "I didn't know nothing about all that. I was just doing what I did. Hip-hop wasn't even around like that then."
It was somewhere around 1985 when Bone Crusher knew that he wanted to be a rapper. Run-DMC was the spark that started the fire. "At the time I used to try to DJ. I was pretty good at it, but I wasn't as good as everybody else. I could always rap better than all the rappers that rapped. I could always freestyle better."

A few years later Bone Crusher would get a chance to really put his skills to the test. "I knew this guy who always talked about how good he was, how he could freestyle, how he could rap and all that. He was rappin' outside, and I said, 'Man, you can't rap. I'll beat you'." That challenge led to a series of challenges, all of which ended with Bone Crusher as the victor. In fact, it was during one such challenge that Bone Crusher and his partners in rhyme, Bizar and Baby B caught the eyes and ears of Atlanta entertainment attorney Vince Phillips. Phillips pursued and nailed down a couple of opportunities for Bone Crusher, Bizar, and Baby B - known then as the Lyrical Giants - at labels like Death Squad, Tommy Boy and J-Cor.
When the J-Cor deal fell apart, Bone Crusher decided to put his record out on his own. "I was like, I'll do it myself." Bone Crusher wasn't scared then and he ain't scared now. "I've been performing in front of people for years," he notes. "People are like, 'You nervous?' And I'd be like, 'Nah man. I don't know what that is no more.' I was nervous when I was three or four years old. But, I ain't nervous now. I just have a good time, that's what it's all about."
Bone Crusher released his album, "Bone Crusher and His Industry Friends" on Atlanta indie Break 'Em Off Records and before long, the supercharged "Never Scared," featuring fellow Atlantans Killer Mike and T.I., was blazing a path from the airwaves to the clubs and picking up scores of believers along the way.
Says Bone Crusher of the song, "It isn't crunk, it isn't nothing, it's just a song. People like it so much. Even girls like it more than dudes. It ain't no chant record. It ain't no hip-hop record. It's a song. People don't even hear the words that I'm saying in there. It's an infectious thing because of the rhythm and the beat, the rhythm of the hook." And as far as the message goes, Bone Crusher says it's about never being afraid of life.
"Everybody's never scared. People say never scared, they don't be thinking about killin' and shit. They are talking about their life. I ain't never scared to go to work. I gotta make this money. I ain't never scared to do something I gotta do to get my shit right."
Bone Crusher's fearless assault on Atlanta and the southeast placed him square in the middle of the music industry radar. In fact, the ink was barely dry on Jermaine Dupri's deal with Arista Records when the renowned producer and So So Def Records owner signed Bone Crusher as the first artist for his new venture.
"AttenCHUN!," Bone Crusher's debut album for Break 'Em Off/So So Def/Arista, is a kaleidoscopic journey through a variety of subjects, all profound and, as Bone Crusher asserts, all "dope." "The album is a collaboration of a whole bunch of songs that I took to the studio with my friends and we did some stuff. We just put our spirit on the record.... It's more like a revolutionary statement but it is revolutionary in the sense that people need to understand that we as a people - white, black whatever color - have to get to the next level of life. That's the whole essence of our album. It starts in the gutter, and then it comes out of the gutter into the light. From the dark to the light. That's what my album is."
Bone Crusher says, "That's real. And that's the last word I want people to say. He's real. He represents the real. I walk the walk and talk the talk. That's just who I am." Never scared.
Hit songs include --
Never Scared
Take Ya Clothes Off
Fat Man Stomp
Other notable songs include --
Hot Heat
Re-Akshon Remix
Sound the Horn
Gettin' It (Get Dat Money)
It's Me (Lane to Lane)
Lock and Load
Back Up
Puttin' in Work
Peaches and Cream
Hate Ourselves
Bone Crusher may be available for your next special event!
Watch videos:
YouTube

Genre: Rap
Styles:
.Hardcore Rap. / HardcoreRap
.Dirty South. / DirtySouth
.Southern Rap. / SouthernRap


Years active:
x90s, x00s, x10s, x20s
1996-present

Born: ..in Georgia / born nGeorgia
Born: ..in Atlanta / born AtlantaGA
Born: Aug 23, 1971

Based: ..in US
Based: ..in Georgia / based nGeorgia
Based: ..in Atlanta / based AtlantaGA