Visit new page >>>
BRANDY
How To Book BRANDY For Your Event!
Brandy Norwood may be available for your next special event!

(
Ray J
is her brother)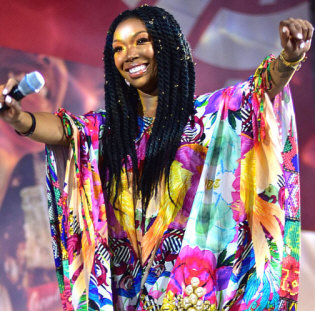 Hits include: "Talk About Our Love",
"Have You Ever", "I Wanna Be Down",
"The Boy Is Mine", "Brokenhearted",
"What About Us?", "Top of the World",
"Best Friend", "Almost Doesn't Count",
"Talk About Our Love", "Full Moon",
"Angel In Disguise", "Missing You",
"U Don't Know Me (Like U Used To)",
"Who Is She 2 U", "He Is", "Baby",
"(Everything I Do) I Do It for You",
"Another Day in Paradise", "Love Again",
"Afrodisiac", "Right Here (Departed)",
"Long Distance", "It All Belongs to Me",
"Put It Down", "Wildest Dreams".
GRAMMY AWARD winning Brandy Rayana Norwood, better known by her mononym Brandy, is an American singer, songwriter, model, and actress.
She is known for her distinctive sound, characterized by her peculiar timbre, voice-layering, and intricate riffs, which has earned her the title of "the Vocal Bible". Brandy possesses a contralto vocal range. Her voice has often been described as soft, raspy, and husky by music critics and Norwood herself.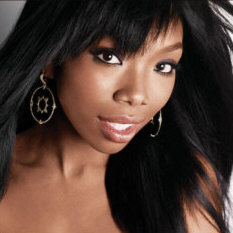 Hire Brandy for your festival or concert plans.
Brandy's initial sound was contemporary R&B, heavily rooted in gospel and hip-hop soul. Her lyrics spoke of various types of love, from casual and friendly love to romantic and spiritual affairs.
While developing her own style and vocal sound, Brandy would credit gospel-jazz singer Kim Burrell, new age artist Enya, and English singer-songwriter Sade as major influences. In speaking about them, she said, "... it was listening to those women, along with my own creative voice, that helped me to find my niche, my own sound."
Hire Brandy for your very special event or occasion.
Brandy has also noted several other musical inspirations, including Michael Jackson, Mariah Carey, Boyz II Men, the Clark Sisters, Stevie Wonder, Aretha Franklin, Coldplay, Janet Jackson, Timbaland, and her brother, Ray J.
How does the little girl from McComb, Mississippi, who has spent eight years doing it all – selling tens of millions of records, starring in one of the highest-rated TV specials ever (Rodgers and Hammerstein's Cinderella), starring on two sitcoms (Thea and Moesha), acting in movies, representing one of the biggest cosmetics companies in the world – find her way from girlhood to womanhood under the bright and shining glare of the pop culture spotlight?
Hire Brandy.
Brandy Norwood retreats, looking within herself to find the power and beauty of personal growth. She moves out of her parents' house, buys her own, and, to quote one of her own hits, "sits up in her room" to figure out how to make the world work for her rather than feel like she's working for the world. She chooses to be a fully-formed person, rather than just a fully-formed celebrity, ultimately choosing music as her main focus in life.
It was a very reflective time, recalls the songstress, starting out with her decision to live on her own. "Moving out on my own was a big step for me because I've always been around my parents and protected by them. Moving out allowed me to make my own decisions and spend time by myself."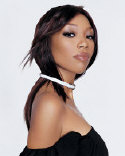 Hire Brandy.
"I never liked to be by myself until I moved out of my parents' house and started to spend more time with me. I started to appreciate myself and in the process, my whole attitude about life changed. I started reading New Age material and metaphysics, and I started to get into what life really has to offer me. I began to deal with my emotions differently. I realized that life is about your perceptions of things. You can always change how you feel based on how you look at things. When you change your perception you change your reality."
This time was also marked by Brandy's decision to become vegan, eating healthy to keep her body in spiritual sync with her emotional maturity. "It was all about hamburgers and french fries everyday for me," she remembers. "And I was always getting sick." Then she went to the opposite extreme. "I went on the extra thin thing and became dehydrated. Somewhere in there I realized that my body is my temple and this is where my soul has to reside and take care of myself. I realized that eating to live was better than living to eat." With a laugh she recalls her initial dive into the vegan way. "I had a veggie burger," she says. "And it didn't taste any different! It's all about the seasoning and how you make it."
"I love making music. Sometimes I think if I could just sing and be anonymous for a minute, I'd love that. Of course, you love the fame and all that, but that's all extra. Being in the studio and working and creating? That's the love of it. That's the best part."
She is staking her claim on the musical world with a mature mixture of creativity, grace and fortitude. "I'm just really thankful now," says Brandy. "I needed to find out who I was and what I wanted."
As of August 2020, she has sold more than 40 million records worldwide, with approximately 8.62 million albums sold in the United States alone. Her work has earned her numerous awards and accolades, including a Grammy Award and an American Music Award.
In May 2023, Brandy performed at Lovers & Friends along with others, including Usher, Trey Songz, Akon, Ludacris, Nelly, T-Pain, Sean Paul, Timbaland, Ciara, TLC and Lil Jon. Her discography includes eleven studio albums, one compilation album, one extended play, 42 singles, 46 album appearances and 25 soundtrack appearances.
Hire Brandy for your party or event!
Brandy may be available for your next special event!
Book Brandy, now!
For other great suggestions for booking music acts, look here.

For more suggestions, proceed to the next page.
Click here --
R&B Music Roster

Or, click on one of the below links --
Music Menu
Fast Index
Entertainers Directory
Home

Genre: R&B
Styles:
.Club/Dance. / ClubDance
.Urban. / xUrban
.Dance-Pop. / DancePop
.Hip-Hop Soul. / HipHopSoul
Soul / xSoul


Years active:
x90s, x00s, x10s, x20s
1993-present

Born: ..in Mississippi / born nMississippi
Born: ..in McComb / born McCombMS
Born: Feb 11, 1979

Based: ..in US
Based: ..in California / based nCalifornia
Based: ..in Los Angeles / based LosAngelesCA