How To Book BRIAN SETZER ORCHESTRA For Your Event!
Brian Setzer Orchestra may be available for your next special event!
(aka, The BSO)



Hits include: "Jump, Jive, An' Wail",
"The Knife Feels Like Justice",
"When The Sky Comes Tumblin' Down".
How to Hire BRIAN SETZER ORCHESTRA For Your Event!
Popular requests:
Booking fee, booking price, or booking cost.
GRAMMY AWARD winning Brian Setzer is an American guitarist, singer, and songwriter.
He found widespread success in the early 1980s with the 1950s-style rockabilly group, Stray Cats, and revitalized his career in the early 1990s with his swing revival band, the Brian Setzer Orchestra, which is a true, 17-piece Big Band fronted by an electric guitar.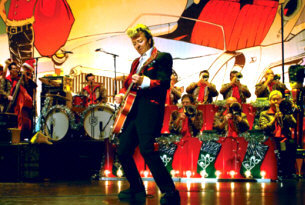 Hire Brian Setzer.
"Like pouring gasoline on a fire" is how Brian Setzer describes 1998's double-platinum, Grammy-winning, Top 10-charting "The Dirty Boogie." But while Setzer wanted to fan the flames with the follow-up, he also wanted to jack up the octane. "It would be an easy trap to fall into to do Dirty Boogie II," says Setzer. "The criticism of swing is that it's music from the past. I wanted to keep a lot of the same sound – this isn't a harpsichord record all of a sudden – but I wanted this to be music for 2000 and beyond. So we experimented, we stretched out. We said, 'Let's get crazy and go for it.'"
So on "VaVoom!," the fourth album from The Brian Setzer Orchestra, released August 1, 2000, he "scuffed it up." For most of the album's six classics, Setzer says he "had to choose ways to make them mine. It was like rebuilding a house by taking the old one down, except for one wall. In the end, it's so far away from the original, you can't imagine what it looked like when you started." Not only did he pen lyrics to the traditional instrumental "In The Mood," creating "Gettin' In The Mood," but he even added a rap. On "Pennsylvania 6-5000," there are new lyrics, tape loops and even a hip-hop beat.
"It took me by surprise that the hip-hop beat and the swing beat are parallel. When I heard it, I went, 'I'll be damned, it worked, let's keep going.' I can tell if something's good if I smile. This made me smile. I wanted to make these songs so brand-new that people would go 'Wow! I never thought…'"
Along with a faithful rendition of "Mack The Knife," a psychobilly version of the instrumental "Caravan," a rockin' doo-wop take on "Gloria" and a freewheeling "Americano" (translated from the Italian original, made famous by Jude Law's and Matt Damon's performance in "The Talented Mr. Ripley"), Setzer also penned eight originals. "My influences are always with me. All I can do is sit with a guitar and write rockabilly songs and, if they're good, then write the charts for the horns and turn them into the animals that they are."
Hire The Brian Setzer Orchestra for your festival or concert plans.
"VaVoom!," produced by Peter Collins (Jewel, Indigo Girls), Glen Ballard (Alanis Morissette, No Doubt) and David Darling, also adds female background singers to The Brian Setzer Orchestra experience for the first time. "It's a different dimension, especially live. Besides, they ain't bad to look at after seeing us slobs for an hour and a half." As a result, the band's tour was titled the "Here I Go Again Draggin' 16 Guys (And A Couple Chicks) Around The World Tour."
What is nearly as unlikely as the success of The Brian Setzer Orchestra is that no one has jumped on the bandwagon. The reason, suggests Setzer, is simple: "This isn't like punk rock, where anyone could pick up a guitar and play loud. The level of musicianship required is pretty high." Another reason may be that no one else has had the musical guts as well as chops.
"What made it happen is that we're original," Setzer says. "This is American music. It's ingrained in us, but we took it in a new direction. This is a whole different beast than a '40s Big Band. The only similarity is the instrument lineup. But our foundation is the rhythm section and the way I play guitar. I like what I like: guitars, hot rods and rock 'n' roll. "VaVoom" sums up what this band is – bigger than life. The word means excitement, from the sound of a car starting up, to the sound you make when you see a beautiful chick."
Some say his greatest feat has been to resurrect a musical genre and make it "cool" again, as he earlier did with rockabilly. Setzer, smiling, has a different idea. "I've received letters thanking me for making being a trombone player in the high school band hip. Now that's an accomplishment."

Hire The Brian Setzer Orchestra for your very special event or occasion.
The album Wolfgang's Big Night Out (2007) featured Setzer's interpretation of classical pieces, such as Beethoven's "Symphony No. 5" and "Für Elise". The album earned Setzer his eighth Grammy nomination, this time for Best Classical Crossover Album.
In April 2012, Brian Setzer performed at Byron Bay Bluesfest along with others, including My Morning Jacket, Slightly Stoopid, Ziggy Marley, Crosby, Stills & Nash, Earth, Wind & Fire, Blitzen Trapper, Lucinda Williams, The Pogues, Yann Tiersen, The Specials and Dawes.
He executive produced the album Ready Steady Go! (Surfdog, 2014) by Drake Bell and played guitar on two songs.
On June 25, 2021, Setzer announced a new solo album, his first in 7 years, titled Gotta Have the Rumble.
Other notable songs include -
This Cat's on a Hot Tin Roof
You're the Boss
Boulevard of Broken Dreams
Ball and Chain
Dirty Boogie
Route 66
If You Can't Rock Me
House Is Rockin'
Hire The Brian Setzer Orchestra for your party or event!
The Brian Setzer Orchestra may be available for your next special event!
Book The Brian Setzer Orchestra, now!
For other great suggestions for booking music acts, look here.

For more suggestions, proceed to the next page.
Click here --
Vocal Music Roster

Or, click on one of the below links --
Music Menu
Fast Index
Entertainers Directory
Home

Genre: Jazz / Big Band
Styles:
.Roots Rock. / RootsRock
.Rockabilly Revival. / RockabillyRevival
.Retro Swing. / RetroSwing
.Retro-Rock. / RetroRock
.Big Band. / BigBand


Years active:
x80s, x90s, x00s, x10s, x20s
1979-present

Brian Setzer --
Born: ..in New York / born nNewYork
Born: ..in New York City / born NewYorkNY
Born: Apr 10, 1959

Brian Setzer --
Raised: ..in New York
Raised: ..in Long Island / LongIslandNY

Based: ..in US

Tag: .Orchestra charts available. / OrchestraCharts