How To Book BRIAN WILSON For Your Event!
Brian Wilson may be available for your next special event!



Hits include: "Deck The Halls",
"Your Imagination", "Caroline, No",
"We Wish You A Merry Christmas",
"Love And Mercy", "Wonderful",
"Good Vibrations",
"What I Really Want for Christmas",
"God Only Knows (with the Impossible Orchestra)".
How to Hire BRIAN WILSON For Your Event!
Popular requests:
BOOKING FEE (booking price, booking cost).
GRAMMY AWARD winning Brian Wilson is an American musician, singer, songwriter, and record producer who co-founded the Beach Boys.
Often called a genius for his novel approaches to pop composition, extraordinary musical aptitude, and mastery of recording techniques, Brian Wilson is widely acknowledged as one of the most innovative and significant songwriters of the 20th century. His work is distinguished for its vocal harmonies, complex orchestrations, and introspective or ingenuous themes.

From 1962 to 1979, Brian Wilson wrote or co-wrote more than two dozen U.S. Top 40 hits for the Beach Boys. Eleven of those reached the top 10, including the number-ones "I Get Around" (1964), "Help Me, Rhonda" (1965), and "Good Vibrations" (1966). Three more that he produced, but did not write, were the band's "Barbara Ann" (number 2) in 1965, "Sloop John B" (number 3) in 1966, and "Rock and Roll Music" (number 5) in 1976.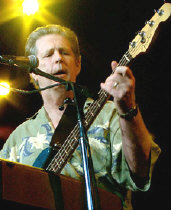 Hire Brian Wilson for your festival or concert plans.
Among his other top 10 hits, Brian Wilson co-wrote Jan and Dean's "Surf City" (the first chart-topping surf song) and "Dead Man's Curve" (number 8) in 1963, and the Hondells' "Little Honda" (number 9) in 1964.
Brian Wilson is one of rock's most deeply revered figures, a legendary writer, producer, arranger and performer of some of the most cherished music in rock history. Indeed, it is no exaggeration to call Brian Wilson one of the most influential pop composers of the last 50 years.
But as numerous books, films and television programs have recounted, success does not tell the whole story about this fascinating man. For while few artists achieve the stature that Brian Wilson today enjoys, even fewer have been able to overcome the profound personal setbacks and professional frustrations that he has endured.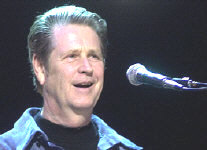 Hire Brian Wilson for your company's special event!
Happily, he has not only survived those obstacles, but today is thriving once again, making great music, performing with an ace band of seasoned sidemen and cutting-edge pop-rockers, and selling out concert halls around the world.
Echoing the reaction of many fans who have seen and/or performed with Brian Wilson - including Neil Young, Sheryl Crow, Smashing Pumpkins' Billy Corgan, Pearl Jam's Eddie Vedder, and R.E.M.'s Peter Buck - a San Francisco Chronicle reviewer wrote, "The Brian Wilson concert was one of the most moving and inspirational events in recent memory for me." The Hollywood Reporter chimed in with "A long-awaited ray of light," while the Los Angeles Times pronounced, "Wilson stood triumphant."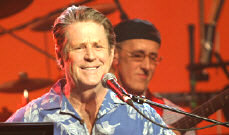 Hire Brian Wilson
"My state of being has been elevated," explains Brian Wilson, "because I've been exercising, writing songs. I'm in a better frame of mind these days. It feels great - it's like I see some light. Things make sense to me again."
As recent events have shown, the man and his music have the power to take an audience beyond mere nostalgia, to reach across generations and deliver a musical experience that is timeless and unforgettable.
Ultimately, it is a most profound resurgence of a legendary career, one that began to take shape on Labor Day weekend, 1961, in Hawthorne, California…
If Everybody Had An Ocean...
It was then and there that nineteen-year-old Brian Douglas Wilson and his younger brothers Dennis and Carl assembled in their family's living room with cousin Mike Love and friend Al Jardine to rehearse a little tune that Brian and Mike had written for a try-out recording session.
As luck would have it, the Wilsons' parents were vacationing and had left the boys $250 for food money. Home alone, and promptly using that cash to rent the best musical equipment they could find, the budding Beach Boys got busy.
Written at Dennis' suggestion, "Surfin"' sang the praises of the newest southern California teen craze. Though primitive-sounding by today's standards, the song contained the raw matter that would define the Beach Boys' sound: the propulsive rhythms of Chuck Berry-style rock & roll combined with the sophisticated pop vocals of the Four Freshman.
It was a unique fusion that Wilson had been tinkering with in the family garage where, inspired by The Four Freshman and their complex vocal blends, and armed with a multi-track tape recorder, he'd spent hours exploring the intricacies of harmony and melody. By overlapping his own dynamic voice (which peaked in a soaring falsetto) and various instruments, he could create the effect of a full group.
Completely on his own, and despite near-deafness in one ear, modern audio technology gave Brian Wilson the power to create something beautiful, even magical.
When "Surfin"' hit big locally and made ripples on the national charts, the Beach Boys were signed to Capitol Records. The label wanted more of the same, and Brian and the band gave it to them, tapping a potent source of surfing, hot-rod cars and hi-octane hormones at a time when an exploding population of post-World War II teenagers was craving something new.
Releasing hit after hit, the Beach Boys were like an irresistibly refreshing wave that flooded America. And Brian Wilson himself rode that sparkling swell as, beginning with 1962's "Surfin' Safari," the early Beach Boys released seven albums (usually titled after their hit singles) in their first two years of existence, including "Surfin' U.S.A.," "Surfer Girl," "Little Deuce Coupe," "Shut Down Vol. 2," "All Summer Long" and "Concert."
Having assumed the role of the Beach Boys' producer with the band's third album, Brian Wilson became a maverick force in the music industry by taking the group to independent recording studios. Each album showed an advancement in all facets of creation as Brian Wilson, much like Phil Spector and his Wall of Sound, conjured a distinctive sonic signature - call it a Wave of Sound - and everybody wanted a ride.
In fact, so powerful was the surf, rod 'n' roll music craze, and such was Wilson's golden touch, that he was invited to bring his talents to bear on the hit singles "Surf City" (#1 hit) for Jan Dean and "Little Honda" by The Hondells.
In Brian's brave new world, the vision of "A chicken in every pot" was replaced by "Two girls for every boy." It was the new American Dream of the Kennedy era - the California Dream - and people the world over loved it then as now, making the Beach Boys' escapist anthems like "I Get Around" and "Fun, Fun, Fun" part of the fabric of American pop culture. To this day, no other catalog of music has surpassed the Beach Boys in capturing the sheer excitement of being young in America.
Echoing a lyric from one of his own tunes, Brian Wilson had caught a wave and was sittin' on top of the world. Or so it seemed at the time.
It will come as a surprise to many that Brian Wilson, responsible for so many popular songs about surfing and sunny beaches, had little interest in the sport. It was brother Dennis who surfed. Brian, in fact, was afraid of the water.
Writing songs about subjects he had little interest in, Wilson worried he was being pigeon-holed, condemned to a career in which he could only skim the surface of his talent. Could he honor his obligations to his record label, his band and his family, and at the same time pursue his artistic ambitions? Could he realize his vision via the nitro-burning hit machine known as the Beach Boys? His decision to try would soon result in some of the most stunning, groundbreaking music in rock history, accompanied by increasing personal problems as well.
In 1964, Brian Wilson succumbed to the stress of overworking and decided he could no longer tour with the Beach Boys. From now on he would dedicate all of his energies to writing and producing the band's records. And the hits kept coming as the Beach Boys earned their rank as "America's Band," meeting the British Invasion head-on with effervescent singles like "Dance, Dance, Dance" from Beach Boys Today, and "Help Me, Rhonda" and "California Girls" from "Summer Days (And Summer Nights!!)," all released in 1965.
But when the Beatles released their reflective "Rubber Soul" album, Wilson believed that the Beach Boys' sun-drenched poptopia would soon be eclipsed by artists who could produce entire albums of quality material, songs that conveyed a depth of experience and range of emotion previously off limits to rock & roll.
So in early 1966, while the other Beach Boys were on a tour of Asia, Brian Wilson embarked on a trip of his own, one that would change pop music forever.
Pet Sounds
Teaming up with lyricist Tony Asher, and hiring the best studio musicians in Los Angeles, Wilson created what many today consider to be "The Great American Pop Album." With keenly observed lyrics set to music that was richly textured, multi-layered and inventively arranged, "Pet Sounds" was music-making of the highest caliber, unified by a single theme: the difficult coming of age of a young man, Brian Wilson.
"During 'Pet Sounds'," says Wilson today, "I stepped out from the Beach Boys to bring my heart and soul to people."
The record's imaginative sonic flourishes - accordion, theremin, bicycle bells, kazoo, banjo, glockenspiel, and even barking dogs and a Sparklett's water jug - made "Pet Sounds" much more than the sum of its hit singles, "Wouldn't It Be Nice" and "Sloop John B." Echoing the sentiments of many listeners, former Beatle Paul McCartney has said that "Pet Sounds" is his favorite album of all time, the transcendent "God Only Knows" his favorite song of all time. The prestigious New Musical Express has even named "Pet Sounds" "The Greatest Album of All Time."
From where Brian Wilson stood in spring, 1966, it seemed a long, long way from "Surfin'." He was just 24 years old.
In the years that followed, as the Beach Boys became one of the most popular touring acts in the world, Brian Wilson remained a key contributor to their albums, writing some of his most affecting work. Hit singles like "Do It Again" (20/20, 1969) and "Sail On Sailor" (Holland, 1972), and album cuts like "Til I Die" and "Add Some Music To Your Day" (Sunflower, 1970), further enhanced his stature in rock's pantheon.
Fans watched, however, as an increasingly troubled Brian Wilson withdrew from the world, his creative output dwindling to precious, but few, minutes of musical brilliance.
Even the 1988 release of his first solo album, "Brian Wilson," which was highlighted by the sensitive single, "Love & Mercy," and the majestic, panoramic "Rio Grande," seemed to be less than it could have been. Though critically acclaimed and commercially successful (it reached #50 on the sales chart) the album was hampered by controversy, specifically over therapist Eugene Landy's unorthodox techniques in caring for Wilson. As strong as the record was, many felt it was artistically compromised, that Brian Wilson was not calling his own tune.
With his 1995 marriage to Melinda Ledbetter, and with the addition of daughters Daria and Delanie, Brian Wilson had begun to make dramatic, positive changes in his life.
He contributed to a number of projects: Van Dyke Parks' album, "Orange Crate Art," on which Brian sang songs written by his old friend and "SMiLE" collaborator, the Brian Wilson documentary profile film and soundtrack, "I Just Wasn't Made For These Times", and "The Wilsons," an album on which Brian joined daughters Carnie and Wendy for a few tracks and reunited with his "Pet Sounds" lyricist Tony Asher for "Everything I Need."
It was the kind of activity that gave longtime fans hope that he would again attempt a genuine solo album on which every note and nuance was as Brian Wilson wanted it.
And then it happened. In 1998, after years of sporadic activity, Brian Wilson, working with producer Joe Thomas, recorded the album "Imagination," including songs co-written with the likes of Carole Bayer Sager (Carly Simon's "Nobody Does It Better"), J.D. Souther (Linda Ronstadt's "You're Only Lonely"), and Jimmy Buffett ("Margaritaville").
Released by Giant/Warner Bros. in September 1998, "Imagination" was a true event, everything his legion of fans had come to expect from him: music that was imaginatively conceived and movingly performed. Against all odds, Brian Wilson, the last of the Wilson brothers (Dennis drowned accidentally in 1983 and Carl succumbed to cancer in 1998) had indeed returned.
Wilson embarked on a series of public appearances and concert performances that have been, to say the least, eagerly anticipated and avidly attended by devoted fans, many of whom are today's hottest names in music. The sold-out shows have been glowingly received by many media outlets, including USA Today and MTV.
The Los Angeles Times' Richard Cromelin, after witnessing Wilson's Wiltern Theatre concert, (where he was backed by his note-perfect group of veteran sidemen which includes members of Alternative upstarts the Wondermints), came to a conclusion that speaks for many of us: "At the end of the evening, Brian Wilson stood triumphant on stage, a man who has emerged from his darkest, most paralyzing blue period to again celebrate his music – and the human spirit – with his fans."
Hire Brian Wilson for your party or event!
Brian Wilson may be available for your next special event!
Book Brian Wilson, now!
For other great suggestions for booking music acts, look here.

Genre: Rock 1
Styles:
.Classic Rock. / ClassicRock
.Pop/Rock. / PopRock
.Contemporary Pop/Rock. / ContemporaryPopRock
.Experimental Pop / ExperimentalPop
.Art Pop. / ArtPop


Years active:
x60s, x70s, x80s, x90s, x00s, x10s, x20s
1961-present

Born: ..in California / born nCalifornia
Born: ..in Hawthorne / born HawthorneCA
Born: Jun 20, 1942

Based: ..in US

Tag: FormerMemberOf