The thought of a white boy from the backwoods of Georgia making a rap album is as mind-boggling as that of a black kid from Harlem belting out country tunes. But Bubba Sparxxx will break down the stereotypical barriers and leave you wondering why it's taken so long for a talented white rapper to emerge from the south. He describes his overall style as "southern hip-hop, with an emphasis on hip-hop, and a rock 'n' roll edge."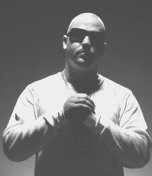 Bubba Sparxxx was born Warren Anderson Mathis in LaGrange, Georgia, 65 miles southwest of Atlanta. The youngest of Jimmy and June Mathis' five children, he was the only child who wasn't from a previous marriage. June, a grocery store cashier, called her youngest child "Andy." Father Jimmy also worked at a grocery store, first as a meat cutter and later as a manager; he also worked as a school bus driver and had a stint driving a Lance Potato Chip truck. "He was kind of a jack-of-all-trades," Sparxxx said.
Music wasn't a big part of Sparxxx's life until 1988. "I didn't have much access to it because I grew up so far out into the country," he said. "We didn't have cable TV. I grew up on a dirt road about 15 minutes north of LaGrange. It was extremely rural. My closest neighbor was between a half mile and a mile away. My closest neighbor was a black kid and that was actually my first exposure to rap.
His cousin was sending him mix tapes from New York." The first rap song Bubba Sparxxx ever heard was a track by 2 Live Crew. While he later heard music by Run-DMC and the Fat Boys, Sparxxx was especially intrigued by West Coast rappers N.W.A, Too $hort and Eazy-E. "I think maybe it was just because of the rebellious attitude, and I also like the beats," Sparxxx said. "I think that was Dr. Dre's first stint as a producer and an emphasis was placed on the beats more than ever before." While Too $hort's music turned Bubba Sparxxx into a rap fan, it was the Atlanta group OutKast that inspired Sparxxx to become an active participant in hip-hop.

At 15, he began writing rhymes when he had a spare moment. But those were few and far between since the teen always had to work. "I wasn't too much of a trouble making kid," Sparxxx explained. "I just worked to help out at the house and worked to have anything that I had." Still, he would battle rhyme in the cafeteria, in gym class and after school. "I wasn't seriously pursuing it because, in this one-horse town, there wasn't an outlet for it," Sparxxx said. "There were only like two or three other guys that rapped at my school. We had such limited exposure to hip-hop that we just craved it."

After briefly attending community college, Bubba Sparxxx visited his best friend, Steven Herndon and met his soon-to-be manager, Bobby Stamps. "He heard me rap," Sparxxx said. "We were just f*****g around. And he knew Shannon Houchins, who was a signed staff producer for So So Def, Jermaine Dupri's label out of Atlanta." Houchins called Sparxxx late in '96 and paired him with then-So So Def rapper Jason Brown. Bubba Sparxxx rapped under the name Lil Devil and the group was called One Card Shi. Though the duo recorded 10 to 15 songs, they never released anything and drifted apart in 1998. Perhaps discouraged, Sparxxx took a year off from rapping. "It was like I was trying to fit a certain prototype," he said of his stint in One Card Shi. Then it hit him. Sparxxx had to be his own man. He had to express his unique style and let people know what he was really all about. It was then that he became Bubba Sparxxx.

"Growing up, a lot of my family members called me 'Bubba,' " Sparxxx said. "And I came up with 'Sparxxx' because it was catchy with Triple-X at the end." At the beginning of '99, Sparxxx started recording songs with Houchins again. Once they had 10 tracks done, they came in contact with Doug Kaye, whose Sarasota, Florida, Newtowne Music Group had been putting out albums independently for about a decade. Kaye liked Sparxxx's work and soon pressed up copies of a 12-song indy version of "Dark Days, Bright Nights," releasing it on Noncents Recordings, a label co-run by Bubba Sparxxx. The album got radio play in Alabama, Georgia and Florida. It sold 1,500 units and Noncents evolved into 11th Hour Entertainment, which is run by Sparxxx, Houchins and Kaye.

Sparxxx's biggest break came when a copy of "Dark Days, Bright Nights" came to the attention of Interscope A&R rep Gerardo "Rico Suave" Mejia, who got it into the hands of Interscope Geffen A&M chairman Jimmy Iovine. The album was so well received that Interscope flew Sparxxx in to discuss a record deal. "It was actually my first plane ride," Sparxxx recalled. "It was Aug. 1, 2000. They said they were going to make an offer, and that started a frenzy. We ended up with 11 offers from 11 different labels. Still, Interscope always felt like the best place."
After signing Bubba Sparxxx, Iovine inked a deal with Timbaland that made the producer's Beat Club imprint a subsidiary of Interscope. Iovine got Timbaland to listen to Sparxxx's music. "Timbaland checked it out and he just went apeshit," said Sparxxx, who was equally impressed with Timbaland. "It was the most unbelievable experience of my whole life," Sparxxx said of working with the acclaimed producer. "After working with him for two weeks, I rediscovered myself. I mean, he is the best, hands down. No question about it."
Bubba Sparxxx, meanwhile, is ready for the promotional tours and record release parties that await him. He's hoping to make his mark and might even bring out his group of rockers, rappers and genre crossovers, The Stonewall, which he calls "a traveling gaggle of musicians, a circus of music."

For now, though, Sparxxx is focusing on becoming the next music star to emerge from Athens, Georgia, his home of recent years. "What I want to accomplish, honestly, is for my vibe to be effectively communicated to the world," he said. "It's something totally new and refreshing. It injects something new into hip-hop and I think it can really go a long way for giving hip hop another 10 years of life. I also want to teach people from all different walks of life how to appreciate and acknowledge each other's differences, so they can peacefully co-exist. Atlanta's as booming a metropolis as there is. The South doesn't have to take a back seat to any part of the world."