How To Book BUCKCHERRY For Your Event!
Buckcherry may be available for your next special event!



Hits include: "Dead", "Lit Up",
"Crazy Bitch", "Everything",
"Too Drunk...", "Rescue Me",
"Next 2 You", "For The Movies",
"Broken Glass", "Check Your Head",
"Dead Again", "Don't Go Away",
"Talk To Me", "It's A Party",
"Ridin'", "All Night Long",
"Nothing Left But Tears",
"Wrath", "Bring It On Back",
"It's a Party", "Gluttony",
"Sorry", "The Madness".
How to Hire BUCKCHERRY For Your Event!
Popular requests:
BOOKING FEE (booking price, booking cost).
Buckcherry is an American rock band from Anaheim, California, formed in 1995. Buckcherry's first album, Buckcherry, was DreamWorks first album to go gold.
The band released its self-titled debut in 1999 to critical praise and certified gold sales. The album, produced by Terry Date (Soundgarden/Mother Love Bone/Pantera/Steve Jones/Deftones), included the hit singles "Lit Up", "For the Movies", "Dead Again", and "Check Your Head". After adding rhythm guitarist Yogi Lonich to the lineup in 1999, Buckcherry toured nonstop in support of the debut album, including opening for Lenny Kravitz on his Freedom Tour (1999) and participating at the infamous Woodstock 99.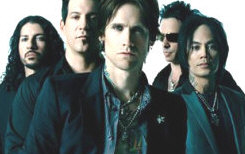 Hire Buckcherry for your festival or concert plans!
In 2004, Josh Todd and Keith Nelson performed together along with ex-Guns N' Roses members Slash, Duff McKagan, and Matt Sorum (also of The Cult) at the Randy Castillo tribute concert.
In 2005, lead vocalist Josh Todd and lead guitarist Keith Nelson reformed Buckcherry with a new lineup and released a new album in 2006, 15. It contained Buckcherry's biggest crossover hits to date, "Crazy Bitch", and their first Billboard Hot 100 top ten hit, "Sorry".
On April 15, 2008, Buckcherry announced they would be touring as part of Mötley Crüe's Crüe Fest, along with Papa Roach, Sixx:A.M., and Trapt. The tour began July 1, 2008, in West Palm Beach, Florida.
In May 2009, KISS announced that Buckcherry would be the opening band in their 2009/10 US and Canadian tour.
On July 30, Buckcherry was featured in the Kerrang! Week Of Rock Tour with The 69 Eyes and Hardcore Superstar at the HMV Forum in London. Other bands in the Week Of Rock included Limp Bizkit, Youmeatsix, and Lacuna Coil.
On June 2, 2015, "Bring It On Back" was released as the first single from the album. A second single, "The Feeling Never Dies," which features country singer Gretchen Wilson, was released February 17, 2016.
On April 21, 2021, Buckcherry announced their ninth album Hellbound (released on June 25, 2021, through Earache Records and Round Hill Records), along with the release of the single "So Hott" and its accompanying video (which was nominated for Classic Rock magazine's Track Of The Week) and the announcement of a North American tour with dates from June 2021 - November 2021. Hellbound was produced by Marti Frederiksen (who has previously collaborated with Aerosmith, Def Leppard, Jonny Lang and Sheryl Crow - he's "like the sixth member of Aerosmith," said Buckcherry guitarist, Stevie D).
Their discography includes nine studio albums, one live album, one video album, thirty-two singles and thirty-eight music videos.
Hire Buckcherry for your party or event!
Buckcherry may be available for your next special event!
Book Buckcherry, now!
For other great suggestions for booking music acts, look here.

For more suggestions, proceed to the next page.
Click here --
Metal Music Roster or Alternative Music Roster
Or, click on one of the below links --
Music Menu
Fast Index
Entertainers Directory
Home