Visit new page >>>
CAKE
How To Book CAKE The Band For Your Event!
CAKE may be available for your next special event!



Hits include: "Never There",
"Short Skirt/Long Jacket", "No Phone",
"Let Me Go", "Sheep Go To Heaven",
"Rock & Roll Lifestyle", "Long Time",
"Mustache Man (Wasted)",
"Sick of You", "I Will Survive",
"The Distance", "Long Time".
How to Hire CAKE For Your Event!
Popular requests:
BOOKING FEE (booking price, booking cost)
.
Cake is an alternative rock music band from Sacramento, California, consisting of singer John McCrea, trumpeter Vince DiFiore, guitarist Xan McCurdy, bassist Daniel McCallum, and drummer Todd Roper. The band has been noted for McCrea's sarcastic lyrics and deadpan vocals, and their wide-ranging musical influences, including norteño, country music, mariachi, rock, funk, folk music, and hip hop.
Cake incorporates a wide range of genres into its music, including country music, mariachi, new wave, college rock, jazz, funk, Iranian folk music, Brazilian music and hip hop. McCrea himself cites Hank Williams, Tom Zé, the Golden Gate Quartet and Sly and the Family Stone as particular influences.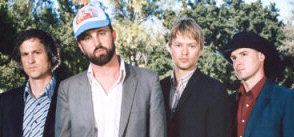 Hire Cake for your festival or concert plans!
Cake is most often noted for four things: the prominence of DiFiore's trumpet lines, McCrea's ironic, sarcastic lyrics, his "droll, deadpan ... monotone" vocals, and the use of the vibraslap. DiFiore's trumpet work originated with McCrea's desire for a second melodic instrument to go with a song he had written. "A lead guitar playing those lines would have been really hokey. I like it when it's a contrapuntal thing, where the guitar is doing one melody, the vocal is doing another melody, and the trumpet plays this third melody. If the music can be transparent enough, you can hear all three at the same time".
In 2002 Cake had planned a tour in Europe, but in view of the September 11 attacks chose not to travel overseas. Instead, the band streamed a performance internationally from the Yahoo! headquarters in California, playing emailed requests. The United States tour went ahead as planned, with Cake playing concerts in Birmingham, Alabama, St. Petersburg, Florida, Salt Lake City, and Las Vegas.
This was followed by the Unlimited Sunshine Tour, a traveling festival headlined and planned by the band and featuring Modest Mouse, De La Soul and The Flaming Lips. A second Unlimited Sunshine Tour was undertaken in 2003, featuring Cake, Cheap Trick and The Hackensaw Boys.
In 2006 Cake along with Tegan and Sara and Gogol Bordello performed a repeat of the Unlimited Sunshine Tour.
Hire Cake for your party or event!
Cake may be available for your next special event!
Book Cake, now!
For other great suggestions for booking music acts,
look here.

For more suggestions, proceed to the next page.
Click here --
Alternative Music Roster
Or, click on one of the below links --
Music Menu
Fast Index
Entertainers Directory
Home