Visit new page >>>
CALEXICO
How To Book CALEXICO For Your Event!
Calexico may be available for your next special event!



Top songs include: "Years to Burn",
"Alone Again Or", "Moon Never Rises",
"Sunken Waltz", "Father Mountain",
"Harness the Wind", "He Lays in the Reins"
"Quattro (World Drifts In)", "Pepita".
How to Hire CALEXICO For Your Event!
Popular requests:
BOOKING FEE (booking price, booking cost).
Calexico is an American indie rock band based in Tucson, Arizona. Founded in 1996, the band's two main members, Joey Burns and John Convertino, first played together in Los Angeles as part of the group Giant Sand.
They have recorded a number of albums on Quarterstick Records, and their 2005 EP, In the Reins, recorded with Iron & Wine, reached the Billboard 200 album charts. Their musical style is influenced by traditional Latin sounds of mariachi, conjunto, cumbia, and Tejano mixed with country, jazz, and post-rock.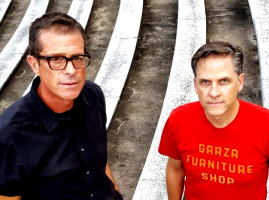 Hire Calexico for your festival or concert plans.
The band built their profile by touring as support acts for bands such as Pavement, the Dirty Three and Lambchop. Calexico has regularly played festivals such as the Bonnaroo Music Festival, the Hurricane Festival and All Tomorrow's Parties.
On September 9, 2008, their sixth studio LP is called, Carried to Dust, featuring Sam Beam of Iron & Wine, Douglas McCombs of Tortoise and Pieta Brown was released in the US via Touch & Go Records.
In April 2013, Calexico released the album, Edge of the Sun. The album features guest appearances by Neko Case, Sam Beam (Iron & Wine), Ben Bridwell (Band of Horses), Gaby Moreno, Carla Morrison and members of the Greek instrumental group Takim.
In June 2013, Calexico performed at the Glastonbury Festival along with others, including Mumford & Sons, Arctic Monkeys, The Rolling Stones, Portishead, The Smashing Pumpkins, Alt-J, Of Monsters and Men and The Lumineers.
In 2018, Calexico released, The Thread That Keeps Us, and was #2 on the Alternative Albums retail chart and #5 on the Americana / Folk Chart in the USA in its first week of sales (Billboard).
The band reissued and toured, Feast of Wire, in 2023; the album's twentieth anniversary.
Hire Calexico for your party or event!
Calexico may be available for your next special event!
Book Calexico, now!
For other great suggestions for booking music acts, look here.
Watch videos:
YouTube | Vimeo

Listen to music:
YouTube Music | Spotify

For more suggestions, proceed to the next page.
Click here --
Latin Music Roster or Alternative Music Roster
Or, click on one of the below links --
Music Menu
Fast Index
Entertainers Directory
Home