Season 5 (2007), Third Place Finalist
of "Canadian Idol".
Hits include: "Call Me Maybe",
"Tug Of War", "I Really Like You",
"Tonight I'm Getting Over You",
"Beautiful", "First Time", "Bucket",
"This Kiss", "Run Away With Me",
"Last Christmas", "Party for One",
"Curiosity", "Cut to the Feeling".
How to Hire CARLY RAE JEPSEN For Your Event!
Carly Rae Jepsen (born November 21, 1985) is a Canadian singer and songwriter.
After studying musical theatre, in 2007, Jepsen placed third on the fifth season of Canadian Idol.
In 2008, Jepsen released her folk music-influenced debut studio album, Tug of War, in Canada.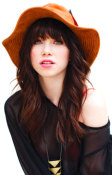 Hire Carly Rae Jepsen for your festival or concert plans.
Her discography includes six studio albums, two remix albums, four EPs, 28 singles, 10 promotional singles, and 24 music videos.
Jepsen's breakthrough came in 2012, with her single "Call Me Maybe". The song was the best-selling single of that year, selling 18 million copies and reaching number one in at least 19 countries.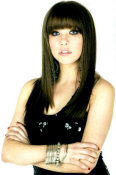 Hire Carly Rae Jepsen for your company's special event!

Carly Rae Jepsen has received three Juno Awards, a Billboard Music Award, and an Allan Slaight Award, in addition to nominations for Grammy Awards, MTV Video Music Awards, Polaris Music Prize and People's Choice Awards.

Jepsen has been noted for her "subversively catchy lyrics, slick musical arrangements, and pop experimentation". Jepsen is classified as a soprano.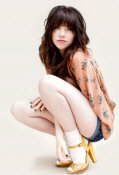 Hire Carly Rae Jepsen

Carly Rae Jepsen says she shares her parents' interest in folk music as a result of her upbringing, naming artists such as Leonard Cohen, Bruce Springsteen, James Taylor, and Van Morrison as inspirations for her debut album, Tug of War (2008).
During the recording of her EP, Curiosity, and her second album, Kiss (both 2012), Jepsen said she became increasingly influenced by pop and dance music, in particular the works of Dragonette, Kimbra, La Roux, and Robyn. Her third album, Emotion (2015), drew from her love of 1980s pop artists, including Cyndi Lauper, Madonna, and Prince.

Jepsen has also expressed admiration for Cat Power, Christine and the Queens, Tegan and Sara, Bleachers, Kate Bush, Bob Dylan, Sky Ferreira, Dev Hynes, Solange Knowles, Joni Mitchell, Sinéad O'Connor, the Spice Girls, and Hank Williams.
Hire Carly Rae Jepsen for your party or event!
Carly Rae Jepsen may be available for your next special event!
Book Carly Rae Jepsen, now!
For other great suggestions for booking music acts,
look here.