How To Book CARRIE UNDERWOOD For Your Event!
Carrie Underwood may be available for your next special event!



Season 4 (2005), Winner
of "American Idol"
Hits include: "All-American Girl",
"Before He Cheats", "Blown Away",
"Inside Your Heaven", "Good Girl",
"Jesus, Take The Wheel", "Cry Pretty",
"So Small", "Wasted", "Ghost Story"
"Do You Hear What I Hear", "Hallelujah",
"Don't Forget To Remember Me",
"Some Hearts", "Church Bells",
"Just A Dream", "Independence Day",
"Mama's Song", "Temporary Home",
"Cowboy Casanova", "Songs Like This",
"Two Black Cadillacs", "Love Wins",
"See You Again", "Somethin' Bad",
"Something in the Water",
"Little Toy Guns", "Smoke Break",
"Heartbeat", "Drinking Alone",
"Dirty Laundry", "Southbound",
"If I Didn't Love You", "Last Name".
How to Hire CARRIE UNDERWOOD For Your Event!
Popular requests:
BOOKING FEE (booking price, booking cost).
GRAMMY AWARD winning Carrie Underwood is an American singer and songwriter.
She rose to prominence after winning the fourth season of American Idol in 2005. Her single "Inside Your Heaven" made her the only country artist to debut at number one on the Billboard Hot 100 chart and the only solo country artist in the 2000s to have a number-one song on the Hot 100.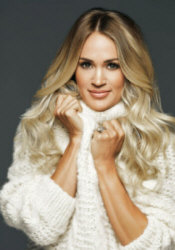 Hire Carrie Underwood for your festival or concert plans.
Carrie Underwood has been highly acclaimed for her vocal talents. David Wild of Rolling Stone has praised her voice, saying that "she can hit any note". Her vocal range has been described as "enormous", with critics highlighting her ability to hold notes for an extended period of time. Billboard describes her vocal ability as "freakish". Concert critics have pointed out that "she'll let loose with an improbably long note that runs through more octaves than you knew existed".
As influences, Carrie Underwood has occasionally mentioned rock acts like Queen, George Michael, the Rolling Stones, and My Chemical Romance. Among country artists, she has listed George Strait, Dolly Parton, Randy Travis, Martina McBride, Reba McEntire, and Garth Brooks as influences.

Hire Carrie Underwood for your very special event or occasion.
Although never publicly mentioning Faith Hill and Shania Twain as musical influences, critics have linked Carrie Underwood's musical style to those of Hill and Twain. Her music is generally country-pop with a rock influence similar to that of Kelly Clarkson, as noticed by Rolling Stone.
The most awarded country artist of all time, Carrie Underwood has been the recipient of seven Grammy Awards, twelve Billboard Music Awards, sixteen Academy of Country Music Awards, seventeen American Music Awards, nine Country Music Association Awards, seven Teen Choice Awards, five CMT Artists of the Year awards, and twenty-three CMT Music Awards, among others.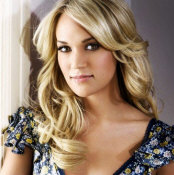 Hire Carrie Underwood.
The history of the singing career of Carrie Underwood reads like a storybook. One minute the Checotah, Oklahoma, native was away at college of Northeastern State University working toward a journalism career, and the next minute she was the favorite pick on American Idol 2005.
She went from being an aspiring singer to winning the American Idol 2005 competition to releasing the #1 hit, "Jesus, Take The Wheel." When her debut CD, "Some Hearts," sold 314,459 units in just one week, Carrie Underwood became the highest debuting new country artist in SoundScan's history and the best-selling female country artist of 2005. The album debuted at #1 on Billboard's Top Country Albums chart for seven of its first eight weeks on the chart. It was RIAA's fastest certified double platinum debut country album ever.
With four Academy of Country Music Award nominations, Billboard's 2005 Country Single Sales Artist of the Year is also enjoying the distinction of her debut single "Inside Your Heaven/Independence Day" being named the Top-Selling Hot 100 Song of the Year and the Top-Selling Country Single of the Year.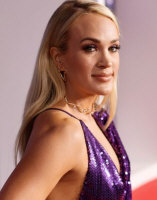 Carrie Underwood has appeared and performed on Today, Good Morning America, The Tonight Show, The View, The Ellen DeGeneres Show and Dr. Phil, as well as performing at the 2005 Billboard Music Awards and in the Macy's Thanksgiving Day Parade. She has also been featured in Cosmo Girl, Allure, Teen Vogue and Country Weekly.
Hire Carrie Underwood for your party or event!
Carrie Underwood may be available for your next special event!
Book Carrie Underwood, now!
For other great suggestions for booking music acts, look here.
Watch videos:
YouTube |
Vimeo

Genre: Country
Styles:
.Adult Contemporary. / AdultContemporary
.Contemporary Country. / ContemporaryCountry
.Pop Idol. / PopIdol


Years active:
x00s, x10s, x20s
2005-present

Born: ..in Oklahoma / born nOklahoma
Born: ..in Muskogee / born MuskogeeOK
Born: Mar 10, 1983

Raised: ..in Oklahoma
Raised: ..in Checotah / ChecotahOK

Based: ..in US
Based: ..in Tennessee / based nTennessee
Based: ..in Nashville

/ based NashvilleTN